Angels peg Friday for Escobar's return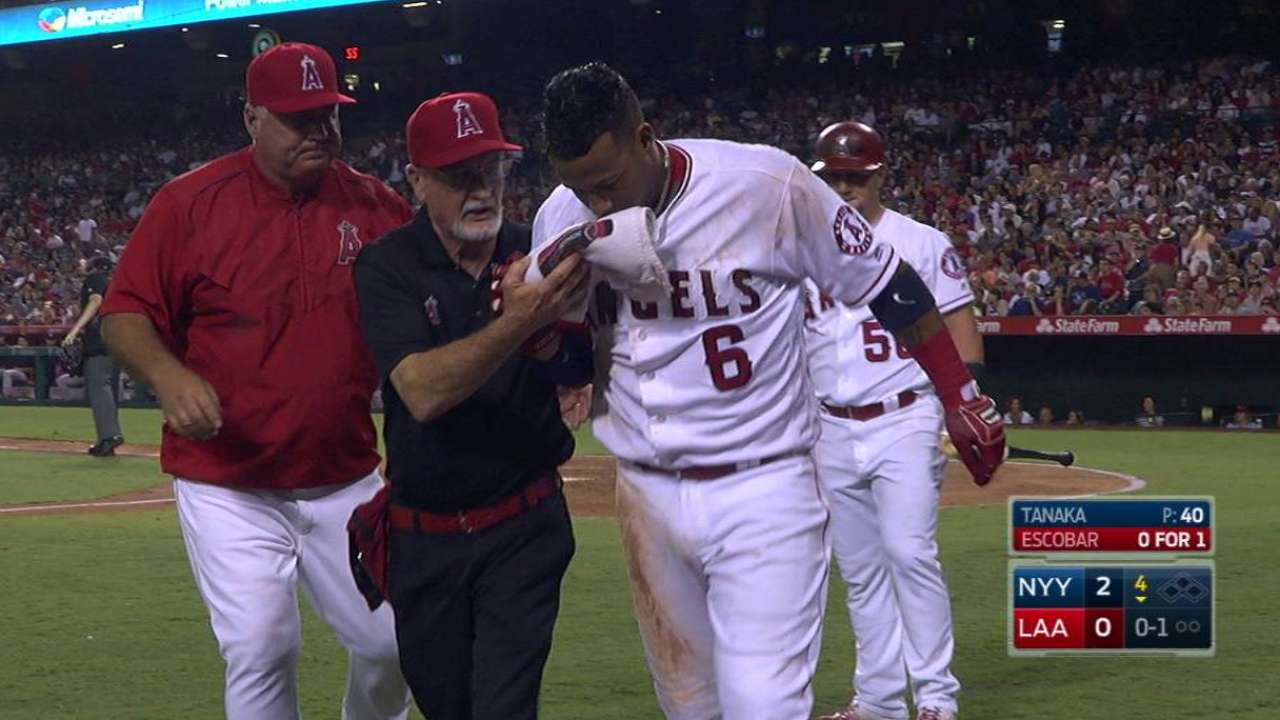 ANAHEIM -- Manager Mike Scioscia said third baseman Yunel Escobar would likely return the Angels lineup on Friday night in Seattle.
Escobar, struck in the face in the face by his own foul bunt Aug. 19, went on the disabled list the next day. He was cleared for baseball activities Monday.
"He had a great workout today," Scioscia said Tuesday before the Angels played the Reds. "If there's no setback, we expect him to be ready for Friday's game."
Kaleb Cowart and red-hot Jefry Marte have been manning third base in Escobar's absence, with Kole Calhoun moving up the leadoff spot the third baseman has filled in 108 of the team's first 129 games.
Escobar leads the Angels in batting at .320, and is fourth in the American League.
Worth noting
Cowart has impressed his manager with his defense, and versatility. He's started five games at third and three at second since his Aug. 20 call-up from Triple-A Salt Lake.
"His defense plays anywhere -- he could even play center field," Scioscia said. "To move him to second [next season] would not be a stretch."
Primarily a third baseman since the Angels drafted him in the first round in 2010, Cowart trained at shortstop in Triple-A this year, played first base in the Triple-A All-Star Game, and has played first, second and third in his Majors stints this season and last.
Scioscia said he could be Andrelton Simmons' backup moving forward at shortstop. Cowart has a powerful arm -- most teams wanted to draft him as a pitcher -- and has clocked 97 mph with his fastball. But Scioscia, famous for never using a position player to pitch in his 17 seasons at the Angels helm, shrugged off suggestions Cowart could help the Angels on the mound.
Earl Bloom is a contributor for MLB.com based in Los Angeles. This story was not subject to the approval of Major League Baseball or its clubs.