McAllister makes kick save to catch liner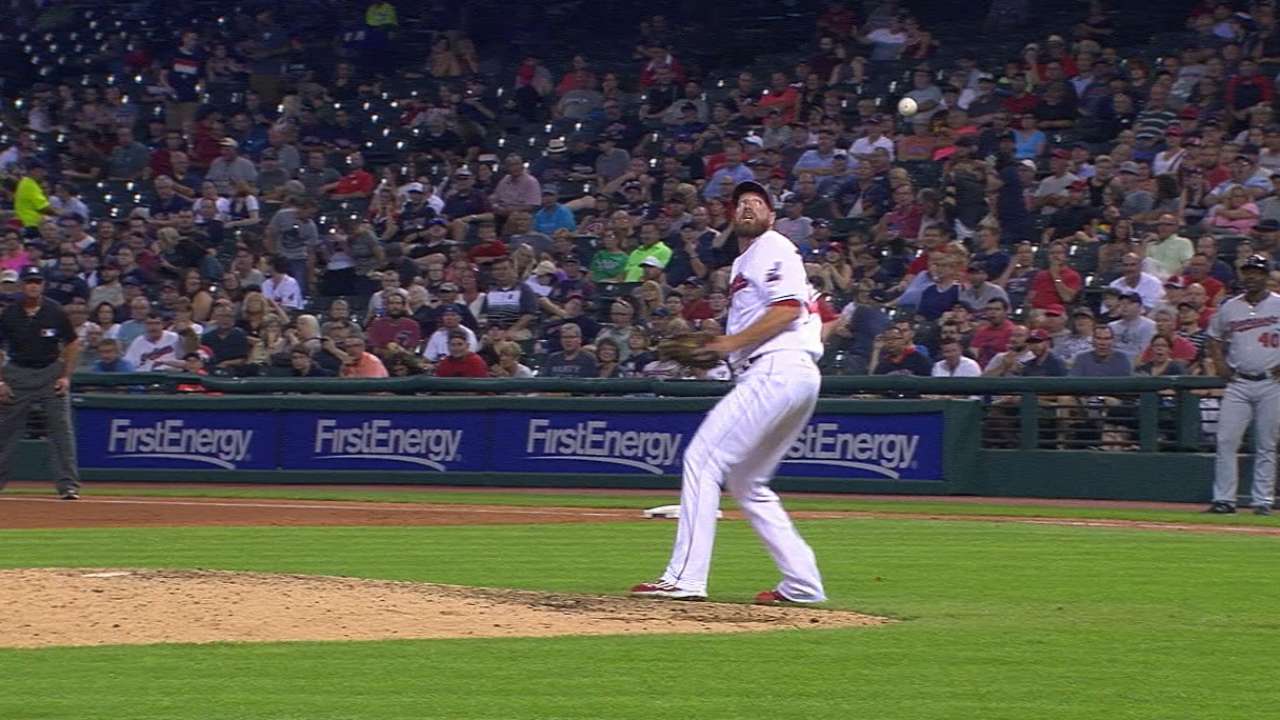 CLEVELAND -- Zach McAllister made a kick save, and it was a beauty.
In the sixth inning of the Indians' 5-4 win over the Twins on Tuesday, McAllister turned in an incredible play that had the Progressive Field crowd reacting in a mix of cheers and laughter. The Indians' reliever kicked a line drive back to the mound and then made an improbable catch for a one-of-a-kind out.
"I don't know if that caught him or he caught it," Indians manager Terry Francona said. "I guarantee you, if you ask him, he'll say he'll take it."
With one out and Cleveland clinging to a one-run lead, McAllister unleashed a 95-mph fastball to Twins catcher Kurt Suzuki, who ripped a liner back up the middle at 101 mph, according to Statcast™. As McAllister finished his delivery, the ball struck his left calf and popped up into the air.
• How does McAllister's hacky sack catch make you feel?
McAllister quickly looked for the ball, spotted it and spun around in time to stick his glove out for the catch. The big right-hander flipped the ball to first baseman Mike Napoli just to be safe, but there was no doubt about the spectacular grab, even if you had to see it to believe it. McAllister could not help but smile before returning to the mound for Cleveland.
#HackyZach

(they tweet sheepishly and apologetically to @ZMac34) pic.twitter.com/ykLBp5CNN9

— Cleveland Indians (@Indians) August 31, 2016
"That was just reaction," McAllister said. "There's nothing more than that. It's a ball coming back at you and hopefully you either stop it and make the play, or it goes through the middle, and it's probably a base hit. It just worked in my favor tonight."
Behind McAllister, Indians second baseman Jason Kipnis thrust both arms into the air in celebration, as the crowd erupted. Before play resumed, shortstop Francisco Lindor could not contain his laughter while chatting with the pitcher and catcher Chris Gimenez on the mound.
"Mac did his thing, playing hacky sack with the ball, catching it," Indians reliever Dan Otero said. "It was great. I thought Kipnis' reaction in the background was the best."
Otero's comments echoed the reaction on social media, where many fans were taking to calling McAllister "Hacky Zach" after his gem.
Balls hit with an exit velocity of 101 mph go for hits 54.7 percent of the time, while hitters reach safely on 43.4 percent of drives hit at that speed with a launch angle of one degree.
"It's just one of those strange baseball plays," said Twins manager Paul Molitor, who's team has lost 12 in a row. "You see deflections that are caught now and then, but not usually from the same guy who does it. I suppose it's a little bit indicative of the frustration that some of our guys are going through."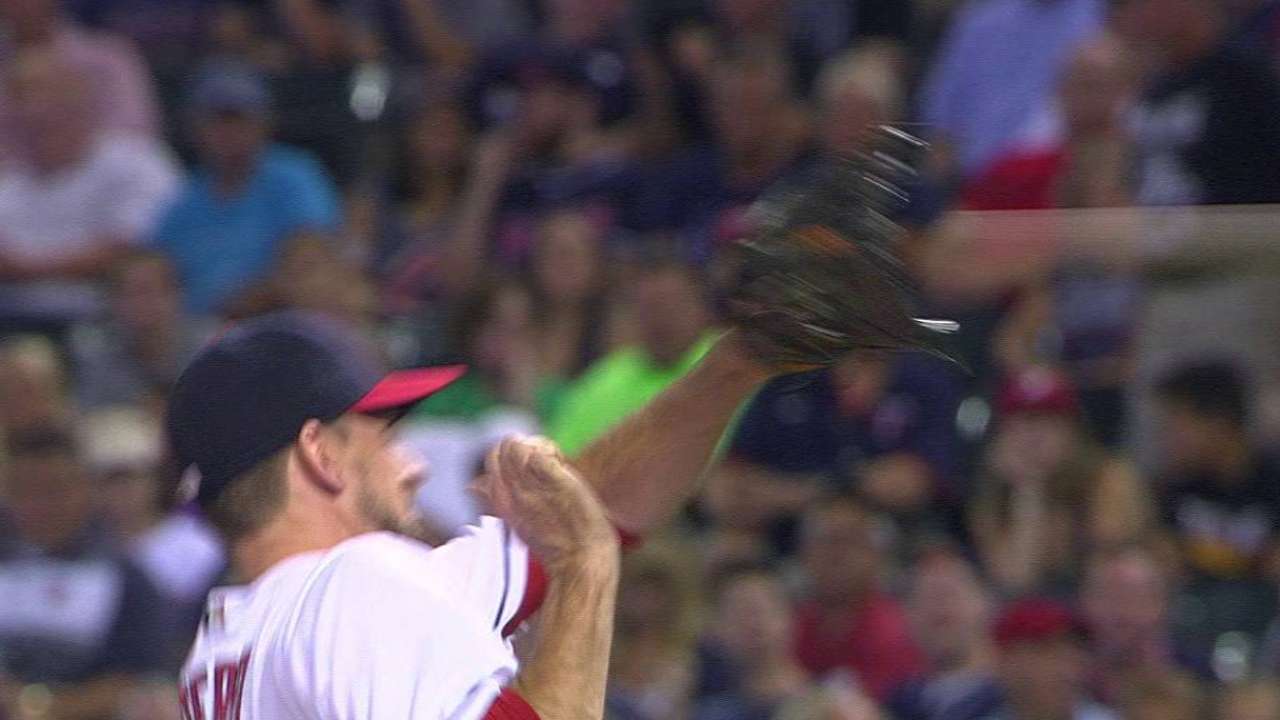 It was the second defensive gem of the night for an Indians pitcher.
In the third inning, Otero entered for the Tribe with one out and the bases loaded. Logan Schafer lined a pitch back to the pitcher, who snared the ball with some quick reflexes. Eddie Rosario had wandered too far off second base before the catch, giving Otero plenty of time to fire the ball to Lindor. The shortstop stepped on the bag to complete an inning-ending double play.
"I was trying to get the ground ball at somebody," Otero said. "But it happened to be a line drive at my face. I got my head out of the way and snagged it. I looked around and didn't know where it throw it, saw the guy running to third so I was like, 'All right, I'll lob it to Lindor.'"
One inning later, the Indians broke a 4-4 deadlock and held on for the win.
"That was a big out," Francona said. "I told when I brought him in, 'Go get you a double play,' but I'm not sure I really saw it [happening] like that."
Jordan Bastian has covered the Indians for MLB.com since 2011, and previously covered the Blue Jays from 2006-10. Read his blog, Major League Bastian, follow him on Twitter @MLBastian and listen to his podcast. This story was not subject to the approval of Major League Baseball or its clubs.