Giants once again pay for missed opportunities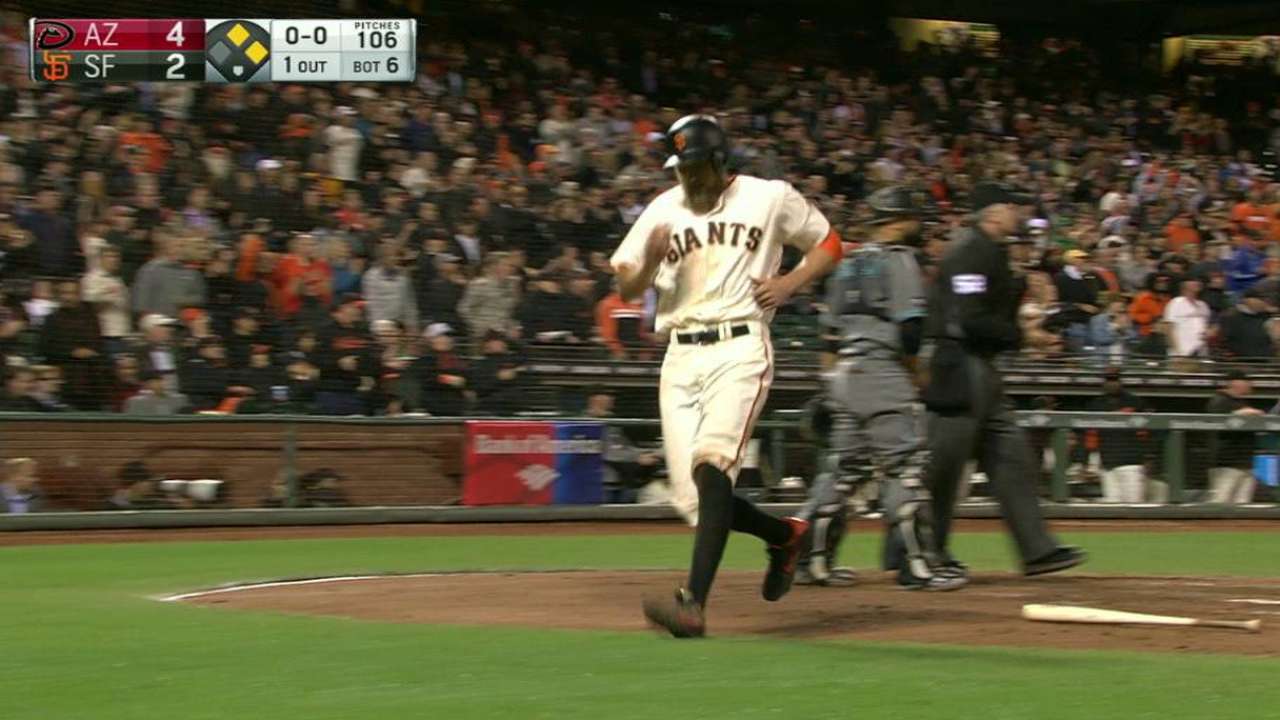 SAN FRANCISCO -- On Sunday, Joe Panik said he "kind of felt everything clicking again.." And it seemed like the phrase embodied the Giants as a collective unit during an offensive onslaught that featured 11 extra-base hits and gave the club its first series win at AT&T Park since the All-Star break.
But that game was an exception to what has been a frustrating second-half rule, as the Giants' bouts with inconsistency at the plate continue to thwart their efforts to string together consecutive wins, and Tuesday night's 4-3 loss to the Arizona Diamondbacks was the latest example.
Two days after scoring 13 runs, San Francisco managed just three while going 2-for-9 with runners in scoring position. The performance mirrored how the Giants scored just one run a night after breaking out for seven in a series-opening win against the Braves last Friday.
The big hit eluded the Giants on Tuesday, according to manager Bruce Bochy, before pointing to the sharp ground ball that Buster Posey hit in the ninth inning to end the game.
"We created chances out there that we couldn't cash in on," said Bochy. "We hit some balls hard, too. Buster smoked that ball at the end, just right at him. It would've been nice if it had gone through. I thought we had some pretty good at-bats, getting runners on."
The Giants, who entered Tuesday with the fifth-lowest batting average with runners in scoring the Majors, are now 19-39 when scoring three runs or fewer. As Sunday showcased, the Giants are capable of breaking out offensively. They just haven't done it regularly during the second half of the season.
Panik hit a ground-rule double that scored Hunter Pence in the sixth, and Angel Pagan, who has reached base safely in 23 of his last 24 games, hit an RBI single in the ninth. But outside of those base hits, San Francisco hardly threatened the D-backs' lead.
Posey said that the club isn't concerned by its lack of consistency.
"You just come out and play the next game," said Posey. "Sure, you get tired of hearing that, but we get tired of the questions, too, sometimes.
"I thought we made some hard outs, but that's the way it goes."
Justin Wise is a reporter for MLB.com based in the Bay Area. This story was not subject to the approval of Major League Baseball or its clubs.