Pence returns after hamstring flareup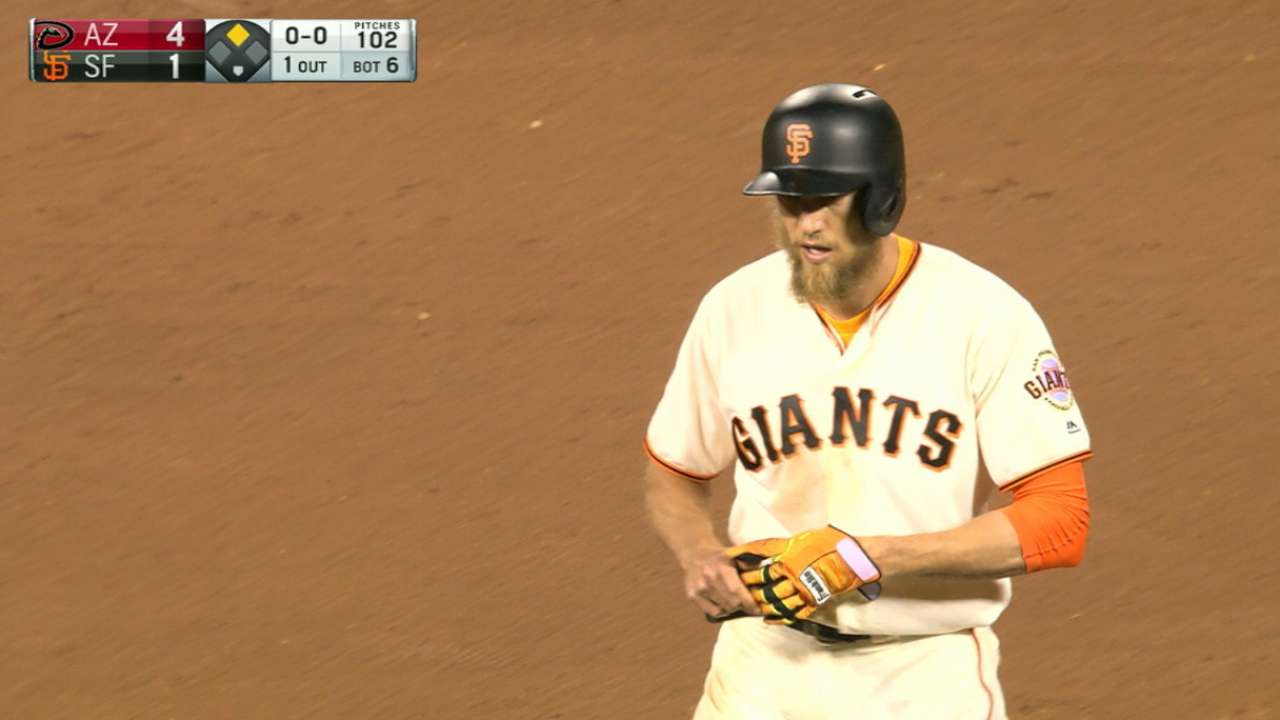 SAN FRANCISCO -- Hunter Pence's right hamstring continued to tighten during the Giants win against the Dodgers last Thursday. No stranger to issues involving that muscle, Pence wisely exited the game, missed San Francisco's three-game series against the Braves and got a final day of rest during Monday's off-day.
He never expected to be miss an extended period of time, though, and returned to the club's starting lineup on Tuesday for its series opener against the Arizona Diamondbacks at AT&T Park, going 3-for-3 with a run scored in the Giants' 4-3 loss.
"I think he felt he could've gone a couple days ago, but we wanted to give him a day with the day off," said Giants manager Bruce Bochy. "He's in there. We'll keep an eye on him, but he says he's good to go, and more importantly, the medical staff thinks he's good to go."
Pence was available as a pinch-hitter over the weekend, but Bochy said the Giants wanted to give him additional rest considering his history. Pence has already missed 48 games this season after tearing his right hamstring in June. Bochy also was cautious about saying whether Pence was 100 percent.
"He's probably real close," said Bochy. "If he feels anything, we'll have to adjust. I don't want him to risk having a setback."
Pence is certainly itching be back in the lineup consistently. Despite batting just .223 with five RBIs since returning from the disabled list, the right fielder was noticeably animated when speaking with reporters about the final month of the season.
"Every game is huge right now; that's the fun of it," Pence said Friday. "Every game is of the utmost importance. Living on the edge this time of year, the drama is at its highest. It's that good fire. We know what we're playing for and we want to play for as long as we can."
Worth noting
• With Derek Law on the 15-day disabled list (right elbow strain), Bochy said Sergio Romo will be the primary option in the Giants' bullpen to pitch the eighth inning.
• Bochy said "quite a few guys" will join the Giants when rosters expand on Thursday, including Josh Osich, who has been on the 15-day DL (left forearm strain) since July 28.
Reliever Joe Nathan, who signed with the club in mid-August, could potentially join the team as well. Nathan, 41, has made four appearances for Double-A Richmond. The 18-year veteran, who played for the Giants from 2000-03, has made just four big league appearances in the past two years.
"It will be a matter of if we get things worked out with the roster and everything," said Bochy. "We're looking at all the possibilities right now.
"He's doing a good job [at Richmond]. He knows what he's doing out there. He's good against lefties and righties. He's doing what we were hoping he'd do, and that's throw the ball well."
Justin Wise is a reporter for MLB.com based in the Bay Area. This story was not subject to the approval of Major League Baseball or its clubs.