Kershaw throws sim game, nears rehab stint
Dodgers ace among four injured starters to pitch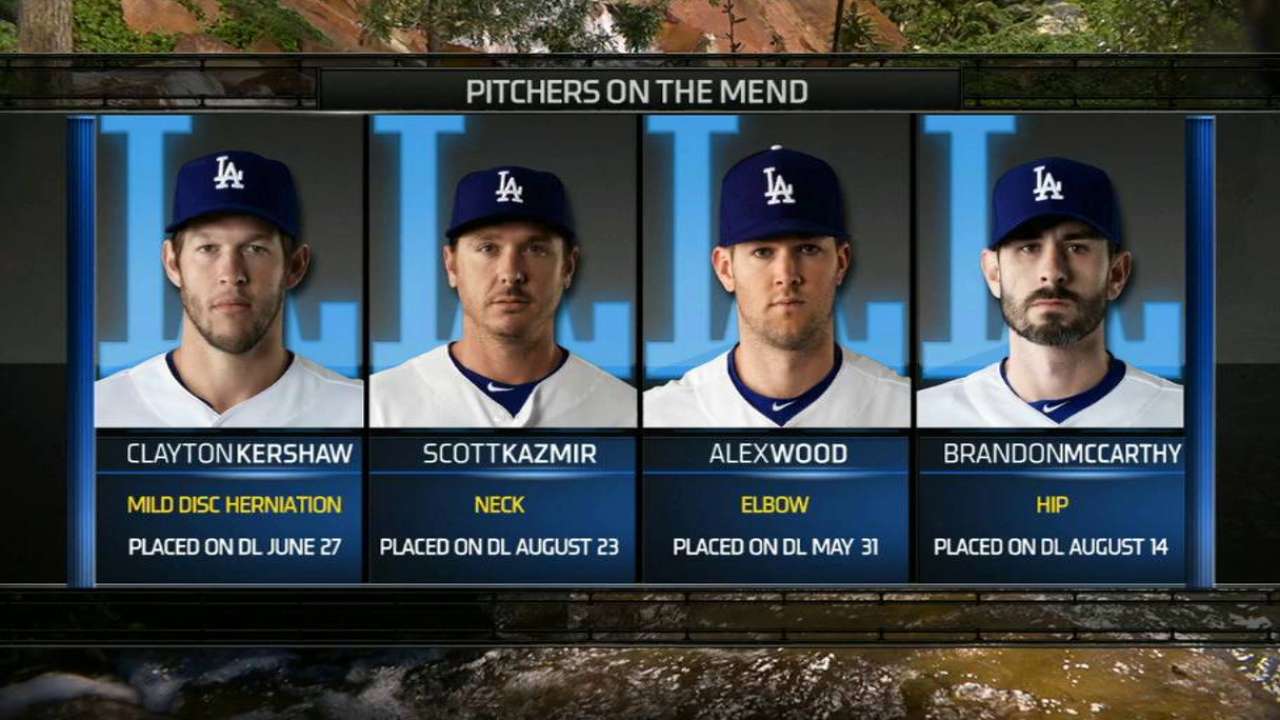 DENVER -- The Dodgers' rehabbing starting rotation pitched in a simulated game Tuesday at Dodger Stadium, with Clayton Kershaw throwing two innings, Brett Anderson four and Scott Kazmir and Brandon McCarthy five each.
Kershaw was said to be feeling fine physically, but also is the furthest from being Major League ready of the four. President of baseball operations Andrew Friedman said his guess was that the staff ace would need a Minor League rehab start to further build arm strength before returning to the Dodgers. It could come in a postseason game for one of the affiliates.
"My guess is Kersh wants to pitch in a Major League game tomorrow, but with the time he's missed [two months], my guess is the next step will be a Minor League assignment," Friedman said. "It will take a little time to build him up to be strong through September and October as well. All of it is speculative."
Kershaw has been out with a herniated disk and has already had one setback that delayed his return. He threw a 60-pitch bullpen session Sunday, but Friedman said he was scaled back in the sim game because of the intensity of facing hitters, even if the ones Tuesday were from Class A Rancho Cucamonga.
"It was a great step in his progression, he felt great after, which is everything we cared about," Friedman said. "As we knew he would do, he said he wasn't as sharp as he wanted. We'll assess tomorrow the next steps."
Friedman said Kershaw will have a lot to say about his next assignment, to a point.
You have to balance that with he's as competitive a person as I've been around and he wants to get out here and help the team in the worst way," he said. "We'll have to balance the medical opinion with the way he's feeling in the most responsible way possible."
Manager Dave Roberts said of the four, Kazmir (neck injury) is the closest to returning, perhaps without needing another outing. McCarthy has been out with what the club calls right hip stiffness, while Anderson has had a finger blister, and Roberts said both will need at least one more assignment before rejoining the club.
Ken Gurnick has covered the Dodgers since 1989, and for MLB.com since 2001. This story was not subject to the approval of Major League Baseball or its clubs.