Cole confident he will return this season
Pirates ace relieved no ligament damage in elbow diagnosis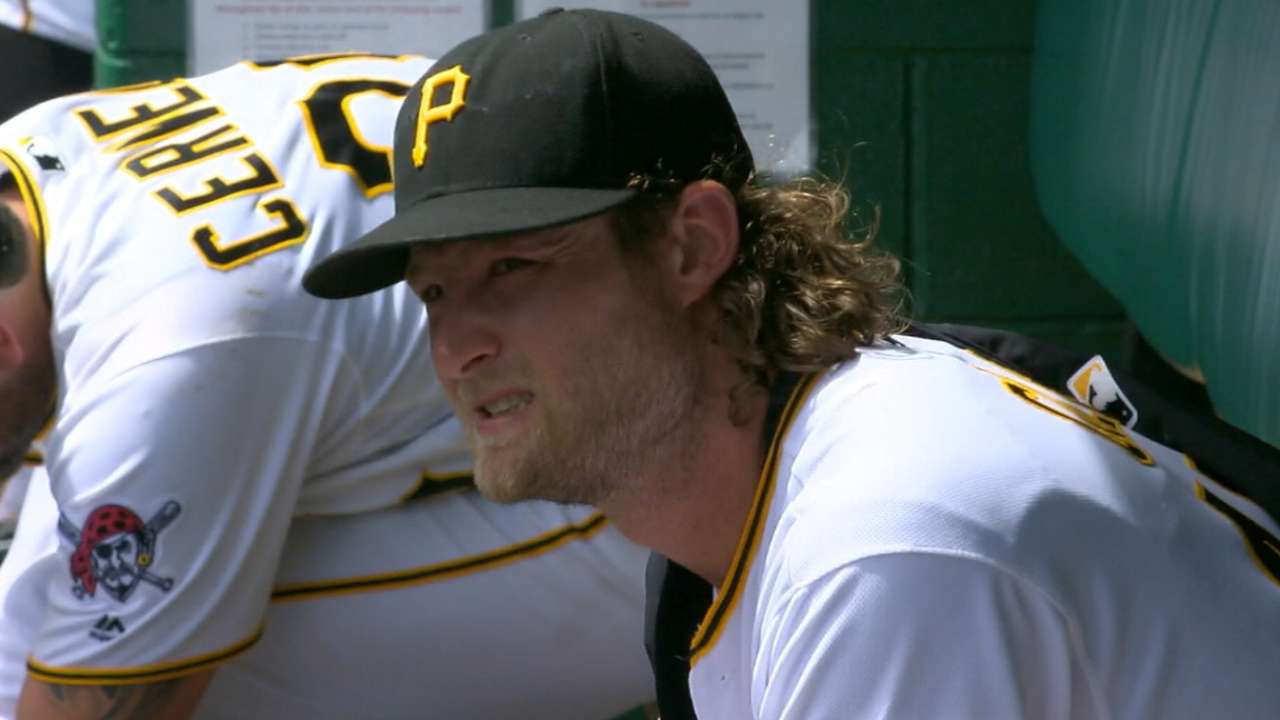 CHICAGO -- Gerrit Cole had barely heard the end of the question when he responded, leaving little doubt about his plans for the rest of the season. Will he pitch again this year?
"Yes," he answered immediately and firmly, easing some concerns about the sore right elbow that sent him to the 15-day disabled list on Monday. The Pirates' ace right-hander resumed playing catch at Wrigley Field on Tuesday afternoon, the start of his progression back to the mound.
"This is very encouraging news for Gerrit," head athletic trainer Todd Tomczyk said. "He's focused on how he's going to help this team win some games the rest of the season."
Cole visited Dr. Neal ElAttrache in Los Angeles for a second opinion and was relieved that the diagnosis of posterior inflammation did not involve any elbow ligaments. He is eligible to return on Sept. 9, but it's unclear exactly when he'll be ready to start.
"I haven't gotten that far," Cole said. "This is something that will hopefully go quick."
Rookie left-hander Steven Brault started in Cole's place on Monday at Wrigley Field. Brault remained with the club on Tuesday, but the Pirates don't need a fifth starter again until Sept. 6. That start could go to Brault or perhaps a starter called up from Triple-A Indianapolis after rosters expand on Thursday.
Cole said this is his first elbow issue. He has been sent to the disabled list in the past due to back and shoulder strains, and this year he's dealt with rib inflammation and a strained right triceps.
His offseason and Spring Training routines were thrown off by the rib injury, then came the triceps injury in early June. Cole's inconsistent, injury-interrupted routine is the primary reason he's struggled to replicate his outstanding 2015 results this season.
"It's been a struggle all year to be able to find that groove," Cole said. "Typically we throw for eight weeks or more going into the season. We have a lot of times to hit our legs, back and core, all that stuff, and I was hindered with how much work I could do. Then I had to take time off before I went to Spring Training. The first time I picked up a ball was the first day I showed up in Bradenton [for spring camp]."
Cole informed the Pirates' training staff after his start Wednesday that his elbow was bothering him. Cole struggled in his last four outings, running up a 7.06 ERA while allowing 34 hits in 21 2/3 innings.
"Just not knowing what was going on and obviously the level of discomfort was concerning," Cole said. "It was affecting the way I was able to get aggressive with my pitches."
What caused the discomfort in the first place?
"Pitching," he said. "It's the inherent risk. Everybody's on the clock at some point. It's part of the deal."
Adam Berry has covered the Pirates for MLB.com since 2015. Follow him on Twitter at @adamdberry. This story was not subject to the approval of Major League Baseball or its clubs.