Defensive 'backbone' Pedroia returns to lineup
Second baseman solidifies middle of Boston defense with Bogaerts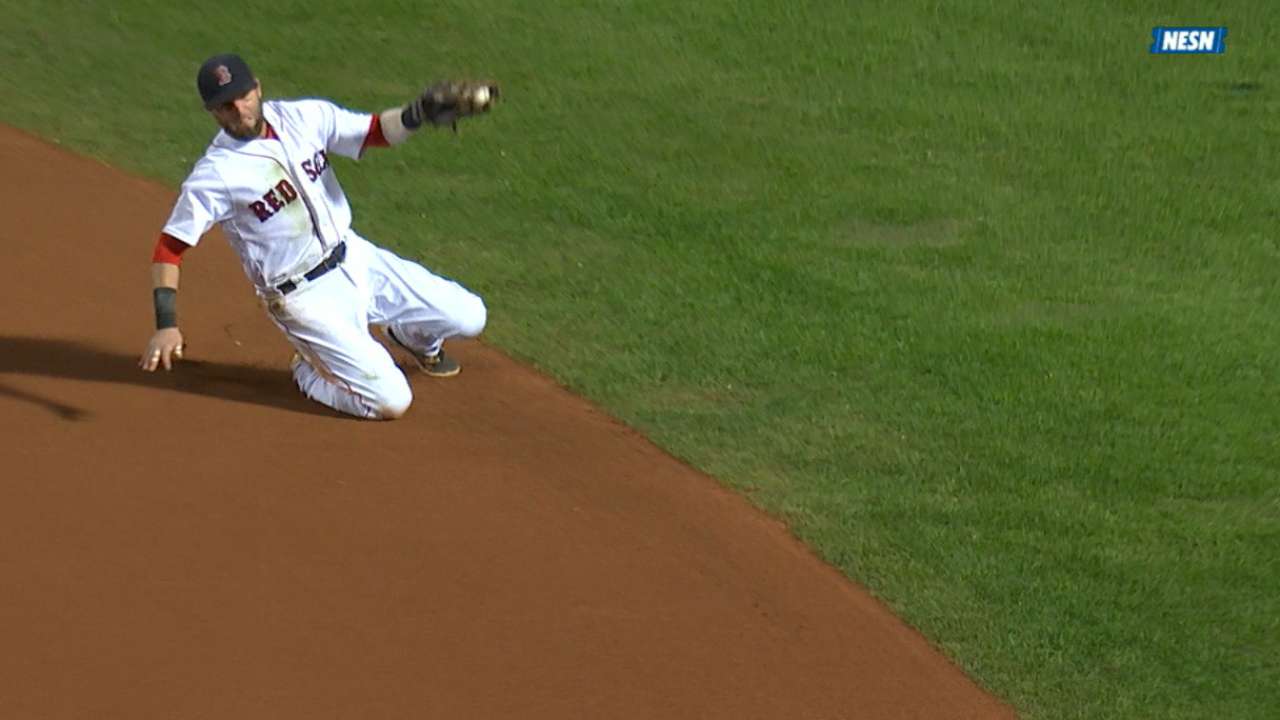 BOSTON -- Dustin Pedroia returned to the Red Sox's lineup on Tuesday against the Rays after missing two games due to a death in the family. The Red Sox will look to re-establish structure in both the lineup and infield, with the second baseman serving as the backbone on the dirt.
Brock Holt replaced Pedroia at second base, and in his absence, Holt proved again why he's a super-utility player. But the Sox are happy to have Pedroia back, who's quietly having one of his best seasons, slashing .320/.384/.456 with 12 homers 58 RBIs after going 1-for-3 with a run scored in Tuesday's return to the lineup, a 4-3 loss to the Rays. He also robbed Kevin Kiermaier with a diving stop in the eighth inning.
The second baseman is hitting .453 (34-for-75) since moving to the leadoff spot on Aug. 10, which included a streak of 11 consecutive hits. Red Sox manager John Farrell credited Pedroia's stellar defense (six errors this season) and health to his hard work over the offseason.
"What Pedey had control over was the way he trained in the offseason. It was a complete revamping of his offseason program, to address more lean bodytype and quick movements. And that is how it's played out for him to have improved range," Farrell said.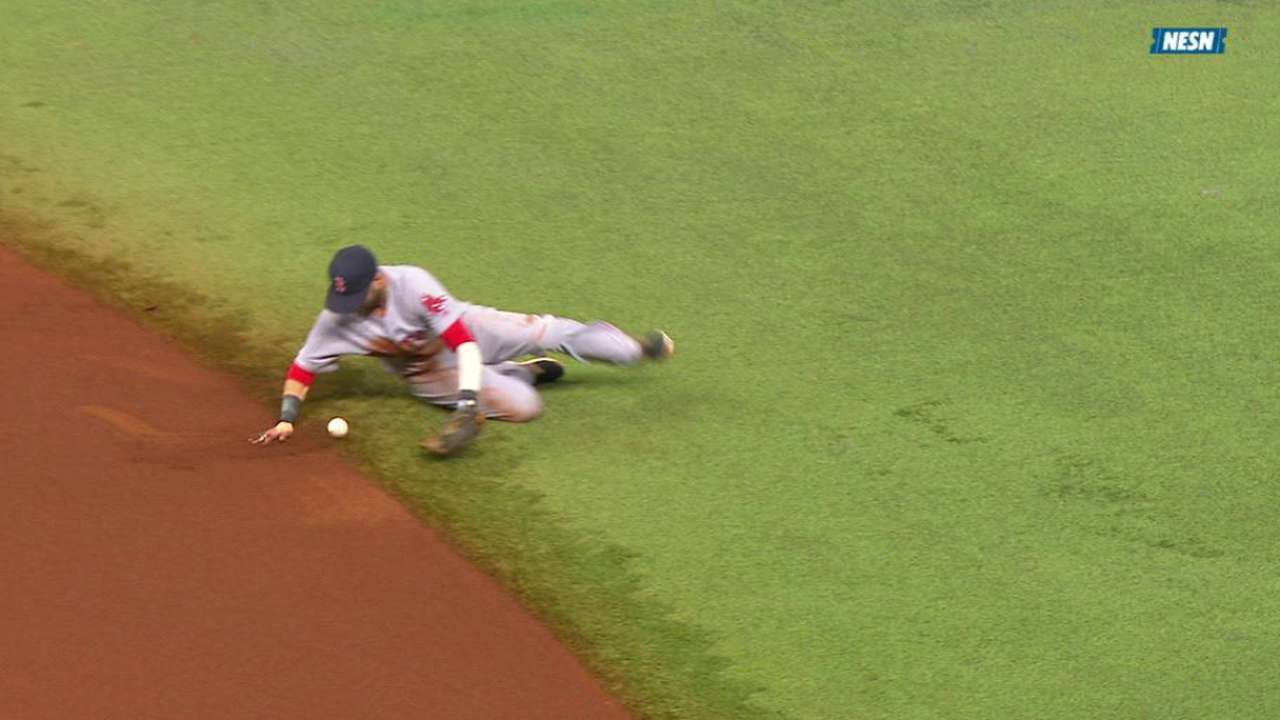 Adding depth to the infield is Xander Bogaerts, who displayed his importance at shortstop on Monday by using his quick feet to backhand a sharp grounder, spin and make an accurate throw to first base. Bogaerts didn't commit an error until June 15 -- 37 games into the season.
"I think he [Bogaerts] and Pedey up the middle have proven to be the backbone. Hanley [Ramirez], Pedey and Bogey have been very dependable, durable. And when you've got that continuity in your better defensive players available to you from just a health standpoint, that should lead into overall improved defense," Farrell said.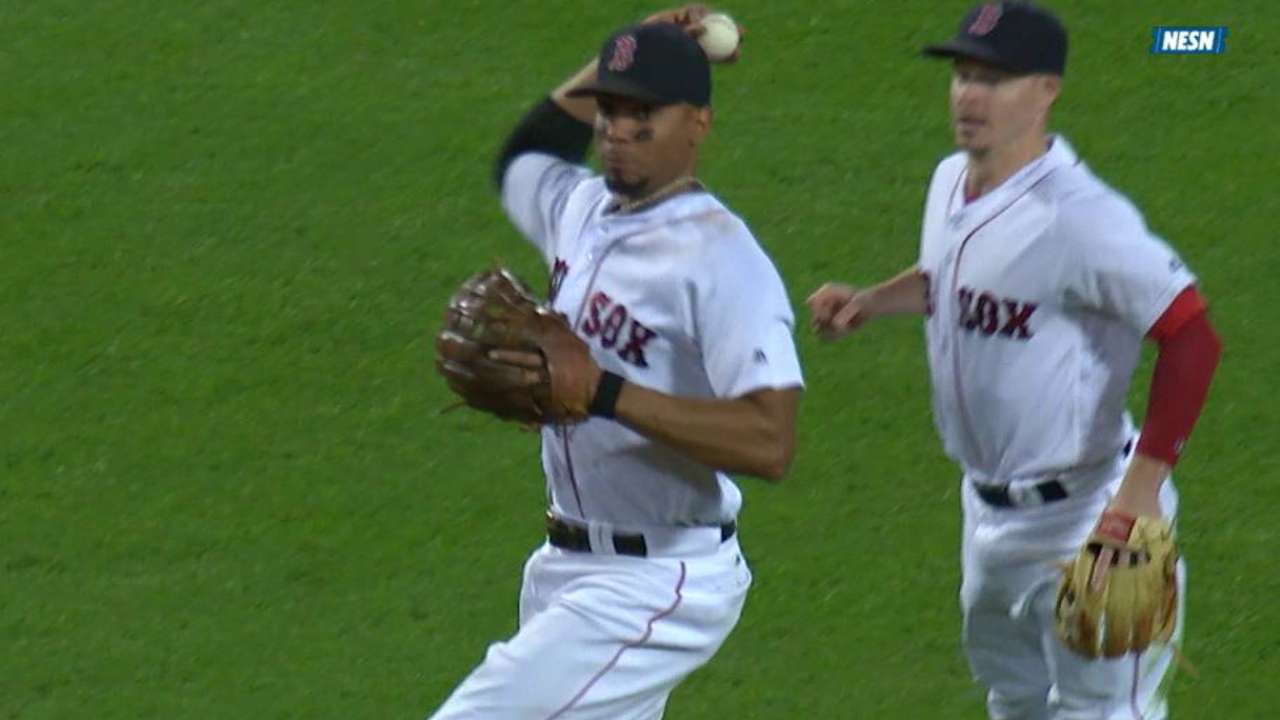 Boston's strong defense stretches into its outfield, with Jackie Bradley Jr. and Mookie Betts combining for 22 assists this season, already eight more than they finished with last year. All of this amounts to a comfortable pitching staff that trusts its defense behind it.
"Well, as long as it stays in the ballpark, we have a chance to run 'em down," Farrell said. "I think the ability to cut down a runner or to have an outfield assist can really keep a big inning from happening."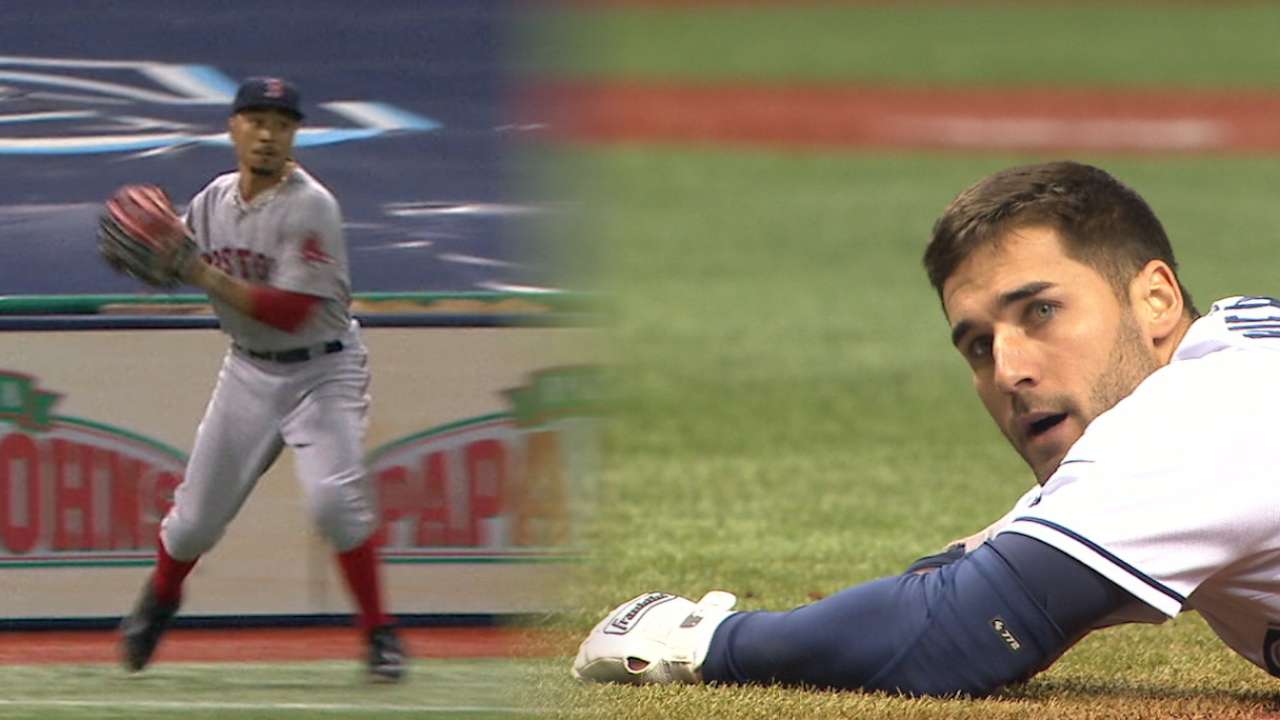 Worth noting
• Andrew Benintendi is gradually making progress on the 15-day disabled list (left knee sprain). The outfielder was measured for a brace and will receive it during the team's three-game set against San Diego next week, allowing him to begin his rehab.
"The rehab is range of motion, some strengthening, some low impact type stuff," Farrell said. "Two weeks from the date of the injury is going to be that lower impact phase, and then we'll look to start to increase some ground-based activity once he's got the brace on and ultimately some baseball activity from there."
Deesha Thosar is a reporter for MLB.com based in Boston. This story was not subject to the approval of Major League Baseball or its clubs.