Duffy: Dealing with Achilles is 'learning process'
Rays to monitor shortstop on day-to-day basis down the stretch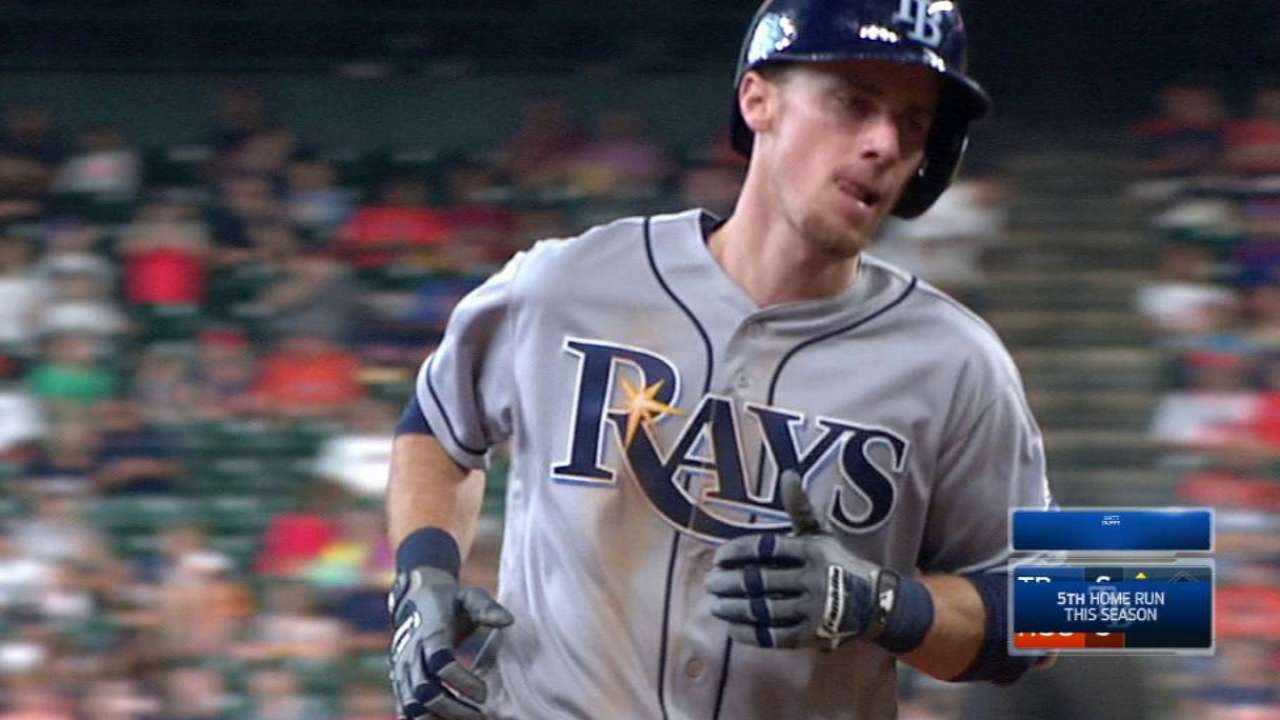 BOSTON -- Monitoring the condition of Matt Duffy's Achilles will be a day-to-day thing for the Rays for the remainder of the season.
Rays manager Kevin Cash has tried to give the team's new shortstop a day off about every fifth day just to make sure that his left Achilles remains healthy going into the offseason.
Duffy came to the Rays in the non-waiver Trade Deadline deal that sent Matt Moore to the Giants. Duffy was on the disabled list at the time with a strained left Achilles.
"We're kind of all learning with it, understanding what it can take," Duffy said. "It seems to be one extra day if we're on the road. If we're at home [on the artificial surface], the inflammation creeps in a little quick. But I think everybody is doing a pretty good job with it. It's just me being honest about what I feel and not being too stubborn feeling that I can play through everything."
Duffy said there are "different types of soreness and pain."
"I think just being post-injury like it is, I have to be a little more careful with it than I would have," Duffy said. "I dealt with similar types of issues last year, there was no structural damage, but the same soreness.
"But since I knew there was no structural damage, I was able to just play every day whatever the pain tolerance was. Now I'm kind of learning what is inflammation and what is actual Achilles starting to bark a little bit. It's a learning process, but I think everyone has handled it pretty well, so far."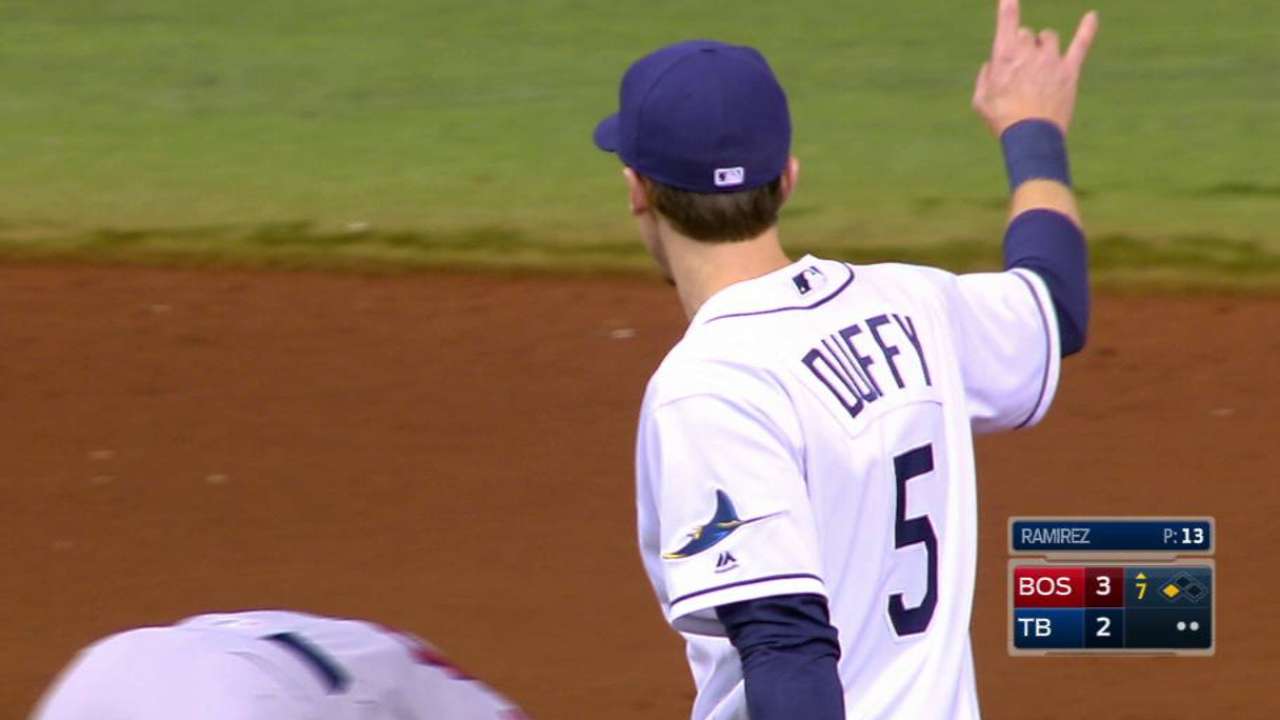 Duffy admitted that he's had to learn that taking care of an injury -- and not playing through it -- is sometimes the wisest course of action.
Coincidentally, Duffy injured his Achilles earlier in the season while playing in a game for the Giants against the Rays at Tropicana Field.
"I'm stubborn," Duffy said. "I tried to stay in the game when it happened. I was also upset that they put me on the DL initially, too, after my MRI. Of course, two months later, I was finally coming off the DL."
Duffy reasoned that he'd dealt with so much heel pain in the past that he thought the pain he felt this season would calm down.
"Once it became weaker than before, in terms of strength, everything changed," Duffy said. "It was either take it a little slower, be smarter about it, give it a little extra babying, instead of the alternative, and risk something more serious, which is an Achilles rupture. That's like Tommy John for a runner. It's over a year recovery. I'll take two extra weeks off now not to have a year off."
Rather than completely take the night off on Tuesday, Duffy was used as the DH because Cash said Duffy "felt good enough."
The Rays are pleased with Duffy's work. In all 15 of Duffy's previous games for the Rays, he started at shortstop. He hasn't made an error in 126 innings and 48 chances.
Bill Chastain has covered the Rays for MLB.com since 2005. This story was not subject to the approval of Major League Baseball or its clubs.