Lewis makes 2nd rehab start; Rangers return TBD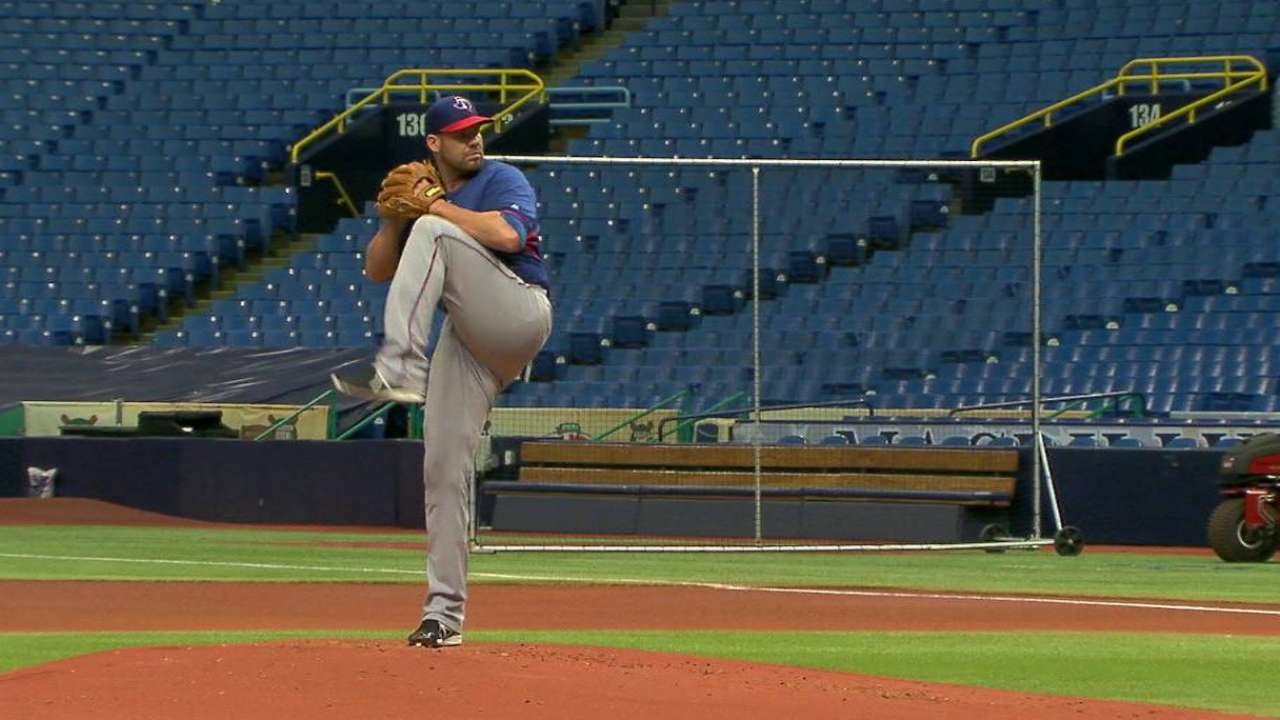 ARLINGTON -- Rangers right-hander Colby Lewis threw 60 pitches over 3 2/3 innings in his second rehab start with Double-A Frisco on Tuesday night, against Corpus Christi. Lewis was originally scheduled to throw on Monday with Frisco at Midland, but the game was cancelled due to inclement weather.
Lewis, who has been on the 60-day disabled list since June 25 with a right lat strain, allowed five runs on eight hits -- to go with two strikeouts and a walk -- and threw 41 of his 60 pitches for strikes. He said it was disappointing to seemingly have to "start over" after going 6-1 with a 3.21 ERA in 15 starts before going on the disabled list.
"I'm just trying to get arm strength up, trying to get my pitch count up," Lewis said. "Of course you don't want to go out and give up runs or give up hits, or anything like that. I kind of feel like I'm still in Spring Training form right now. I just don't feel like I'm very sharp."
Before his scheduled rehab start on Monday was rained out, Lewis had targeted a Saturday return to the Rangers, which would've kept him on four days' rest. He's not sure where or when his next start will be. It's possible he'll need a third rehab start.
"I think we'll just kind of assess it," Lewis said. "I don't know if I'm gonna go Sunday, or what the plan is. We'll just have to see where they want to slot me or where they want to fit me in."
Lewis, 37, threw 44 pitches in his first rehab start with Frisco on Aug. 24. He's not as concerned with his numbers in his rehab outings as he is with building his strength back up.
"That's all I'm trying to do," Lewis said. "The more reps you get, the more comfortable your arm gets, the more relaxed it gets and the more free it gets."
While he's still working on regaining the strength he lost with the injury, he's pleased with his endurance.
"I feel great. I'm still in the same shape I was when I got hurt," Lewis said. "I feel like everything kind of tightened up, and now I'm just trying to restretch everything back up."
• Reliever Tanner Scheppers, recovering from left knee surgery, made his fifth rehab appearance on Tuesday. Pitching for Triple-A Round Rock, he went one scoreless inning, allowing a hit and a walk while striking out two. He could be activated as early as Friday.
Ryan Posner is a reporter for MLB.com based in Texas. This story was not subject to the approval of Major League Baseball or its clubs.