Beltre: Odor 'responded in right way' after mistake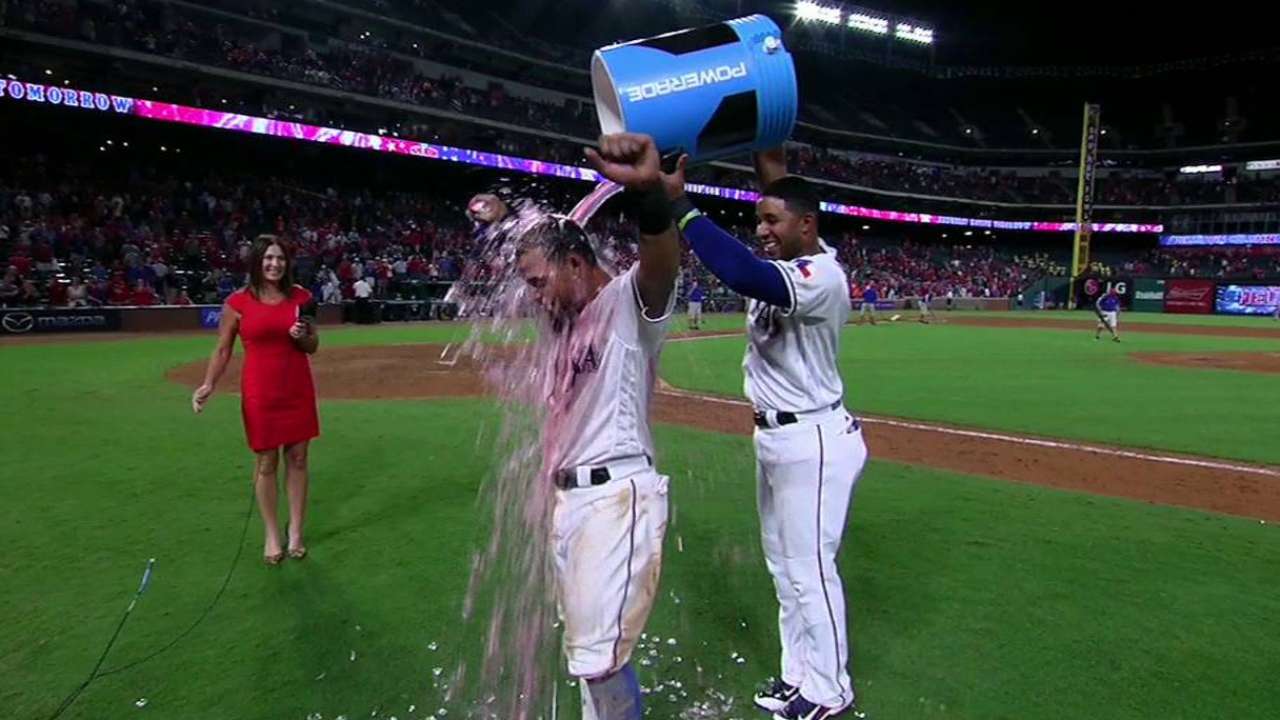 ARLINGTON -- Rangers second baseman Rougned Odor was having a tough night on the bases. He got thrown out trying to steal third base in the third inning, and again trying to turn a single into a double in the seventh.
But he made up for all that in the bottom of the ninth inning when he crushed a two-run home run off Mariners reliever Edwin Diaz to give the Rangers an 8-7, walk-off victory on Tuesday night at Globe Life Park.
Odor's home run followed a leadoff single by Adrian Beltre. It was Beltre who gave Odor a little smack on the head and a pep talk after the seventh-inning baserunning play.
"Yeah, I mean, you guys saw what happened my at-bat before," Odor said. "I was too aggressive on the bases and it was not the right situation. [Beltre] talked to me and explained the situation and stuff like that. I just want to say thank you to him, because he's a great teammate and he teaches me the little things."
The Rangers celebrated their sixth walk-off win of the season, including four by home run. They are also 30-8 in one-run games and they are 44-21 at home this season.
"All I can say is don't think there is not heart and passion in this club, or determination," manager Jeff Banister said. "Look … they never believe they are out of any single game, no matter what the situation. They continue to amaze me every single night."
The Rangers also have 39 come-from-behind wins and are a season-high 25 games over .500 for the first time since 2012.
"We're not saying we've done it every single time," outfielder Ian Desmond said. "We've had stretches where we didn't come through, so you embrace it when you do. It's a big win. I'm sure Rougned wanted to redeem himself, although he didn't need to."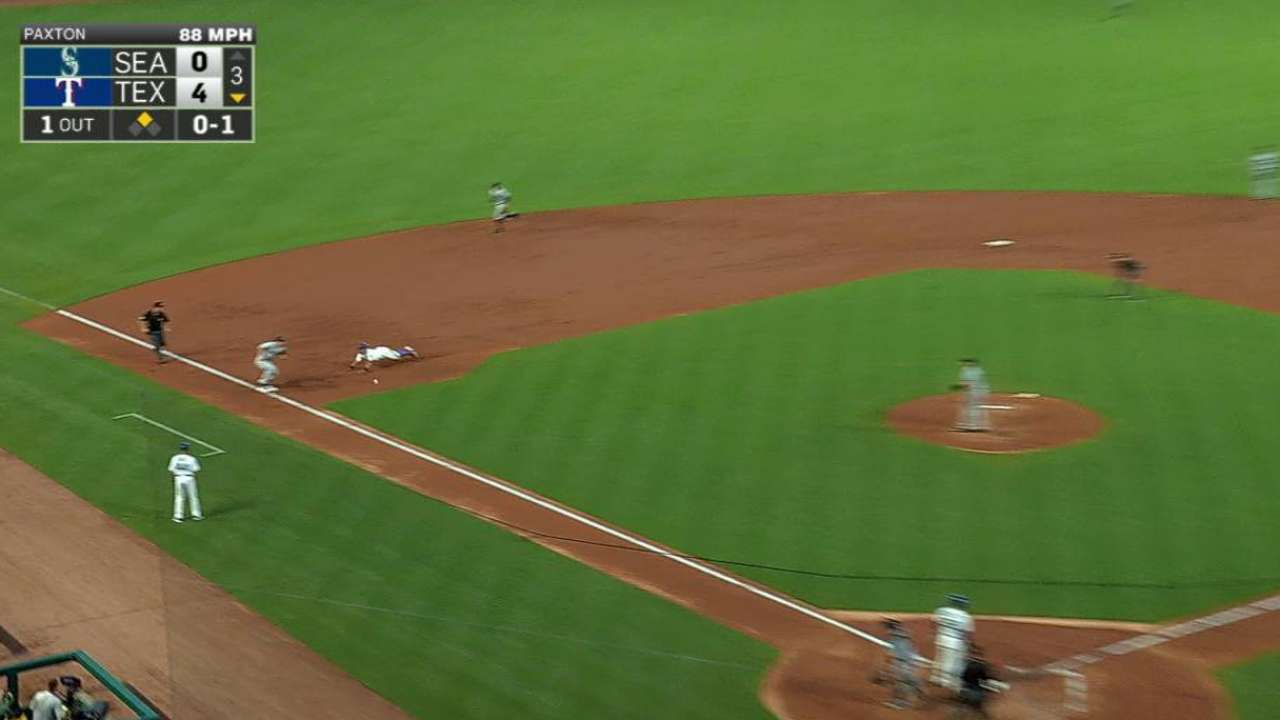 Odor had a three-hit night, but there was also the baserunning. The attempted steal of third was close, it was one out in the third and the Rangers led, 4-0. The seventh-inning affair was different.
Beltre was on first with one out after a run-scoring single cut the Mariners' lead to 6-5. Odor followed with a single to right, allowing Beltre to race to third with the potential tying run. But Odor tried to take second and was thrown out easily by right field Shawn O'Malley.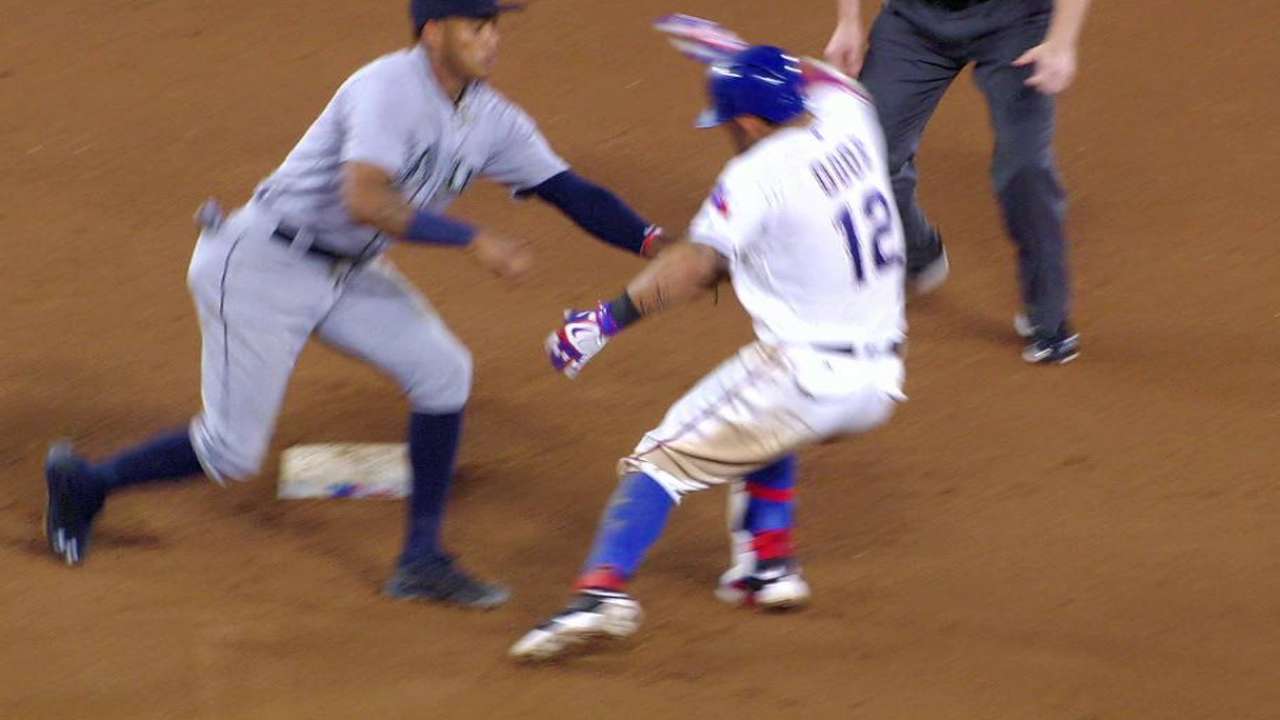 "He just had to learn the situation of when he should be aggressive and when he shouldn't, that's it," Beltre said. "He was a little aggressive, a little risky, in the situation. But big deal, our team is aggressive, we just have to be smart-aggressive, that's it. It's a situation where he tried to push the envelope a little bit, but that was not the right situation."
Jonathan Lucroy still scored Beltre with a single to tie the game, but the Mariners went ahead in the top of the eighth to take a 7-6 lead. Beltre started the game-winning rally with a single off Diaz in the ninth before Odor came to the plate.
He laid off a 1-2 slider before hitting a 2-2 pitch over the center-field wall to win the game.
"He responded in the right way," Beltre said after another raucous Rangers celebration.
"We're never out of a game," first baseman Mitch Moreland said. "I don't know what else to say. It's been an unbelievable year."
T.R. Sullivan has covered the Rangers since 1989, and for MLB.com since 2006. Follow him on Twitter @Sullivan_Ranger and listen to his podcast. This story was not subject to the approval of Major League Baseball or its clubs.