Mariners give Cruz time to rest ailing hand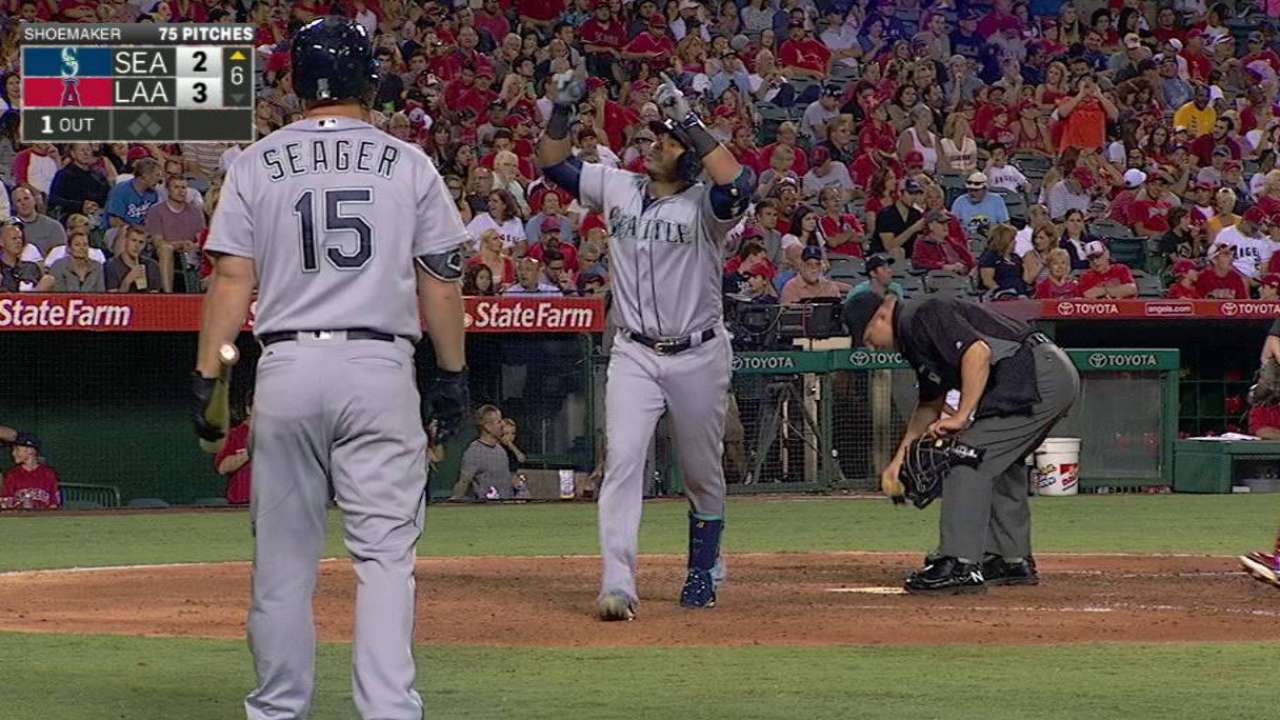 ARLINGTON -- A Mariners team that has struggled against left-handed starters can't afford to be without right-handed slugger Nelson Cruz for long, but the Mariners' designated hitter was forced to sit out Tuesday's game against the Rangers due to a nerve issue in his left hand that is affecting his grip.
Manager Scott Servais said Cruz hurt the hand on a checked swing in Sunday's loss at the White Sox. He stayed in that game and tried to play through it again on Monday, but went 0-for-4 with two strikeouts in a loss to the Rangers.
X-rays and an MRI showed no damage to the bones in Cruz's hand, but Servais said a pinched nerve or something is limiting the feeling in Cruz's fingers and his ability to hold the bat tightly.
"I just think instead of trying to grind through it and aggravate and maybe make it worse, let's give it a day to calm down," Servais said. "He's on some strong medication. It's inflamed. You can ice it all you want, but especially when it's something in your hands when you're a hitter, it's a pretty big deal. So I don't want to mess with it."
Cruz is hitting .280 with 32 home runs and 79 RBIs, and his right-handed presence helps balance a lineup that is decidedly lefty-leaning. The Mariners entered Tuesday 20-28 against left-handed starters compared to 48-35 vs. right-handers, and they were slated to face southpaws Cole Hamels on Tuesday and Martin Perez on Wednesday.
"It's hard not to have him in the four-hole, but last night he was really struggling to hang on to the bat," Servais said. "We'll see how it is tomorrow. Believe me, it hurts not to put him in there. But we have to do the right thing with him and get him back right."
Worth noting
• Pat Venditte threw 54 pitches in three innings in Monday's game, which would render most relievers off limits the following day. But Servais said Venditte threw 29 pitches from one side and 25 from the other and was available again Tuesday.
"I sat there last night after he got the first couple guys out and I said, 'Hey, this is really cool,'" Servais said. "That is so hard to do. I don't know if people realize. President [George W.] Bush was over sitting in the front row and I happened to look over when he was out there. And he looked at the first batter and then he looked again and I could see him talking to the people around him. Everybody doesn't know until they see, 'What am I watching here?' It's pretty unique."
• The Mariners outrighted the contract of right-hander Jarrett Grube to Triple-A Tacoma. Grube already was pitching for the Rainiers, but the move opens a spot on the 40-man roster. That opens the door for right-handed reliever Evan Scribner to be activated off the 60-day disabled list when rosters can be expanded on Thursday.
Scribner, acquired from the A's in December, has been sidelined since straining his lat muscle in Spring Training. The 31-year-old has pitched five Minor League rehab games this month, including the last three with Tacoma.
• The Mariners are expected to stay in rotation after Thursday's off-day, which lines Ariel Miranda up to face the Angels on Friday at Safeco Field, followed by Taijuan Walker on Saturday and Hisashi Iwakuma on Sunday.
Barring changes, the Mariners would then roll out James Paxton, Felix Hernandez, Miranda and Walker in the four-game series against the Rangers beginning Monday in Seattle.
• Three Mariners prospects at Double-A Jackson -- outfielder Tyler O'Neill (No. 2 on the Mariners' top 30, per MLBPipeline.com), second baseman Tim Lopes and left-handed pitcher Ryan Yarbrough (No. 13) -- were named to the 15-player Southern League Postseason All-Star team. The club includes just one left-handed starter, one right-hander and one reliever.
O'Neill set a Jackson franchise record with his 99th RBI on Monday and has 24 home runs with a .297 average on the season, while Lopes has hit .290 with 73 runs in 124 games and Yarbrough is 12-4 with a 2.92 ERA in 24 starts.
Greg Johns has covered the Mariners since 1997, and for MLB.com since 2011. Follow him on Twitter @GregJohnsMLB and listen to his podcast. This story was not subject to the approval of Major League Baseball or its clubs.