Rangers' callups to come in 2 waves; 'pen first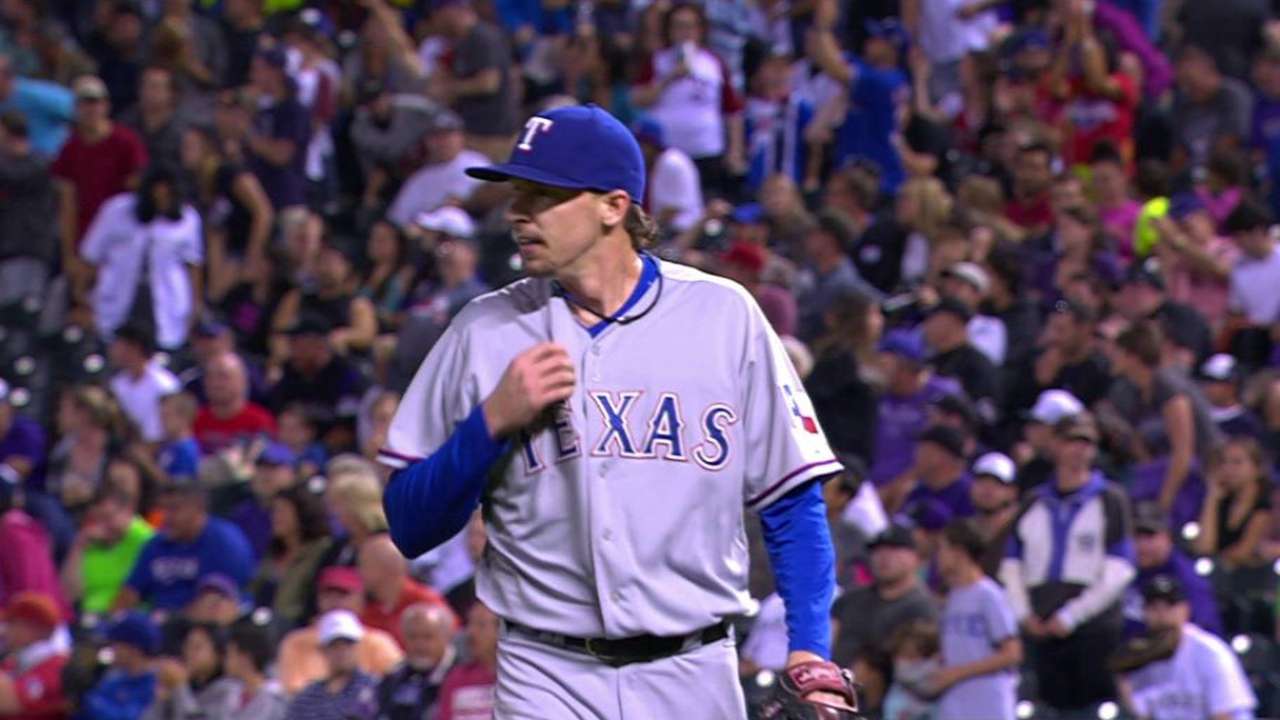 ARLINGTON -- The Rangers' September callups will come in two waves, manager Jeff Banister said Tuesday.
Rosters can be expanded up to 40 players in September, and the first wave will come on Friday. That group will most likely be bullpen reinforcements. The second group will wait until after Triple-A Round Rock's season ends next Tuesday.
"The bullpen would be a primary area to concentrate on," Banister said.
Reliever Tanner Scheppers, recovering from left knee surgery, made his fifth rehab appearance on Tuesday. Pitching for Round Rock, he went one scoreless inning, allowing a hit and a walk while striking out two. He could be activated as early as Friday.
Other immediate bullpen candidates include left-handers Andrew Faulkner and Michael Roth, and right-handers Jose Leclerc and Luke Jackson. All four are on the 40-man roster and pitched with the Rangers earlier this season.
Right-handers Nick Martinez and Chi Chi Gonzalez are long-relief candidates but will likely finish out the regular season with Round Rock. The Express is not advancing to the Pacific Coast League playoffs.
"Obviously we need some of the length guys to keep throwing," Banister said. "And we need some of the position players to continue to get at-bats."
The standard procedure for September callups includes adding a third catcher and a middle infielder. The Rangers will likely add catcher Brett Nicholas and infielder Hanser Alberto since both are also on the 40-man. The other two position players on the 40-man are outfielder Jared Hoying and infielder Joey Gallo.
Hoying, who has 18 steals at Round Rock, could give the Rangers some speed off the bench, another desired asset for contenders in September. Drew Robinson and Ryan Cordell could also offer that along with defensive versatility, but they are not on the 40-man roster.
Rotation murky beyond Wednesday
Banister said the Rangers are undecided in their rotation beyond Martin Perez pitching against the Mariners on Wednesday. The Rangers are off on Thursday, so that gives the Rangers flexibility.
If the Rangers stay in rotation, it would be A.J. Griffin, Derek Holland and Yu Darvish in the three-game series against the Astros. The other option would be to use either Griffin or Holland on Friday, then follow with Darvish and Cole Hamels.
That would allow Darvish and Hamels to pitch on their normal four days' rest. But Banister appears to be inclined to give both an extra day of rest this late in the season.
"That's probably more important," Banister said.
It doesn't hurt that the Rangers have opened up their lead in the division. Banister said the Rangers will make a decision after Hamels's start against the Mariners on Tuesday and Colby Lewis made his second rehab start the same night. He pitched for Double-A Frisco.
Rangers beat
• Sam Dyson recorded his 30th save on Monday night. He is the 10th Rangers reliever to reach that mark, and his first save didn't come until May 11.
• Shortstop Elvis Andrus has reached 20 stolen bases for the eighth consecutive season. The only other active player with at least 20 steals in his first eight Major League seasons is Ichiro Suzuki, who had 13 in a row. Andrus' eight seasons of 20-plus steals are three more than any other Rangers player. He is the Rangers' all-time leader with 237 stolen bases.
• Adrian Beltre hit his 584th double on Monday. He is 20th all-time, one behind Rafael Palmeiro.
T.R. Sullivan has covered the Rangers since 1989, and for MLB.com since 2006. Follow him on Twitter @Sullivan_Ranger and listen to his podcast. This story was not subject to the approval of Major League Baseball or its clubs.