Reliever Simmons makes it back to Majors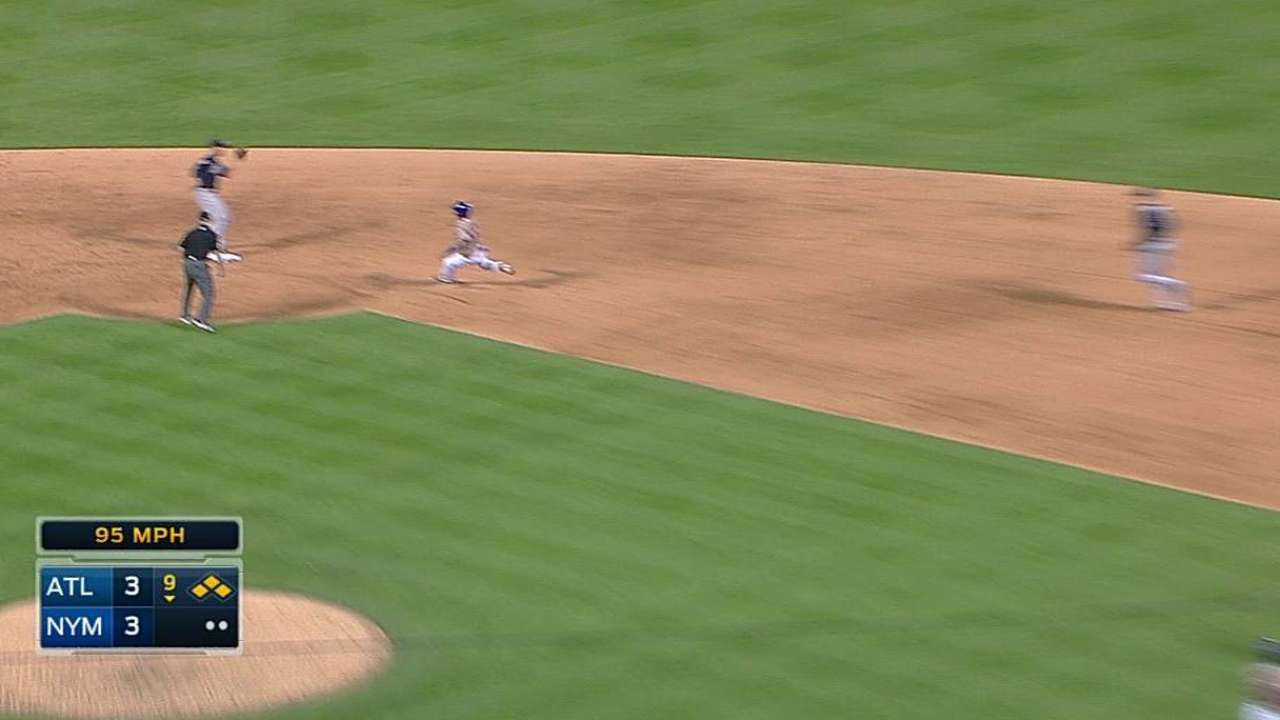 ATLANTA -- Shae Simmons still has some limitations, but after spending the past 18 months recovering from Tommy John elbow surgery, the Braves' reliever has realized his goal to return to the Major League level.
Before Tuesday night's series opener against the Padres at Turner Field, the Braves recalled Simmons and fellow right-handed pitcher John Gant from Triple-A Gwinnett. Arodys Vizcaino was placed on the 15-day disabled list with right shoulder inflammation and Brandon Cunniff was optioned to Gwinnett.
"It's exciting to be back," said Simmons, who earned the nickname Baby Kimbrel courtesy of the instant success he had in 2014, before he experienced elbow discomfort and ultimately spent more than two calendar years away from the big league level.
Simmons had been aiming to join Atlanta's bullpen by the end of May, but two shoulder setbacks prolonged the oft-frustrating rehab process. The 25-year-old reliever has pitched in pain-free fashion since the All-Star break, but the Braves will still regulate his workload over the remainder of this season.
"It's good to get him back," Braves manager Brian Snitker said. "We'll see how he is. I don't know that he's ready to go back to back or anything like that yet, so we're going to monitor him. He's been fine. He's throwing good. It's one of those situations where he's feeling better every time out and he's getting back in the swing of things with a routine and all of that kind of stuff."
Simmons posted a 1.35 ERA and limited opponents to a .162 batting average and .237 on-base percentage through the first 22 career appearances he made before his elbow began bothering him in July 2014. He missed the final two months of that season and then was forced to undergo Tommy John surgery just before the start of Spring Training in 2015.
"It's tough," Simmons said of the recovery process. "It's a lot more difficult than I thought it would be."
Simmons was briefly shut down when he experienced shoulder discomfort after he made three Minor League rehab appearances in May. He made two more rehab appearances during the first half of June before more shoulder discomfort forced him to rest a few more weeks. The shoulder and elbow have been cooperative since he began pitching in Minor League games again on July 23.
When Simmons burst on to the scene in 2014, his average fastball velocity was 94.9 mph. Two years later, he says he might be throwing a little harder. But for now, he's simply happy to say he'll once again be throwing at the big league level.
"Setbacks aren't fun," Simmons said. "At first, I thought I was going to get through it and then one thing leads to another. If it's not one thing, it's another. But now, I've been throwing, getting some innings and been recovering fine. So, I'm back."
Mark Bowman has covered the Braves for MLB.com since 2001. This story was not subject to the approval of Major League Baseball or its clubs.