Crew announces Give-Back Game to benefit community
Club to give ticket-sale proceeds from final home game to 4 local charities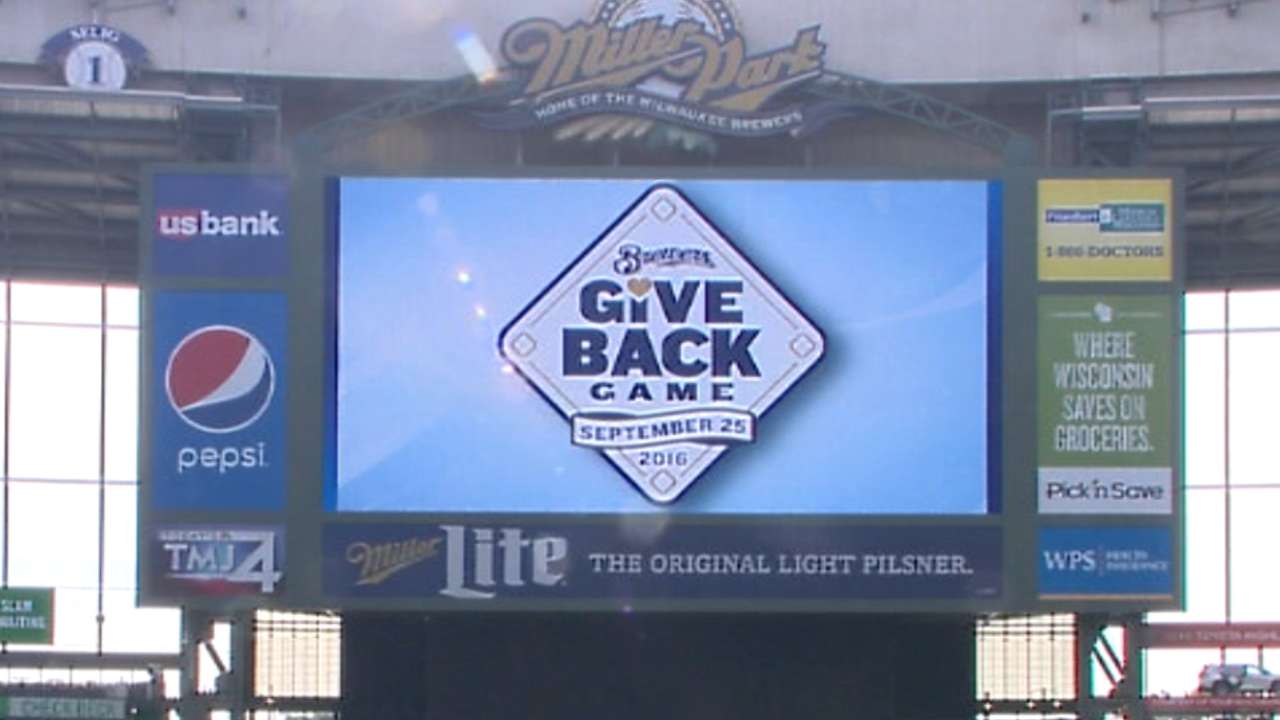 MILWAUKEE -- Make a charitable donation, and you could receive a field-level ticket to the Brewers' final home game of 2016 on Sept. 25.
At a news conference at the stadium on Tuesday morning, the Brewers announced plans for the first "Give-Back Game," a philanthropic event to raise money for a group of local charities. Starting immediately, for the Brewers' final regular-season game at Miller Park, fans can purchase $10 tickets, with most of the proceeds going to charity.
Fans can buy tickets online at brewers.com/giveback, by visiting the Miller Park box office or by phone (414-902-4000). When purchasing, fans will be asked to direct their donation to one of four local charities: Boys & Girls Clubs of Greater Milwaukee, Make-A-Wish Foundation, Midwest Athletes Against Childhood Cancer Fund or the Wisconsin Humane Society.
"This is an opportunity for fans not only to enjoy a great seat for a low price, but also to help give back to a charity that they designate," Brewers chief operating officer Rick Schlesinger said. "So we are hoping for tremendous support not only from our fans, but from the charities represented here today to get the word out."
Throughout his tenure as the Brewers' owner, Mark Attanasio has made a point of doing something special for the team's fans and the community for the final home game. In 2005 -- his first year as owner -- the club offered fans complimentary tickets.
Tickets for the Sept. 25 game will be distributed on a first-come, first-serve basis, beginning at the field level. Each ticket will be $10, and fans can make additional donations in increments of $5 and up to $50.
The Brewers, Schlesinger said, will make a base donation of $20,000 to each charity, and the ones that raise the most money and sell the most tickets will receive a $25,000 bonus.
"As far as we know, this is the first time a baseball club has done something like this," Wisconsin Humane Society president and CEO Anne Reed said. "We are overwhelmed. We are so honored to be one of the charities that has been chosen."
The Brewers will donate a portion of proceeds from pre-sold tickets to charity, as well. Season-ticket holders can contact their representative to indicate which charity they would like the proceeds from their ticket to benefit.
"Commissioner [Emeritus Bud] Selig always says baseball is a social institution, and I think a testament to that is what we're doing here today," Schlesinger said. "We're giving back to the community."
Curt Hogg is a reporter for MLB.com based in Milwaukee. This story was not subject to the approval of Major League Baseball or its clubs.