Wong's hard work pays off with big game vs. Crew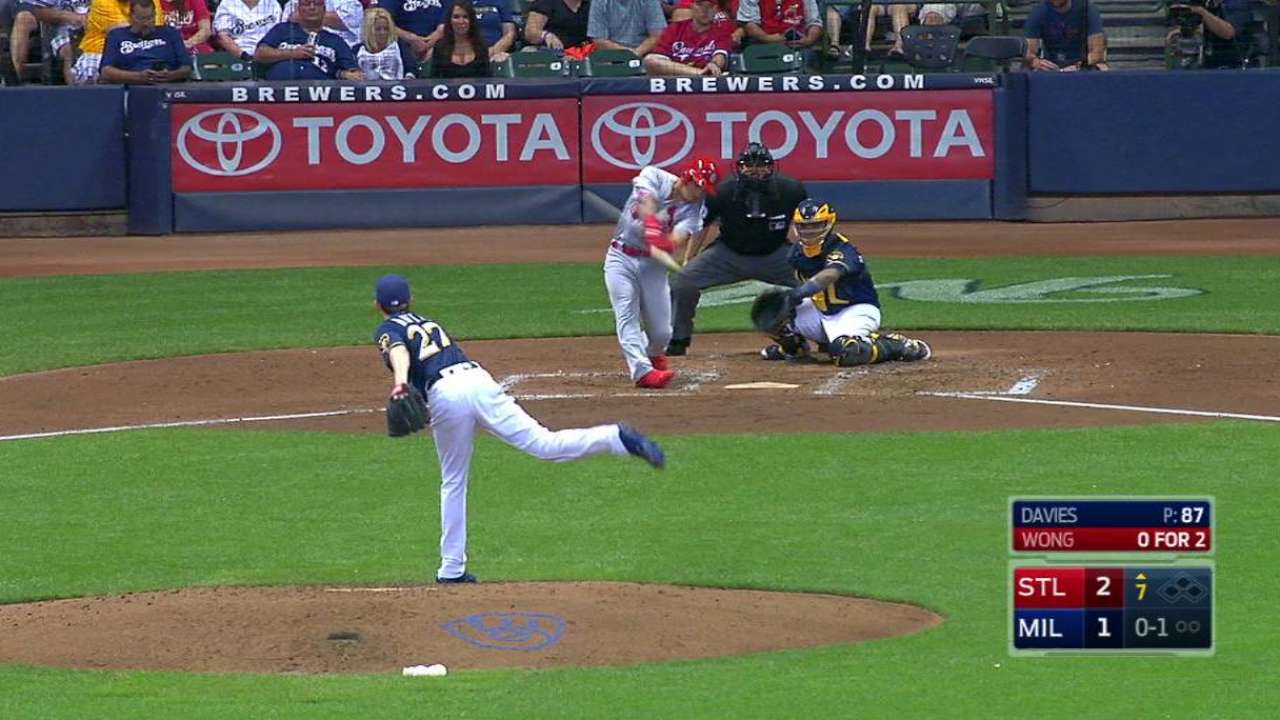 MILWAUKEE -- For the last several weeks, Kolten Wong measured success mostly in secret. What he's done, few have seen. Few, that is, besides assistant hitting coach Derrick May, who has missed meals to instead satisfy Wong's appetite for more work.
Wong has found solace in the batting cage, replacing competition with simulation to stay in tune with his swing. When he was let out of that setting on Monday and treated to his first start in 10 days, Wong responded by putting his fingerprints all over the Cardinals' 6-5 win in Milwaukee.
"What you guys saw tonight was me not trying to do too much and playing my game and allowing everything to just kind of do as it may," Wong said. "There was no expectation. There was no pressure because I really haven't played in [a while]. I went out there, told myself I wanted to have fun today and whatever happens, happens."
Wong, who had three at-bats on the last homestand and six starts all month, drove home the team's first run with a sacrifice fly and padded the lead with a homer, his third this season. The Cards couldn't capitalize on his eighth-inning single and subsequent stolen base, but the sequence was a reminder of the potential that has been buried on the bench.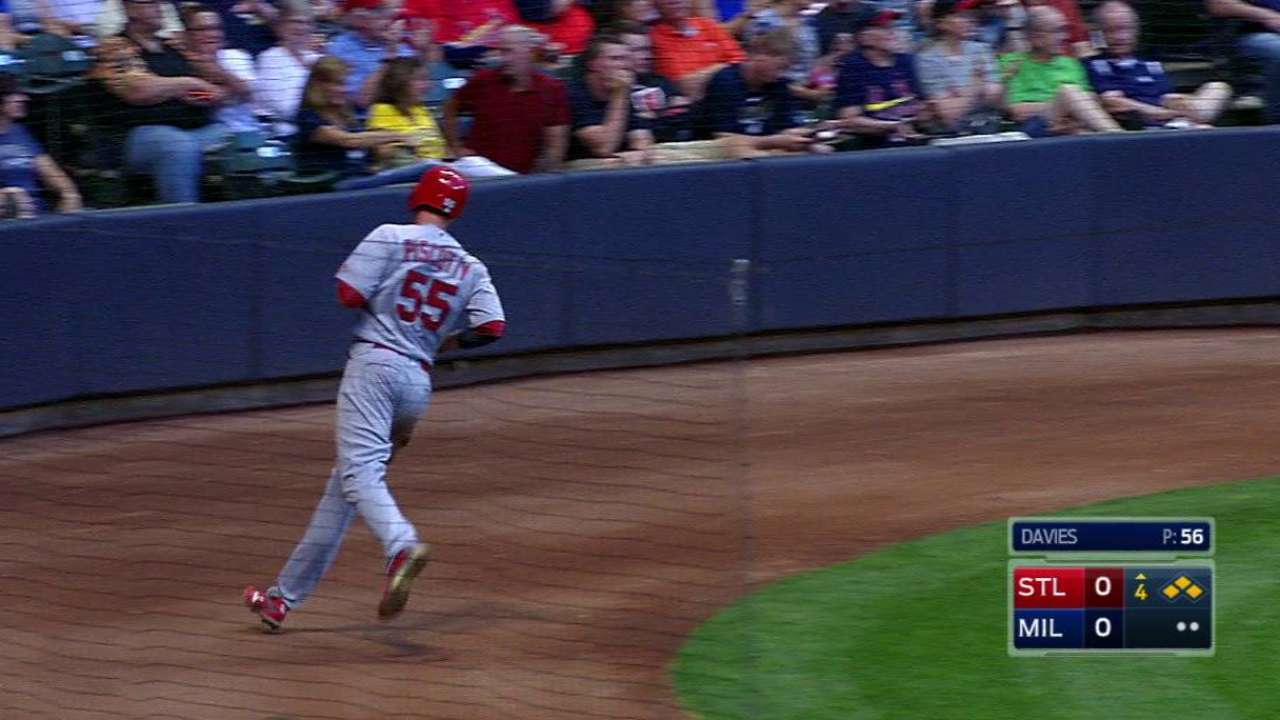 It's a position from which Randal Grichuk can probably best relate, as he his season has featured similar valleys. Grichuk, however, has enjoyed a resurgence with playing time. His game-tying homer in the eighth inning on Monday was his 15th extra-base hit since being recalled from the Minors on Aug. 11.
But while Grichuk saw a door open with an injury to Matt Holliday, Wong has no promise of regular playing time moving forward.
Trouble gaining traction early this season started the spiraling for the second baseman. There was a demotion in June and then scarce playing time upon returning. The early emergence of Aledmys Diaz and recent tear by Jedd Gyorko squeezed Wong out of a place in the infield.
"Regardless of how this finishes for Kolten, and I anticipate and hope that it's going to finish well, he's just going to label this as one of those tough seasons in every regard," Matheny said. "He's had to make a lot of adjustments. He's had to work. And he's had to grow."
Having accepted 2016 largely as a lost season, Wong committed himself to finding something to take out of it. He's found purpose in the batting cage, spending one-to-two hours there with May every day.
Wong will have May set the pitching machine to throw different pitches so he can keep his eye sharp. He'll do rounds of bunting, before turning his attention to situational hitting. It's all he's had to cling to. Monday provided a tangible payoff for that work. And, it provided relief.
"Just to have some positives to come out of this game was huge for me," Wong said. "Having this clubhouse … these guys were rooting for me the whole day. Every single guy was telling me how good of a game I had. That's cool to have teammates that see that you're struggling and see that things aren't going as you wanted, but when good things happen, they're right there cheering you on.
"It was awesome."
Jenifer Langosch has covered the Cardinals for MLB.com since 2012, and previously covered the Pirates from 2007-11. Read her blog, follow her on Twitter, like her Facebook page and listen to her podcast. This story was not subject to the approval of Major League Baseball or its clubs.