Timing is everything: Salty continues to be clutch
5 of backup catcher's 12 HRs have tied game or put Tigers up in 6th or later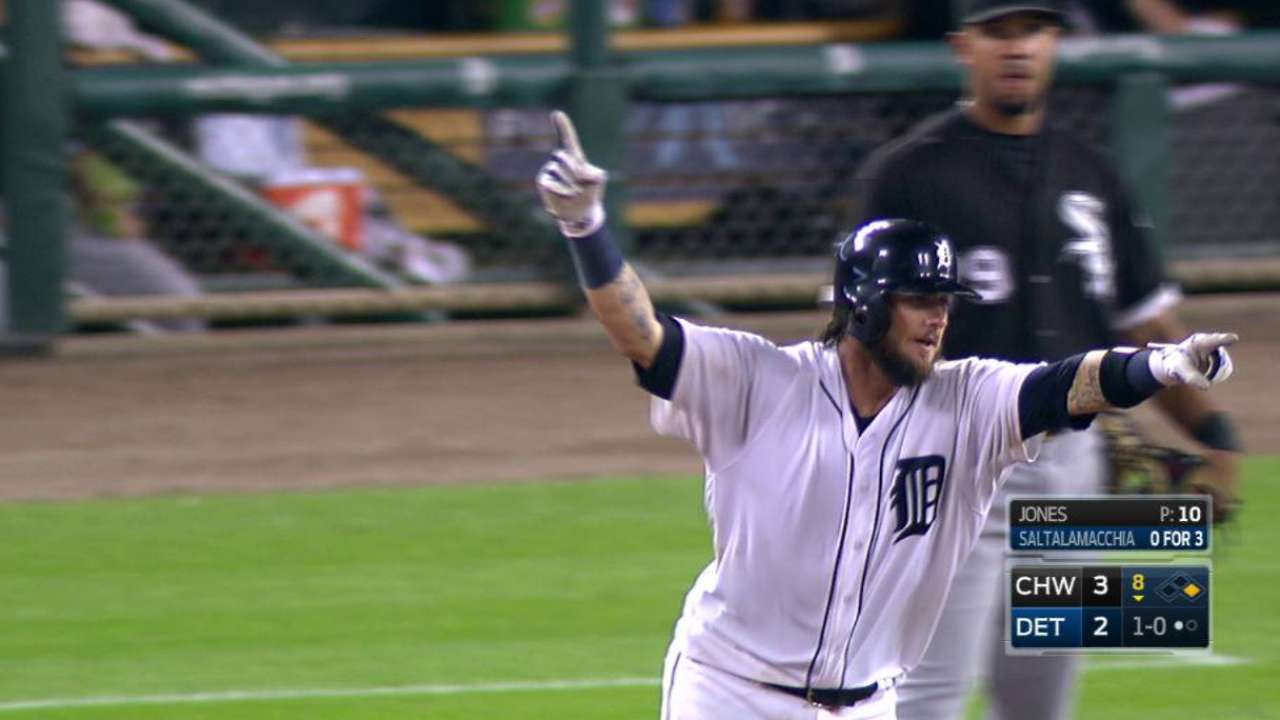 DETROIT -- The out-of-town scoreboard at Comerica Park, nestled inside the high wall in right-center field, looks so far away from home plate that it might actually be out of town. It's where Alex Rodriguez once said he hit a ball as hard as he possibly could and had to settle for a double.
So, while Jarrod Saltalamacchia thought he had a go-ahead home run on contact with Nate Jones' 97-mph eighth-inning fastball in Monday night's 4-3 win over the White Sox, he watched the White Sox outfielders just to make sure. So did manager Brad Ausmus from the Tigers' dugout, even further away.
"I thought it was out," Ausmus said, "but the way [right fielder] Avisail Garcia was going after it, I was thinking, 'Uh oh, maybe it's not as far as I thought.'"
Saltalamacchia saw the same thing. The ball hung so high, for so long, against the Detroit skyline, there was little to do but watch Garcia and center fielder Adam Eaton.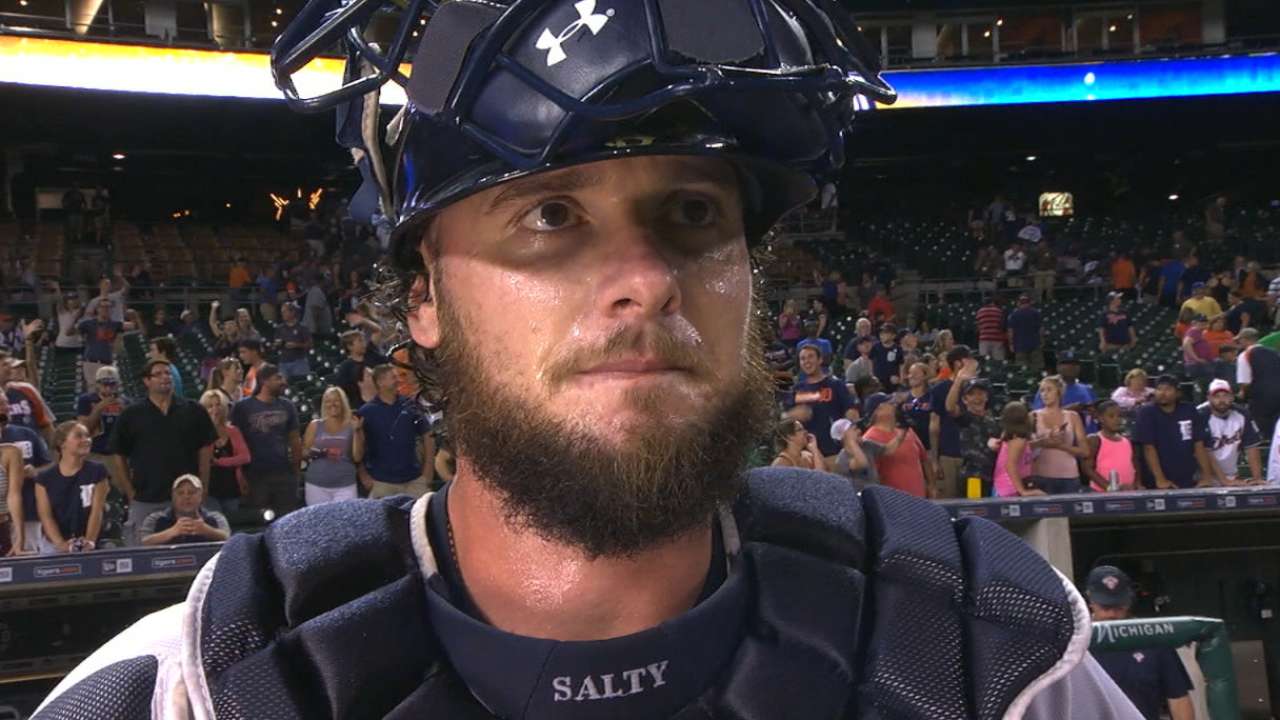 "I saw the outfielders kind of meeting in that little Bermuda Triangle out there," Saltalamacchia said, "so I got a little scared. But when I didn't see them catch it, I was definitely happy."
They didn't give it away. Eaton took a futile leap at the wall as Garcia kept looking up. As the Orioles' loss to Toronto beamed on the board, tightening the AL Wild Card race, the ball hit the seats, giving Detroit the 4-3 lead that stood up in the ninth.
Saltalamacchia pointed to J.D. Martinez around second base. The master of the timely home run had done it again, turning a potentially crippling third consecutive home loss to a team with a losing record into a badly needed win.
"We always seemed to be one hit away from scoring a couple runs," Ausmus said, "and Salty came up huge. He's done that a number of times this year with a home run. For a backup catcher, he's had some production. He's contributed to the offense quite a bit."
Saltalamacchia hit his 12th home run in 203 at-bats this season. Five of those have either tied the game or pulled Detroit ahead in the sixth inning or later. With 37 RBIs and 39 hits, he's putting up some of the most efficient run production ever for a .192 hitter. With so many critical RBIs, he's also putting up some of the most timely runs.
"I've been through a lot in my career, and I've been humbled a lot," Saltalamacchia said, "so I'm thankful for every opportunity. But at the end of the day, it's about wins, regardless of whether I do it or somebody else does it. If I hit a home run and we lose, it doesn't mean anything. The win is what makes me feel a lot better for sure."
Jason Beck has covered the Tigers for MLB.com since 2002. Read Beck's Blog, follow him on Twitter @beckjason and listen to his podcast. This story was not subject to the approval of Major League Baseball or its clubs.