MLB.com Columnist
Mike Bauman
Top-notch Martinez anchoring Cards' rotation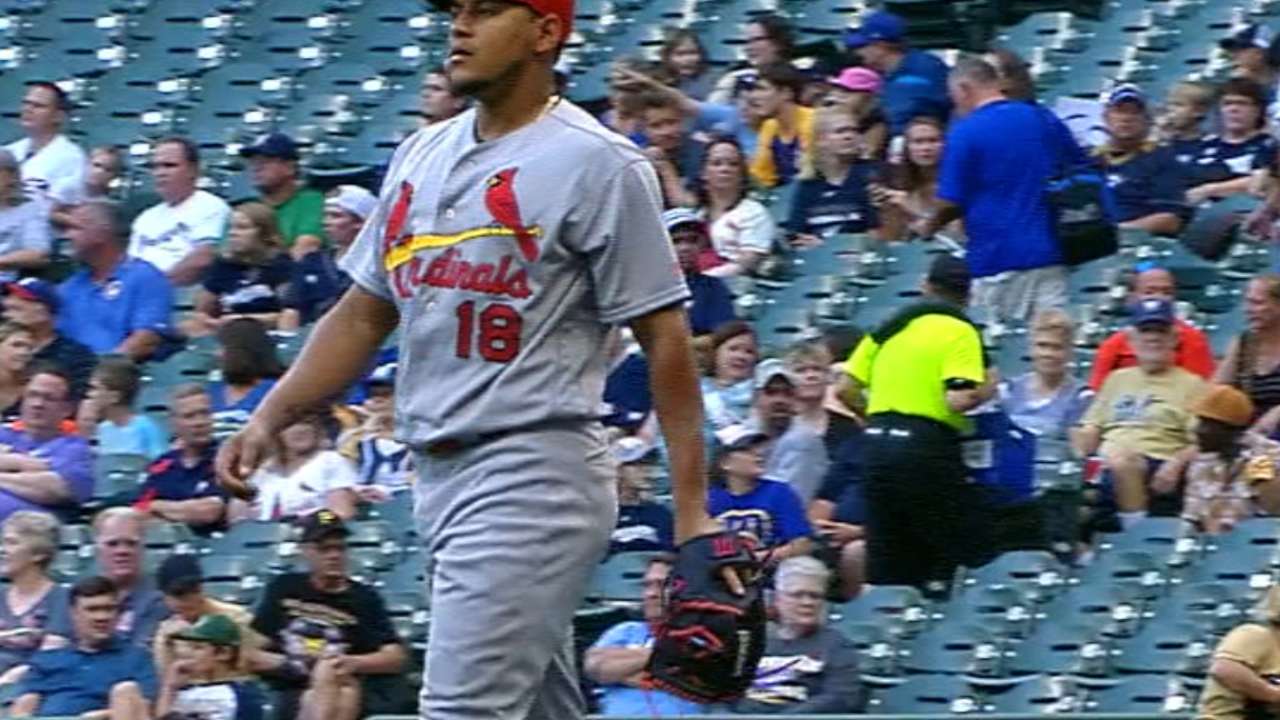 MILWAUKEE -- The St. Louis Cardinals are not pitching as well as they usually do, except for Carlos Martinez, who is better than ever.
After Monday night's 6-5 victory over the Brewers, the Cardinals had a team ERA of 4.02. That would be their highest ERA since 2008, when they finished at 4.19.
Not at all coincidentally, the 2008 Cards finished fourth in what was then a six-team National League Central. It was their worst finish of this century.
The good news Monday night was that Martinez pitched. The rebuilding Brewers were no match for him, scoring only one run against him in six innings. But with the stuff Martinez had, nobody else would have beaten him, either. He struck out a career-high 13 in those six innings. Was that important to him?
"Yes, it's important to me, but I want to stay focused," Martinez said. "What is most important to me is throwing a complete game and getting a win for my team. What's most important is how long I stay in the game, not how many people I strike out."
Martinez said he focused on throwing his breaking ball. He had a very effective slider. Then again, Martinez was also hitting 98 mph with his four-seam fastball.
Cardinals manager Mike Matheny described Martinez's Monday night stuff as "high-octane." The only problem with this performance was a two-walk second inning that drove Martinez's pitch count to 42 after two innings, thus limiting his chances to go deeper than six innings.
"That's tracking for a short game," Matheny said. "And that's not the kind of pitcher I know he wants to be. But he's in a good spot. His stuff was just nasty. He's got a very unique repertoire and a very unique confidence in everything he has. That's really something, when you can say that about a pitcher as young as he is (24)."
For the Cards, batting for an NL Wild Card berth, Martinez has been a beacon of hope. Twelve of his past 16 starts have been quality starts. Martinez is 8-2 over that period. Overall, he is 12-7 with a 3.07 ERA. On the road, he is 7-1 with a 2.30 ERA.
Martinez did not get the decision Monday night because two St. Louis relievers allowed seven straight Milwaukee batters to reach in the seventh. Four of those runners scored. The Redbirds battled back to win, but you could understand his desire to throw a complete game and handle the whole thing himself.
For stretches, Martinez was untouchable. He struck out eight of the first nine batters he faced. The Brewers only hit two balls with authority, both in the sixth inning. Prior to that, the two hits Martinez gave up were an infield dribbler and a bunt.
The point is, Martinez is a major talent who is getting better. What is making him better?
"I think just learning and growing and pitching," Matheny said. "He's always been a guy with great stuff who would just throw. Now he's using his offspeed pitches in counts that two years ago he never would have even thought of. Those are allowing him opportunities for strikeouts and keeping guys off balance. It's been a very nice evolution on his part, his success and what success looks like to him."
"I think he's a pitcher who has a really good arm, and as he continues in his career and goes out there for starts, he gets a feel for his offspeed stuff, becomes a better pitcher," Brewers manager Craig Counsell said. "It's ultimately what you hope guys do. He's been able to do that."
It's been a difficult year the Cardinals' starting pitching corps. Last year, this team won 100 games and led the Majors with a 2.94 ERA. Lance Lynn was subsequently lost to Tommy John surgery. Two other rotation regulars are on the disabled list -- Michael Wacha with another shoulder problem and Mike Leake with shingles.
Three pitchers -- Tyler Lyons, Marco Gonzales, Tim Cooney -- who would have been considered depth for the rotation are all unavailable due to injury.
Against this backdrop, Martinez looks better and better, not to mention indispensable. For the Redbirds to reach the postseason, he will have to stay on his current path, which is toward greatness.
Mike Bauman is a national columnist for MLB.com. This story was not subject to the approval of Major League Baseball or its clubs.