Moment never too big for clutch Cespedes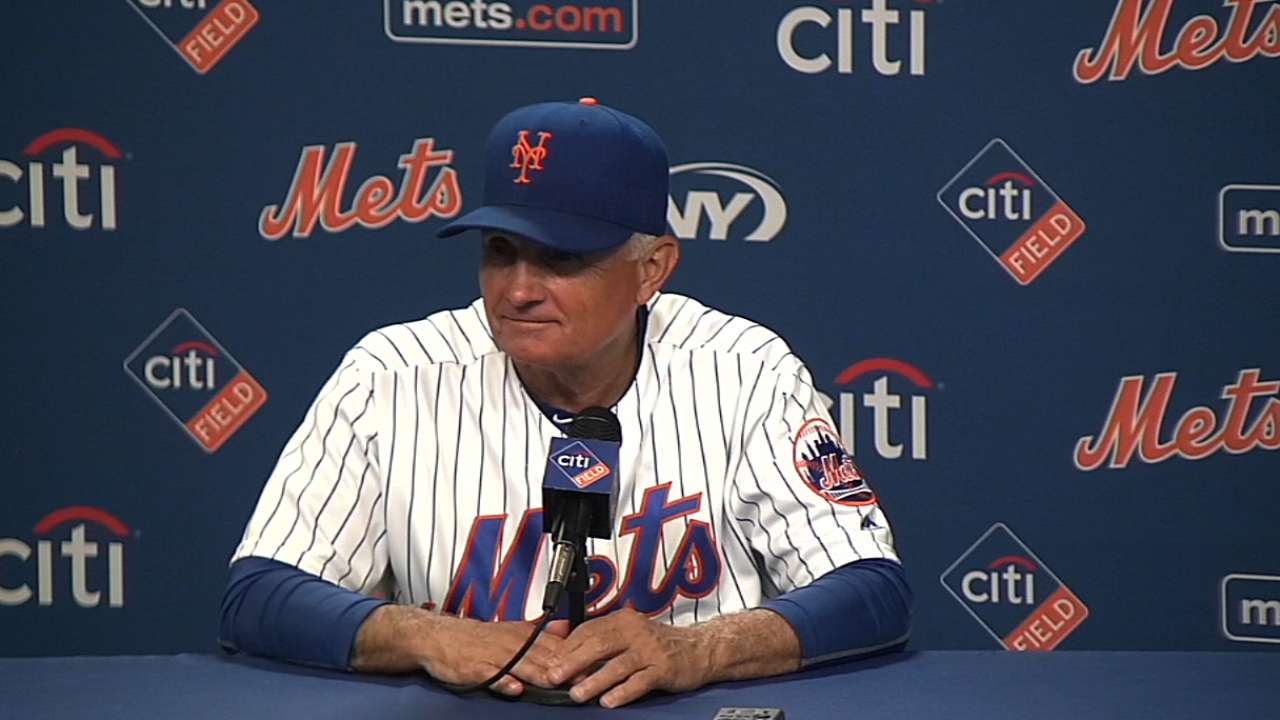 NEW YORK -- Even as he centered himself in the dogpile at home plate, gum and sunflower seeds flying around him, Jose Reyes cautioned Yoenis Cespedes to dampen his celebration. This was a night worthy of a party, to be certain. But the Mets remained all too aware of both Cespedes' nagging injuries and their dependence on him over the next month. It is impossible to consider one without the other.
Still, there are ways to celebrate in safety. So as Cespedes walked over to conduct a television interview, answering questions about his walk-off homer in the 10th inning of a 2-1 win over the Marlins, Reyes grabbed an empty chewing gum canister and thunked it on top of Cespedes' head.
A baseball crown fit for a baseball king.
"Every time I see Cespedes at home plate, I feel like he's going to hit a homer," Reyes said. "That's the way I feel in the dugout. I'm sure the other guys feel the same way."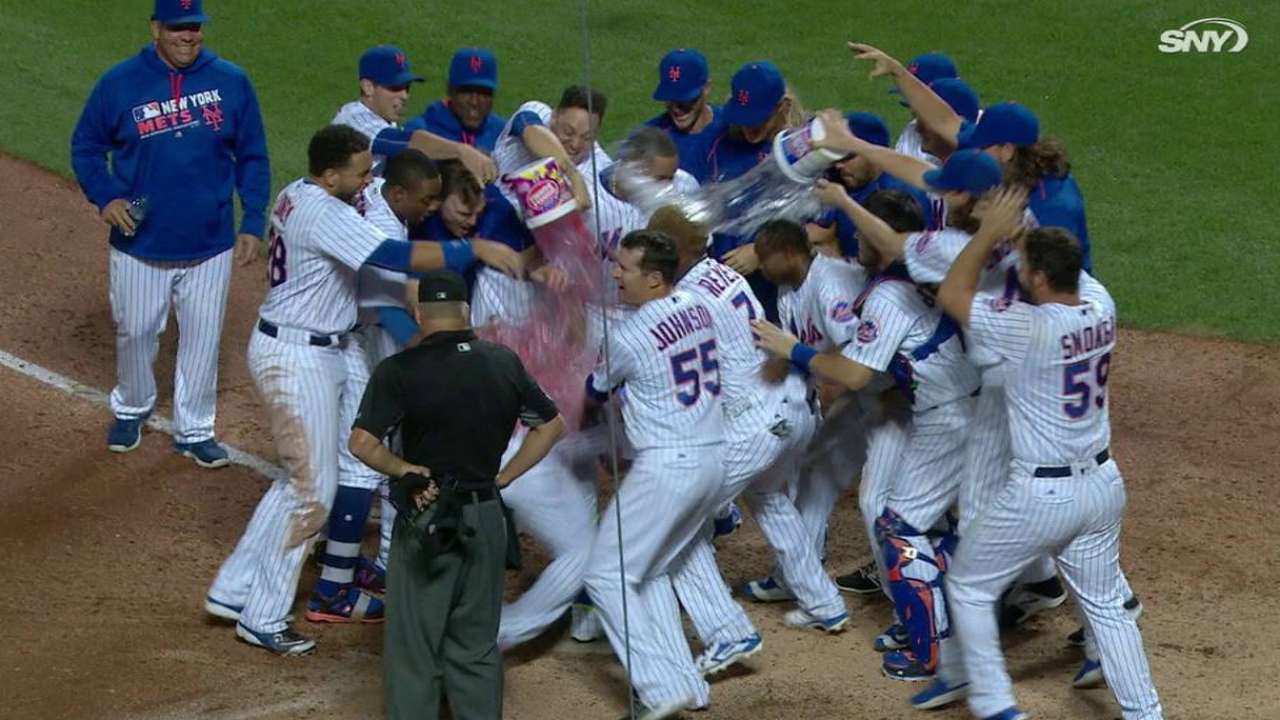 Yet forgive the Mets if -- on this night at least -- they had their doubts. By the time Monday's game reached the 10th, things had grown somewhat stale between the Mets and the Marlins, one of four teams they trailed in the National League Wild Card race. Due to injuries up and down their lineup, the Mets were out of bench players. Their pitcher, Josh Smoker, was one of three left in their bullpen. Two quick outs to open the inning made a trip to the 11th seem inevitable.
Then there was Cespedes, who seems to perform better when his physical status is called into question. Earlier this year, Cespedes keyed a walk-off win by hitting a game-tying, pinch-hit three-run homer, coming off the bench that night due to a badly bruised right leg. In the four months since that April blast, Cespedes has battled through hip, wrist and quadriceps ailments, the latter injury sending him to the disabled list last month. A flareup of that strain forced him back to the bench this weekend.
But Cespedes was not thinking about his leg when he strutted to the plate with the game on the line, hunting a Nick Wittgren fastball. When Wittgren leaked one out over the heart of the plate, Cespedes attacked it, drilling the 93-mph pitch into Citi Field's left-field seats. Statcast™ projected its landing spot 417 feet away, which is a fancy way of saying there was never a doubt.
"I wasn't necessarily looking for a home run," Cespedes said. "I was just looking for a good pitch to put a good swing on."
For all the Mets' roster machinations this season, their trades and signings, their callups and demotions, it is Cespedes who has made the largest impact. Monday's lineup included three starting-position players who weren't even in the organization on Opening Day, three who have underperformed for large swaths of this season and one who has proven himself only as a platoon player.
Then there is Cespedes, the misfit of the bunch, a guardian angel who -- despite his injuries -- bails out his team again and again. When the Mets need a hit, Cespedes delivers. When they need a win, Cespedes delivers. Though physical issues have limited his playing time, Cespedes is still batting .299 with 27 homers and 68 RBIs. It's not entirely dissimilar to what he did last August, arriving at the Trade Deadline to lead the Mets into October.
The road to the postseason is more difficult this summer, with the division all but out of play and five teams -- the Marlins among them -- battling for two Wild Card spots. But with Cespedes, the Mets feel they'll always have a chance.
"They had an opportunity to see the guy last year," Reyes said. "And for me, seeing him this year, it's unbelievable what he can do on the baseball field. Basically, he can do whatever he wants to when he wants to. So that's good to see. We're going to need him for the long run."
Anthony DiComo has covered the Mets for MLB.com since 2008. Follow him on Twitter @AnthonyDiComo and Facebook, and listen to his podcast. This story was not subject to the approval of Major League Baseball or its clubs.