Wittgren regrets 'one bad pitch' to Cespedes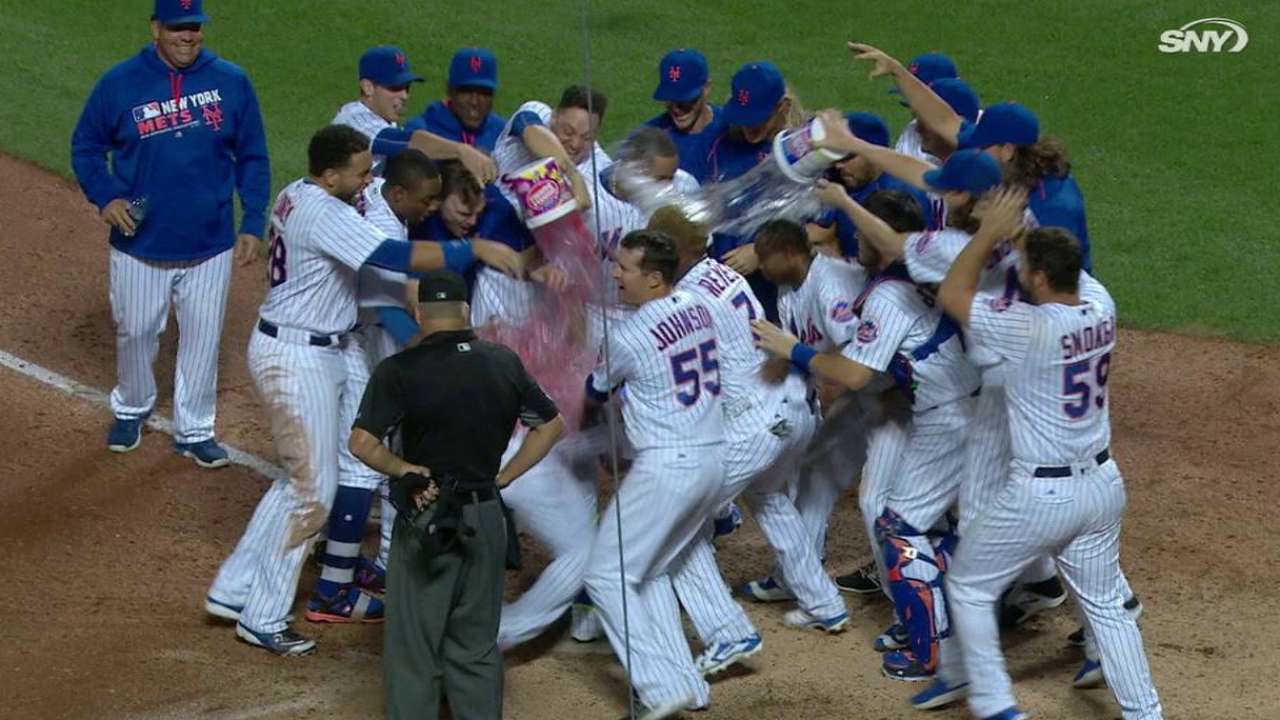 NEW YORK -- The intent was to jam a fastball inside enough to back Yoenis Cespedes off the plate. But Nick Wittgren missed his spot, the pitch ran over the plate and the result was a walk-off home run in the 10th inning that lifted the Mets to a 2-1 victory over the Marlins on Monday at Citi Field.
"You're trying to make pitches, you're trying to execute, and he's the guy you don't want to let beat you over there," Miami manager Don Mattingly said. "That's our mistake for not getting the ball where we wanted it."
Wittgren entered in the ninth inning with two outs and no one on, and he retired Jay Bruce to line out to first base. In the 10th, Jose Reyes lined out to center and Wittgren struck out Alejandro De Aza looking, bringing up Cespedes.
With two outs and no one on, Wittgren's first pitch was a fastball that was outside for a ball. He spotted up a well-placed fastball for strike one, setting up the 92.7 mph heater that Cespedes crushed over the wall.
"First was a little outside, and I dotted the second one," Wittgren said. "I felt good commanding my fastball and we were trying to go in there off the plate, trying to get him off the dish a little bit. I pulled it a little bit and it was dead middle, right there in his wheelhouse. With a guy like that, you can't miss up -- especially in a game like this, in the hunt that we're in.
"I had one bad pitch, and they say, 'One bad pitch can change anything.' It happened."
The Marlins have dropped three straight and fallen into a tie for second place in the National League East with the Mets. Both clubs are nine back of the Nationals. In the Wild Card standings, Miami is now 2 1/2 games behind the Cardinals. Since they walked off the Padres, 7-6, on Friday night, the Marlins have scored just two runs in 28 innings.
The Marlins took a 1-0 lead in the eighth inning, but the Mets responded in the home half, when Reyes scored on A.J. Ramos' wild pitch with Cespedes at the plate.
Ramos was shaken up on the play as he and Reyes collided.
"He hit the back of his head a little bit," Mattingly said. "They're looking at him, but he seemed to be OK. I'm sure he's going to be a little sore tomorrow."
With runs being scarce, the bullpen has been working with little breathing room.
"Coming up, they say, 'Every pitch counts,'" Wittgren said. "You know it coming up, but these past few weeks, you can tell. Every single pitch counts. No matter where it is at [in terms of] location, what kind of pitch it is. Tonight, that one pitch, I didn't execute, and that is on me."
Joe Frisaro has covered the Marlins for MLB.com since 2002. He writes a blog, called The Fish Pond. Follow him on Twitter @JoeFrisaro and listen to his podcast. This story was not subject to the approval of Major League Baseball or its clubs.