Montero displays mettle in high-wire act
NEW YORK -- As Rafael Montero took the Citi Field mound Monday night, a picture of his face appeared on the right-field scoreboard, a reminder for Mets fans who hadn't seen the right-hander since April. That wasn't all. Montero's ERA from that brief stint shone in white, bold numerals: 11.57.
By the end of the Mets' 2-1 victory over the Marlins, Montero's ERA had dropped to 3.68. It wasn't a perfect comeback performance, as the 25-year-old issued six walks. But he worked through the free passes and exited having thrown five shutout innings, earning the praise of teammates and manager Terry Collins in the process.
"Rafy pitched very, very nice. He threw a lot of pitches, but he gave us five innings," Collins said. "It was one of those games that you don't expect to win. That's why it's baseball."
Montero pitched poorly in two April games with the Mets before being sent down to Triple-A Las Vegas. He had a 7.20 ERA there, prompting a demotion to Double-A Binghamton, and was only recalled because the Mets' hyped starting rotation has been battered by injuries.
So Montero didn't take this opportunity lightly. When he walked through the doors of the clubhouse earlier in the day, he stopped to embrace closer Jeurys Familia before even dropping his bags. He made his way around the room, exchanging pleasantries with every player in sight.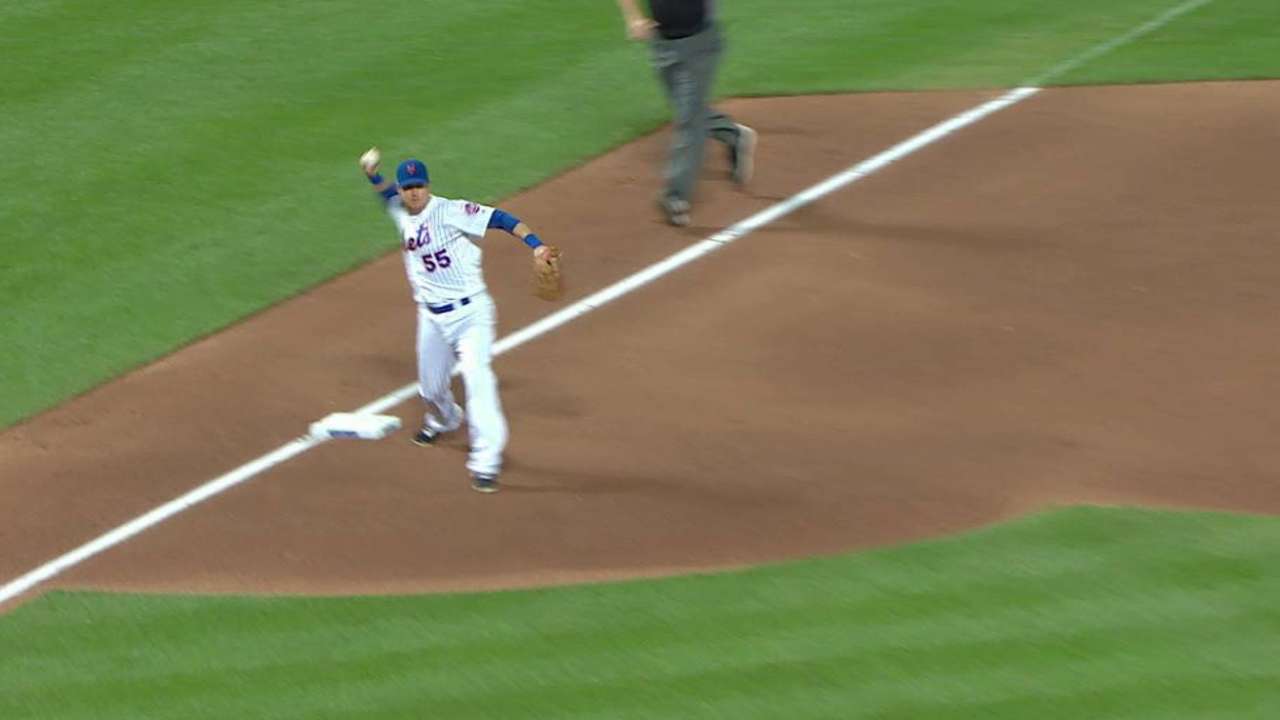 "I thank God for the opportunity to return to the big leagues," Montero said through an interpreter. "And now that I'm here, I want to continue to do my job."
Montero's immediate chances of remaining in the rotation are slim. Left-hander Steven Matz (left shoulder tightness) is expected to return on Thursday, and right-hander Jacob deGrom, who was just skipped, will be back, too. But given the way the Mets' season has played out, Collins and the coaching staff would be remiss not to prepare for more setbacks and surprises. In that sense, Montero had a lot on the line Monday night.
He retired the first two batters he faced, but didn't get through the inning without allowing two walks. It was a trend that played out throughout his outing. Montero's control was off at times, but he always found a way to escape.
"The job he did tonight was incredible," said Yoenis Cespedes, who hit a walk-off homer in the bottom of the 10th, through an interpreter.
With two outs in the fourth, Montero loaded the bases on a single and two walks before getting Jose Fernandez to ground out. There was one final balancing act in the fifth. Montero allowed a double to Martin Prado with one out and walked Christian Yelich. But the right-hander induced Marcell Ozuna into an inning-ending double play, and with that, Montero was able to emerge unscathed yet again and keep his team in the game.
"I walked six batters, but thank God, I was able to get out of the jams," Montero said.
Joshua Needelman is a reporter for MLB.com based in New York. This story was not subject to the approval of Major League Baseball or its clubs.