Shutdown bullpen key in edging Twins
Effort highlighted by McAllister escaping bases-loaded jam in 10th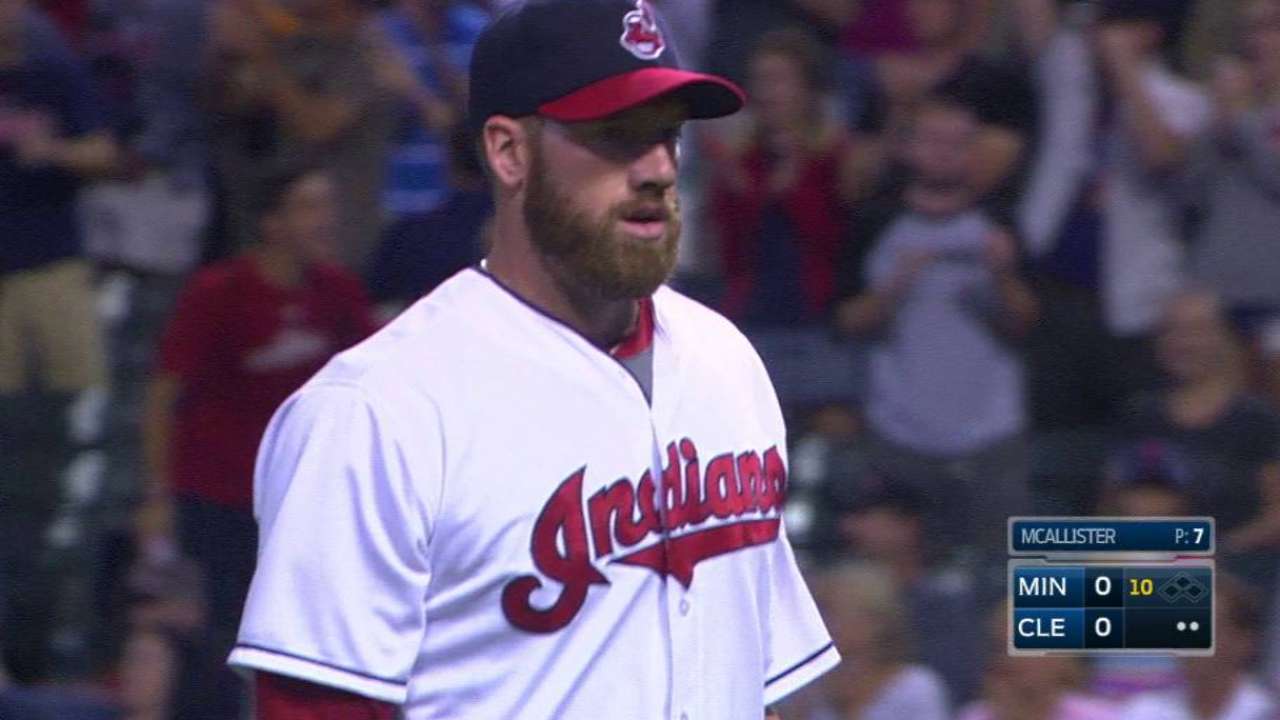 CLEVELAND -- Indians closer Cody Allen has been an anchor to the bullpen and saved the day a number of times already. Fellow righty reliever Zach McAllister felt obligated to return the favor on Monday night at Progressive Field.
"It's great," McAllister said after the Tribe's 1-0 walk-off win over the Twins. "He's done that for us numerous times. He's been put in situations that are challenging to come in and be successful, and he's done it. To do that for him is definitely a good feeling."
McAllister faced just one batter in Cleveland's eighth walk-off victory of the season, but it was arguably the most important out logged all night as he replaced Allen to escape a bases-loaded jam in the 10th. Moments later, second baseman Jason Kipnis started off the 10-game homestand with an RBI single into left-center.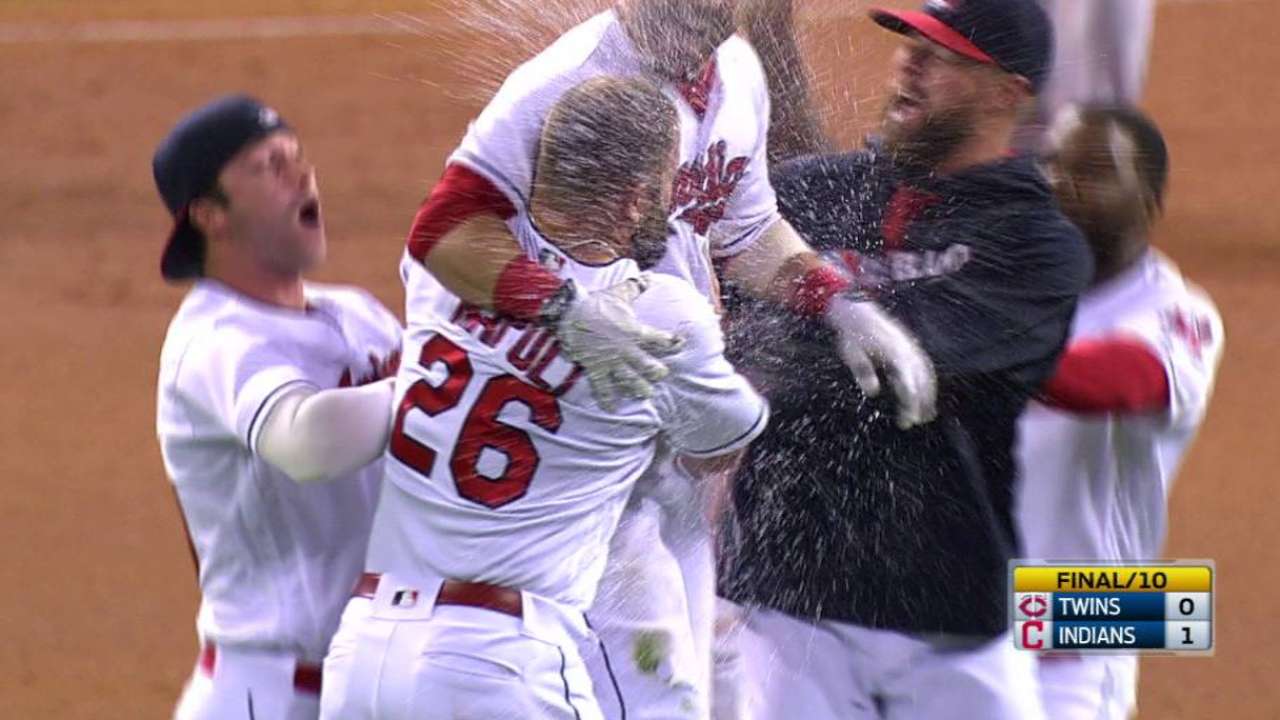 "You have to give our pitching staff credit, starting with Trevor [Bauer], and the bullpen took it from there," Kipnis said. "Any time it takes one run to win a game, that goes straight to the pitching staff, who deserves the credit. We know, as an offense, we have to do better, but when all it takes is one and we were able to come through with a win tonight still, if we have to win 1-0 games, we'll win 1-0 games. We'll take it."
After Bauer spun six scoreless frames to start, the bullpen logged 12 outs without allowing a run. Cleveland's 'pen has now tossed 13 2/3 scoreless frames over the past four contests.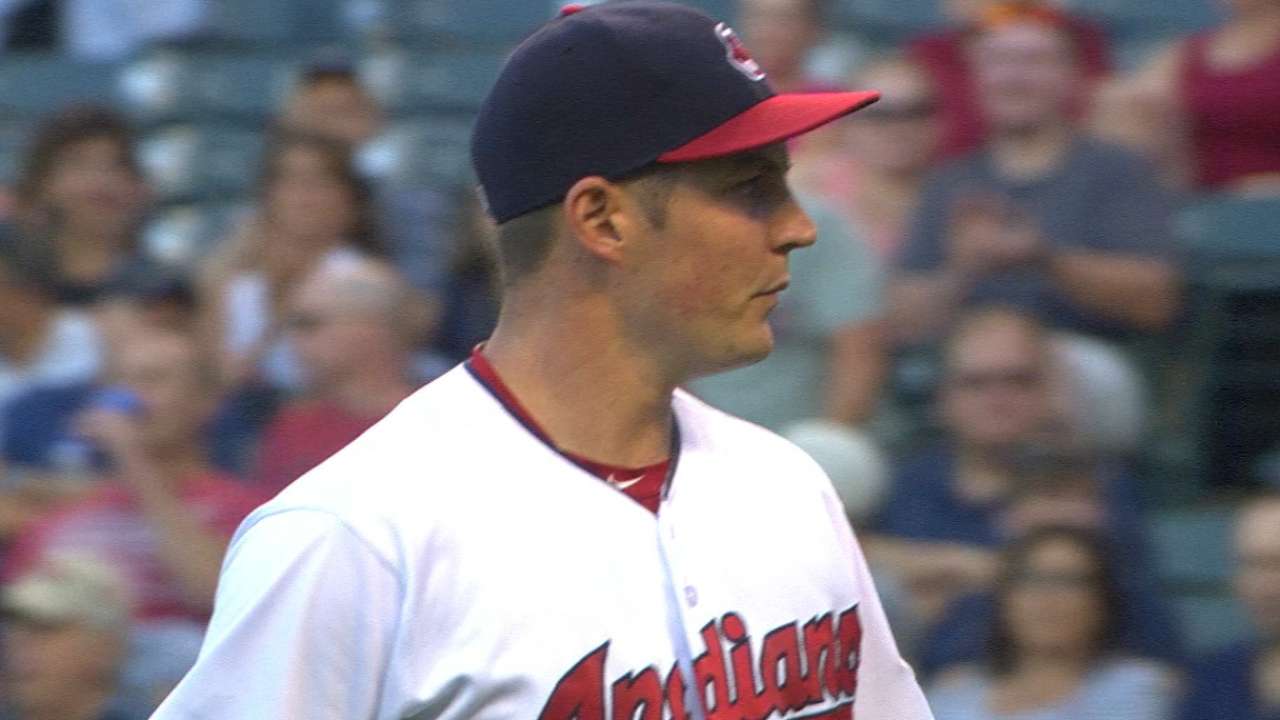 Ace reliever Andrew Miller began the relief effort Monday by surrendering a pair of singles to two of the first three batters he faced in the seventh. But he left the runners stranded at the corners with consecutive punchouts, including a slider that brought Minnesota second baseman Brian Dozier to the ground.
"It's a wipeout slider, a nasty pitch, and I love watching it from second base," Kipnis said. "It's a much better perspective than at the plate. Usually, I watch it as it goes by my bat, and then I walk with my head down back to the dugout."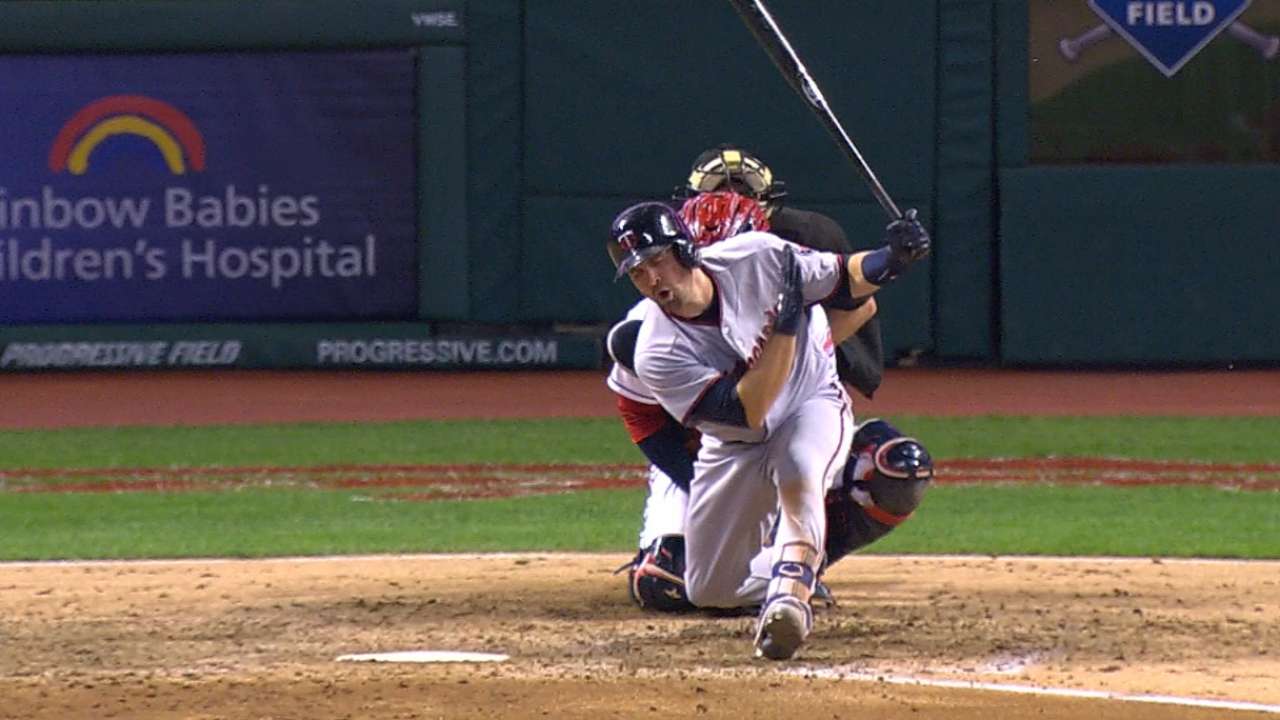 After Miller induced a groundout to the first batter in the eighth, Bryan Shaw sat down the only two hitters he faced to retire the side. Allen came on in the ninth and worked around two-out double. But then in the 10th, things began to look bleak.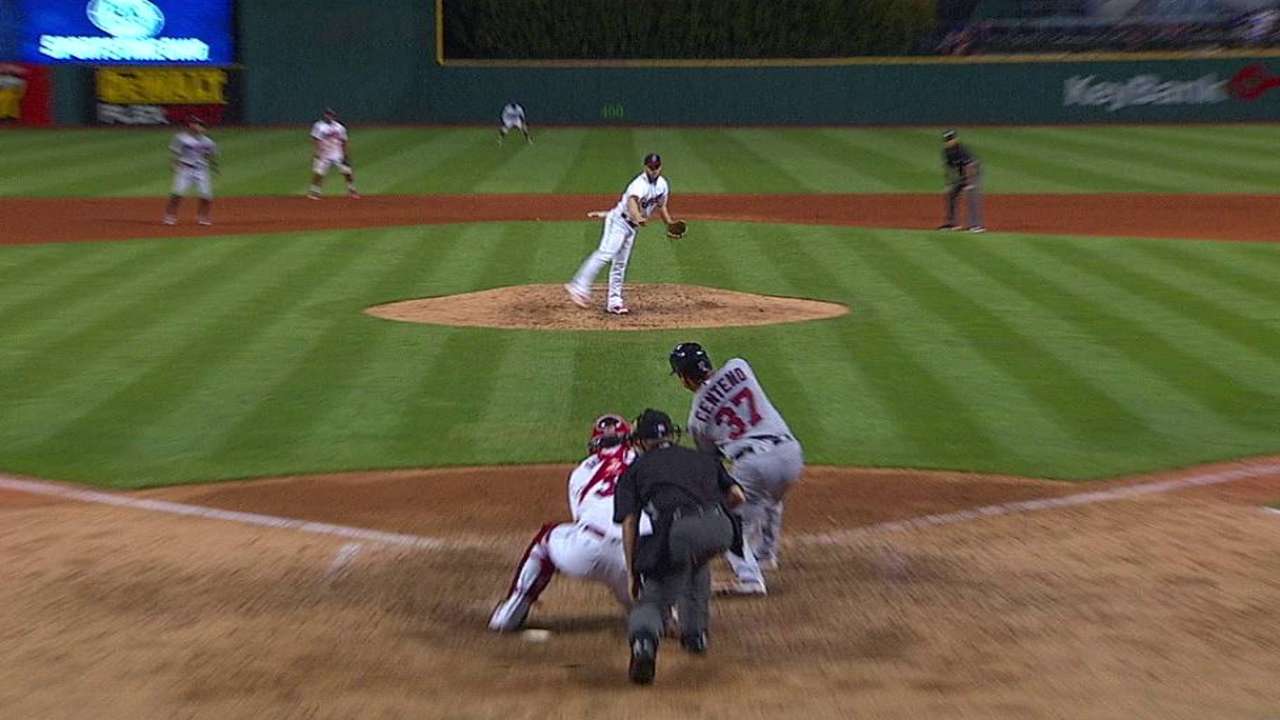 With two outs, Minnesota loaded the bases against Allen on a pair of walks sandwiched around a single, which forced the hand of Tribe manager Terry Francona.
"I was worried that I left Cody in a little bit too long," Francona said. "That's a lot to ask of somebody. And then Mac came in and fell behind but then really made some good pitches to get out of the inning and give us a chance."
McAllister missed a pair of fastballs to Max Kepler to fall behind in the count. Kepler then fouled off the four fastballs flung by McAllister. On the seventh pitch, Kepler lifted a 2-2 offering in the air, and Rajai Davis settled underneath it for the final out to leave the bases loaded.
"That was probably the biggest at-bat of the night, honestly," Bauer said. "Mac comes in, starts off 2-0 to a dangerous guy who's hit us well, and comes back and gets him out. Just for team morale, having him come in and be able to get out of a situation like that, it's great. It enabled us to win, and I think it was good for everybody involved."
In the home half of the 10th, the Indians completed their first 1-0 walk-off win in extras since July 23, 1992. Meanwhile, McAllister was just happy to do his part -- even if it was brief.
"It's one of those things that in certain situations throughout the game," McAllister said, "like a big out happened or a situation where you kind of feel like no matter what, the offense is going to score. I felt like that was one of those situations. Our pitching did great all night long."
Shane Jackson is a reporter for MLB.com based in Cleveland. This story was not subject to the approval of Major League Baseball or its clubs.