MLB.com Columnist
Barry M. Bloom
Mattingly enjoying taut stretch run with Marlins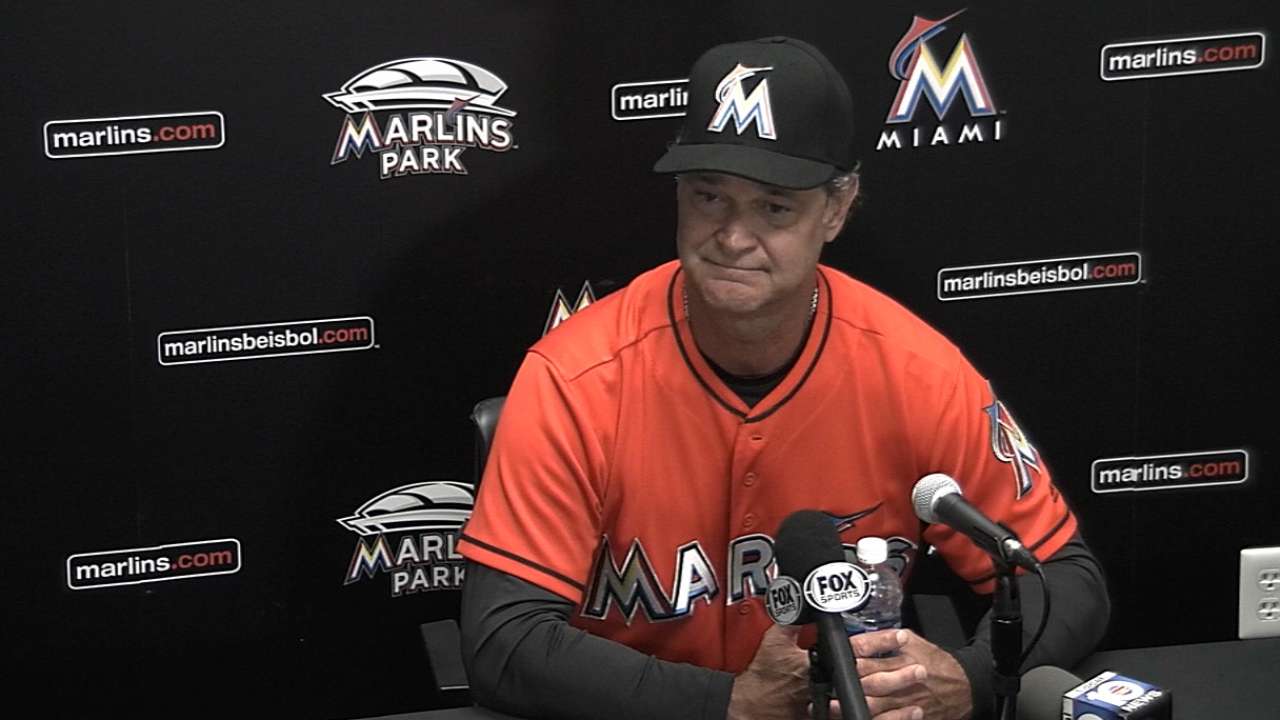 NEW YORK -- Don Mattingly's first season in Miami is coming down to crunch time, and the Marlins' manager is looking forward to it.
During the final month, Mattingly will find out whether the fruits of all his labor -- the heart-to-heart talks and hard-fought games -- are going to result in a trip to the postseason.
"I like our club and our makeup," Mattingly said on Monday night at Citi Field before the Marlins opened a key four-game series against the Mets with a 2-1 loss in 10 innings. "Now we'll see where we go this last month. It's going to be a fun month for us.
"We're going to learn a lot about our team. I think these guys are going to learn a lot about each other and learn a lot about themselves when you have to play in these type of games."
It was playoff baseball in August on Monday night in a taut affair that came down to a Yoenis Cespedes walk-off homer in the bottom of the 10th. The Marlins, at 67-64, are in lockstep now with the Mets, 2 1/2 games behind the Cardinals for the National League's second Wild Card spot.
This is what baseball teams and their legion of fans live for.
Donnie Baseball has been there before, both as a player and as a manager. The Dodgers teams he managed the past three seasons made a habit of playing their best baseball in September and won a trio of NL West titles.
Mattingly's 1995 Yankees were five games under .500 after losing their eighth game in a row that Aug. 26. They won 26 of their last 33 to clinch the first American League Wild Card spot.
This is what Mattingly remembers about that historic run:
"I just remember saying to ourselves every day that we had to win every day. 'We can't afford to lose any games.' And we played like that. With that sense of urgency. You can't lose even though every once in a while you do."
Mattingly retired after the Yankees dropped their AL Division Series to the Mariners in five games after jumping out to a 2-0 lead. He wasn't around when the Yanks won the World Series in 1996, and for that matter, he's never been to the promised land as a player, coach or manager.
With an NL Wild Card berth at stake, Mattingly senses this might be the time. He hopes that the Marlins are going to play with the same sense of urgency as that 1995 Yankees team.
"You know what? It's just a game at a time now," Mattingly said. "It's not so much about winning a series as it is about winning a game. We're down to 31 games. We fought to get to this spot no matter how we've been playing. Good or bad, it doesn't really even matter. What a player has done in the past doesn't matter. The only thing that matters is tonight's game and us moving forward."
By any measure, Miami has had a terrific season, slumping only in August, and at 10-16, it has been the club's only sub-.500 month.
There are reasons for this, primarily the loss of power-hitting right fielder Giancarlo Stanton since Aug. 13 with a Grade 3 strain of his left groin. Stanton had his troubles at the plate the first half of the season, but he went on the disabled list with 25 homers, 70 RBIs and an .826 OPS.
Although Stanton has begun light jogging, Mattingly doesn't expect him back until the final week of the regular season, and at that, in a limited pinch-hitting role.
The Marlins are going to have to do it down the stretch run without Stanton.
"I mean, quite honestly, when we had everybody together, we were 11th in the league in runs," Mattingly said. "Our batting average has been really good, but we haven't really scored. So that's still an issue, and moving forward, that's where we feel we have to get better."
To Mattingly's point, the Marlins are third among the 30 Major League teams with a .269 team batting average. They are 22nd with 542 runs scored, an average of 4.14 a game. Miami is 25th in the MLB with 532 allowed for a run differential of plus-10 and an average of 4.06 runs given up a game.
That's not much margin for error. Last year's team BDB -- before Donnie Baseball -- wasn't much better, finishing 29th with 613 runs scored. The Marlins lost 91 games.
Mattingly said the lack of run production was an area heavily discussed during the offseason, but it evidently hasn't been fixed.
There underlies the predicament of the final 31 games.
"Last year, they talked about playing hard down the stretch, but they finished 20 games under .500 and they didn't like it," Mattingly said. "Basically, they knew they were better than that. This season, they've showed that they're better than that. And now, we get to find out even more, and that's what's going to be fun about this last month."
Barry M. Bloom is a national reporter for MLB.com and writes an MLBlog, Boomskie on Baseball. Follow @boomskie on Twitter. This story was not subject to the approval of Major League Baseball or its clubs.