A's Manaea day to day with upper back strain
After early exit, rookie unsure if he'll make next start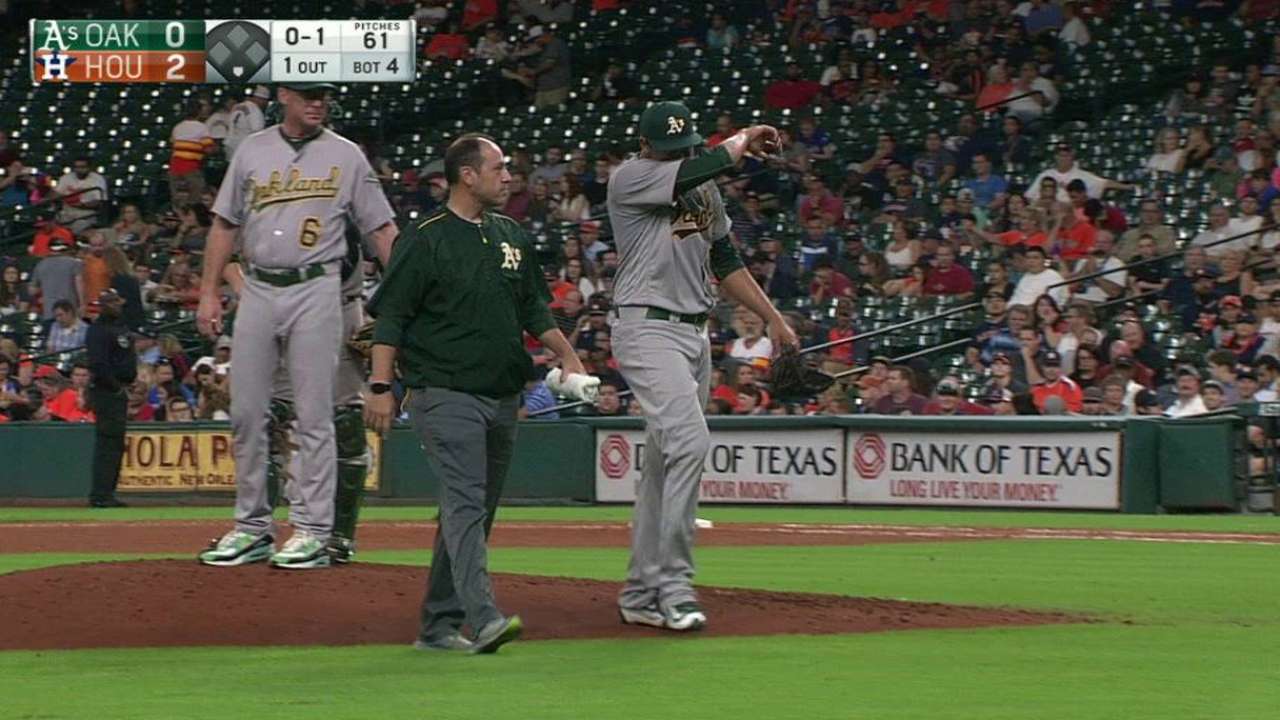 HOUSTON -- As if the Athletics needed another injury to their already hobbled rotation, A's rookie left-hander Sean Manaea left Monday night's 6-0 loss to the Astros at Minute Maid Park with an upper back strain. He is day to day.
Manaea said he first felt the injury to his left rhomboid muscle in the bottom of the second.
"Just halfway through, I felt it in the left side of my spine and then it kind of shot through to my shoulder area, and that's when I really felt it," Manaea said. "Then in the next inning, throwing my warm pitches, I couldn't really warm up."
Trailing 2-0 in bottom of the fourth, Manaea forced a groundout from Yulieski Gurriel before throwing a strike to first baseman Marwin Gonzalez. That's when Oakland manager Bob Melvin and a trainer came in to check on Manaea after observing a noticeable drop in his velocity.
"This late in the year, you don't want him trying to pitch around that," Melvin said.
After a brief discussion, Manaea was pulled and replaced by Chris Smith. Manaea went 3 1/3 innings, striking out four while allowing only one hit, two bases-loaded walks and two runs -- both unearned because of a pair of two-out errors by third baseman Ryon Healy.
"He was fine," Melvin said of his pitcher's start. "He walked a couple guys with the bases loaded, but we didn't do him any favors with the field, could've been out of the inning. I thought he was pitching fine. It looked like he had good life on his heater and his slider's been good and his changeup. Just didn't do him any favors."
While the injury is relatively minor and likely won't force Manaea to miss extended time, it's a frustrating blow for a young pitcher who went on the disabled list earlier this season with a strained forearm muscle.
"To me, it just feels like I'm letting everyone down," Manaea said. "I hate being hurt and getting taken out early, especially in a close game like that. Just bothered me, but it is what it is. I just have to make sure going forward that I get everything done and try not to have this problem again."
It's just as frustrating for the A's, who have been wrought with injuries all season. Entering Monday, the club had placed a franchise-record 27 players on the DL.
"This is the most I've ever had to deal with, and I think the club as well," Melvin said. "Now we're into the second wave of guys that have been on the DL, so it's just something you have to deal with."
Manaea said he wasn't sure yet if he would be able to make his next scheduled start.
"If he's feeling it at all in the next couple of days," Melvin said, "we'd at least give him the start [off]."
Jordan Ray is a reporter for MLB.com based in Houston. This story was not subject to the approval of Major League Baseball or its clubs.