Donaldson's power surge continues
Blue Jays third baseman follows up 3-homer game with a solo shot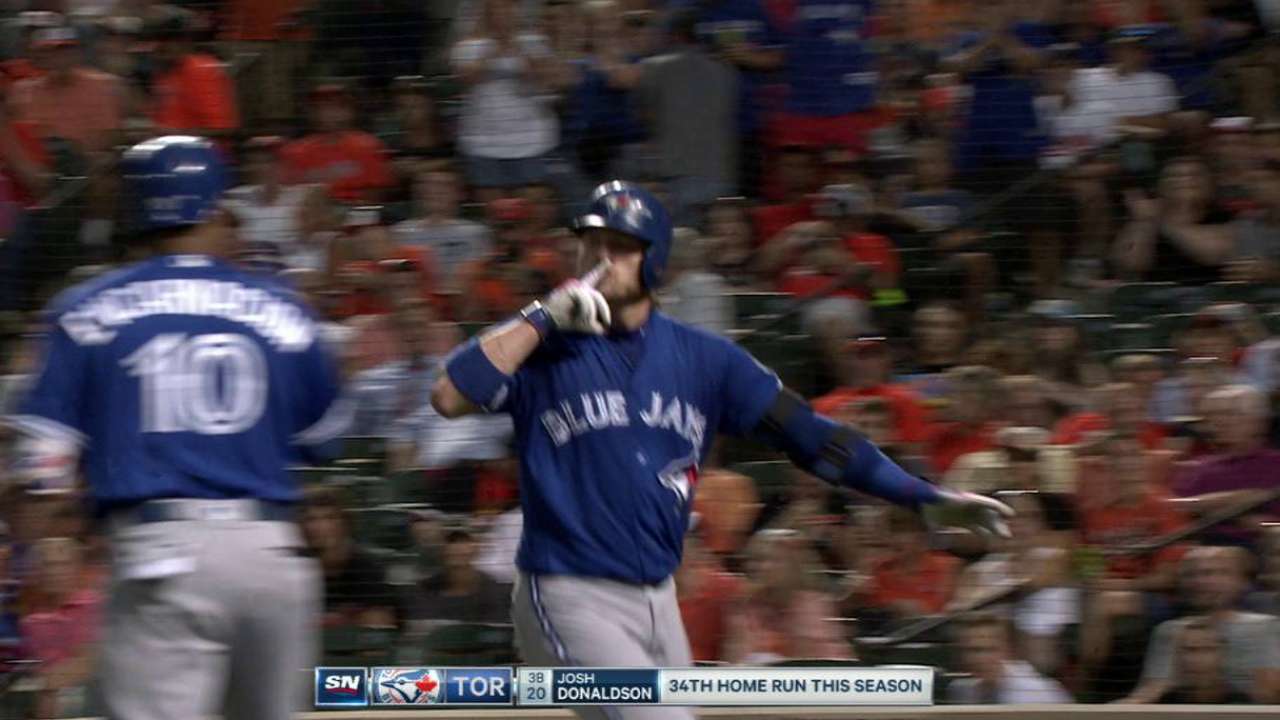 BALTIMORE -- After blasting three home runs in a game for the first time in his career during the Blue Jays' win Sunday, Josh Donaldson nearly left the yard in his first two at-bats of Monday's 5-1 victory at Camden Yards. Orioles center fielder Nolan Reimold made a terrific running catch on his fly ball in the first inning, crashing into the wall to rob him of extra bases.
But neither Reimold nor right fielder Mark Trumbo had a play in the fourth inning when Donaldson launched his 34th home run of the season to right-center field to tie the game at 1. He belted an 0-1 fastball from Wade Miley for the Blue Jays' first hit of the night after Miley set down the first 10 batters in order.
"He's having that kind of year, man," manager John Gibbons said. "He's such a good player. When he's doing his thing it makes a big difference for this team."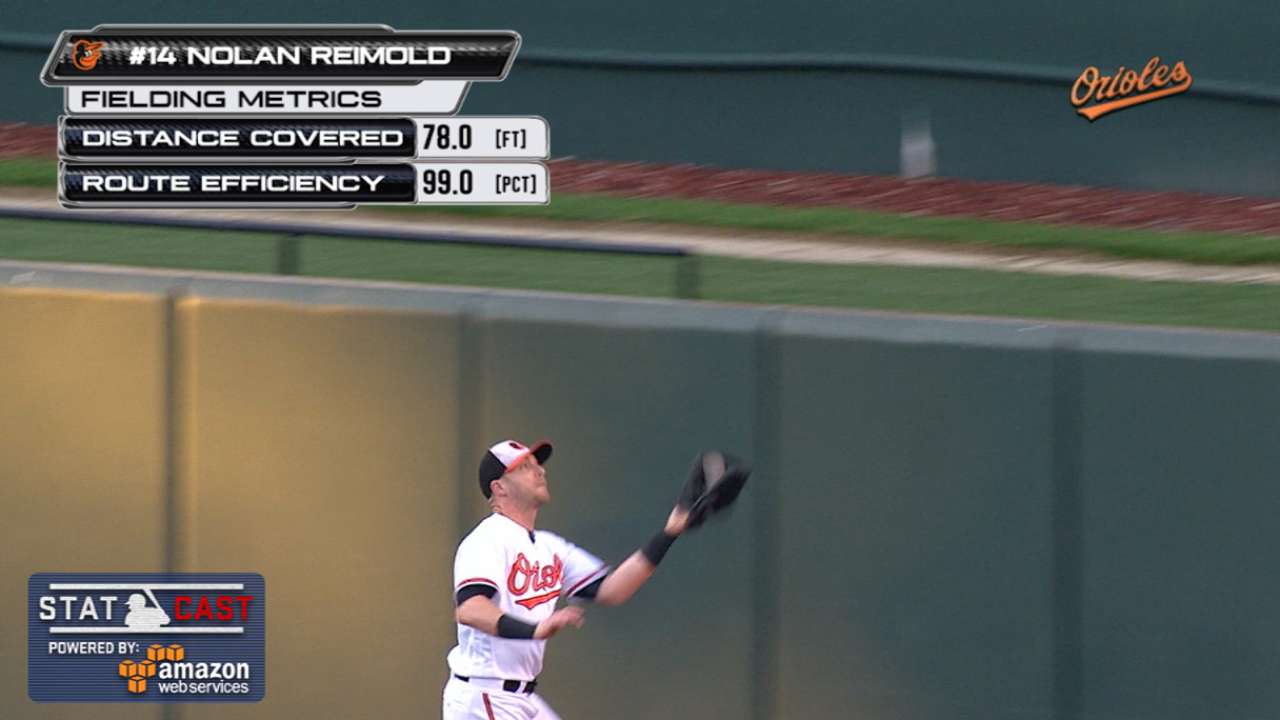 The reigning American League Most Valuable Player's five batted balls spanning the four homers and flyout all had an exit velocity of at least 101 mph, per Statcast™. Donaldson's fourth-inning home run left the bat at 104 mph and traveled an estimated 405 feet to extend his hitting streak to eight games.
Donaldson, who went 1-for-3 with a walk, is putting together another season worthy of MVP discussion. He hit 41 homers with 123 RBIs when he received the award last season, and a big final month would give him a similar output.
"The last few years he's come into his own," Gibbons said. "He's one of the top dogs out there."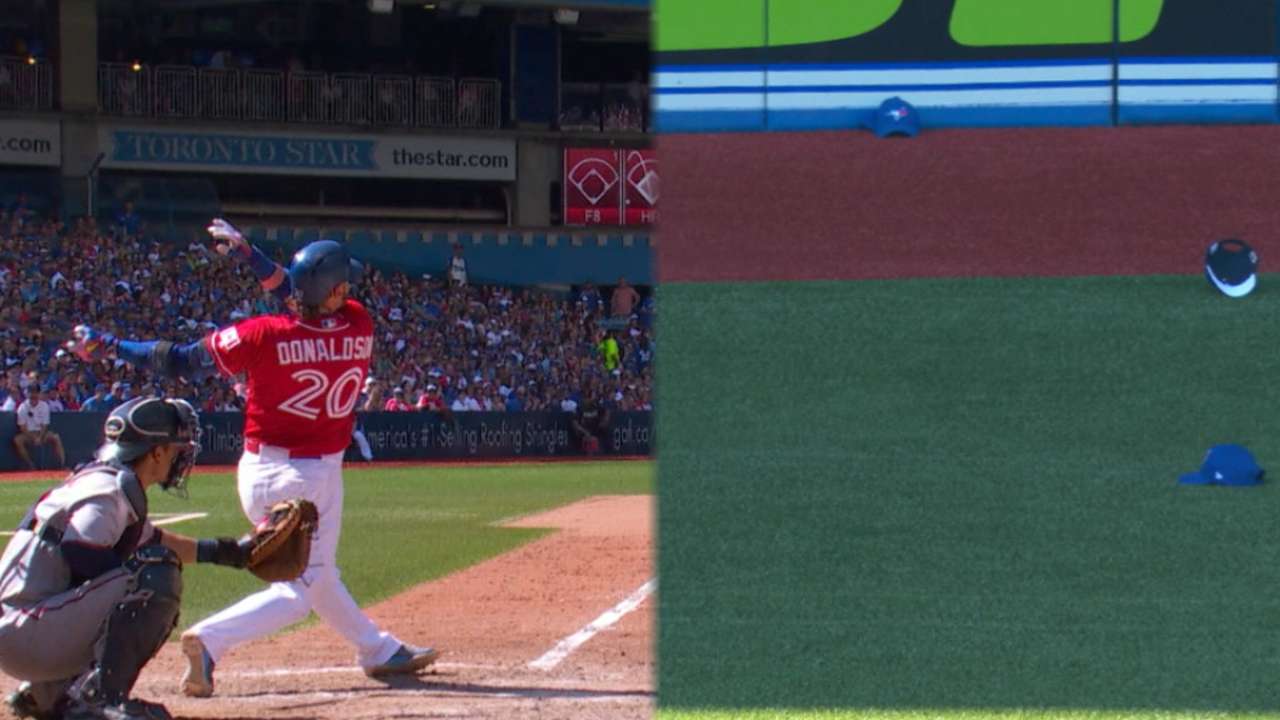 Ryan Baillargeon is a reporter for MLB.com based in Baltimore and covered the Blue Jays on Monday. This story was not subject to the approval of Major League Baseball or its clubs.