Clutch Kip: Tribe walks off in 10th vs. Twins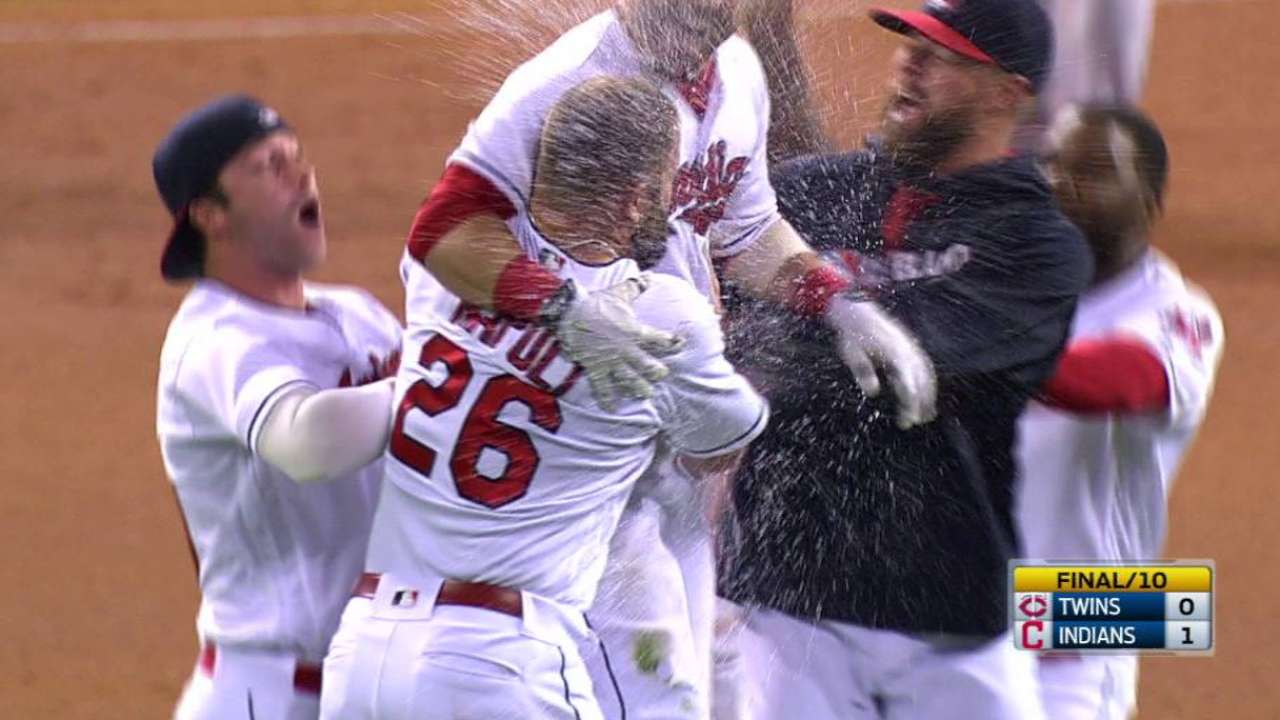 CLEVELAND -- It took until the 10th for the Indians to finally get on the board, but that was all they needed in a 1-0 walk-off win over the Twins in Monday's series opener at Progressive Field. It was the Tribe's eighth walk-off of the season. With the loss, the Twins' season-long slump extended to 11 games.
After the offense sputtered through nine frames, the Tribe opened its half of the first inning of free baseball with a bunt single by Abraham Almonte. The next two batters were unable to get a sacrifice bunt down, but they reached on a single and a fielder's choice to set the stage for Jason Kipnis, who drove in the winning run with an RBI single into left-center. It was the first 1-0 walk-off win for the Indians in extras since July 23, 1992, against Kansas City.
"Any time it takes one run to win a game, that goes straight to the pitching staff, who deserves the credit," Kipnis said. "We know, as an offense, we have to do better, but when all it takes is one and we were able to come through with a win tonight still, if we have to win 1-0 games, we'll win 1-0 games. We'll take it."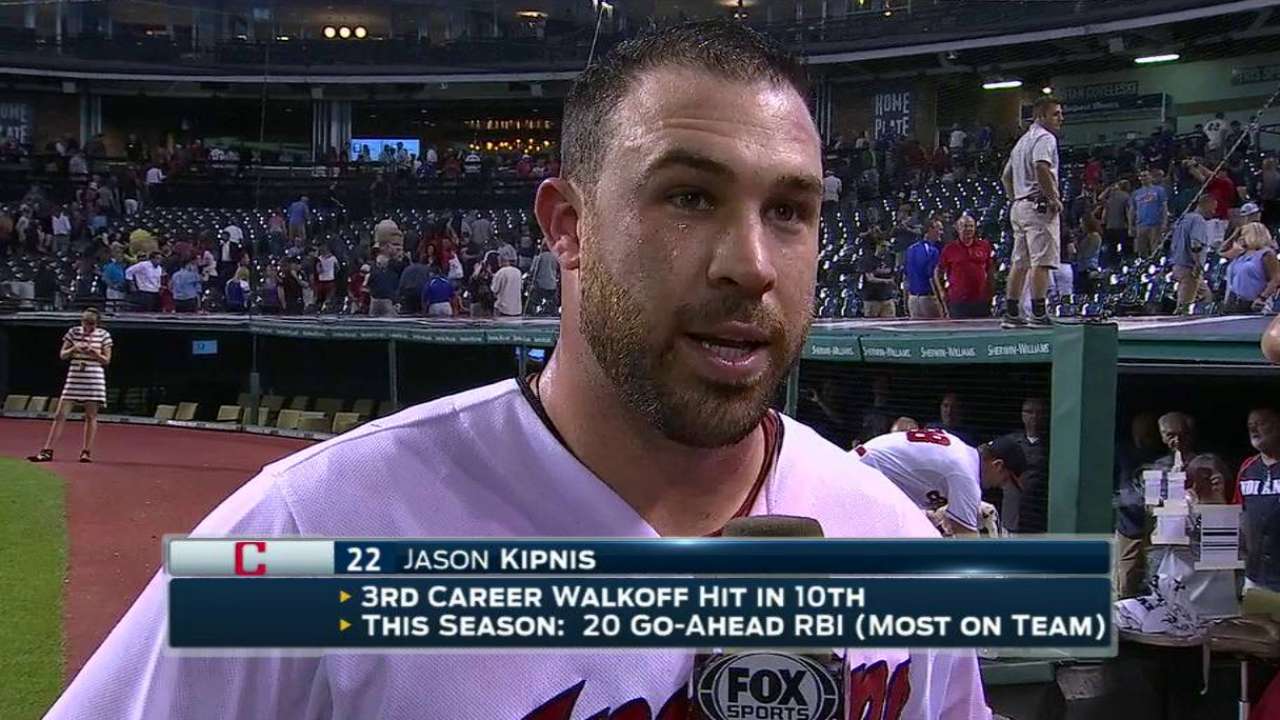 The Indians scored more than one run just once during a 2-5 road trip, but for the first game of a 10-game homestand, one run was enough to increase their record to 34-17 within the American League Central and maintain a 4 1/2-game lead over the Tigers, who defeated the White Sox on Monday. Minnesota is now 8-6 against Cleveland this year.
Neither starter factored into the decision despite scoreless showings. Tribe right-hander Trevor Bauer spun six frames, in which he allowed five hits and logged four strikeouts compared to one walk. Twins lefty Hector Santiago allowed just three hits across 6 1/3 innings with two punchouts and four free passes.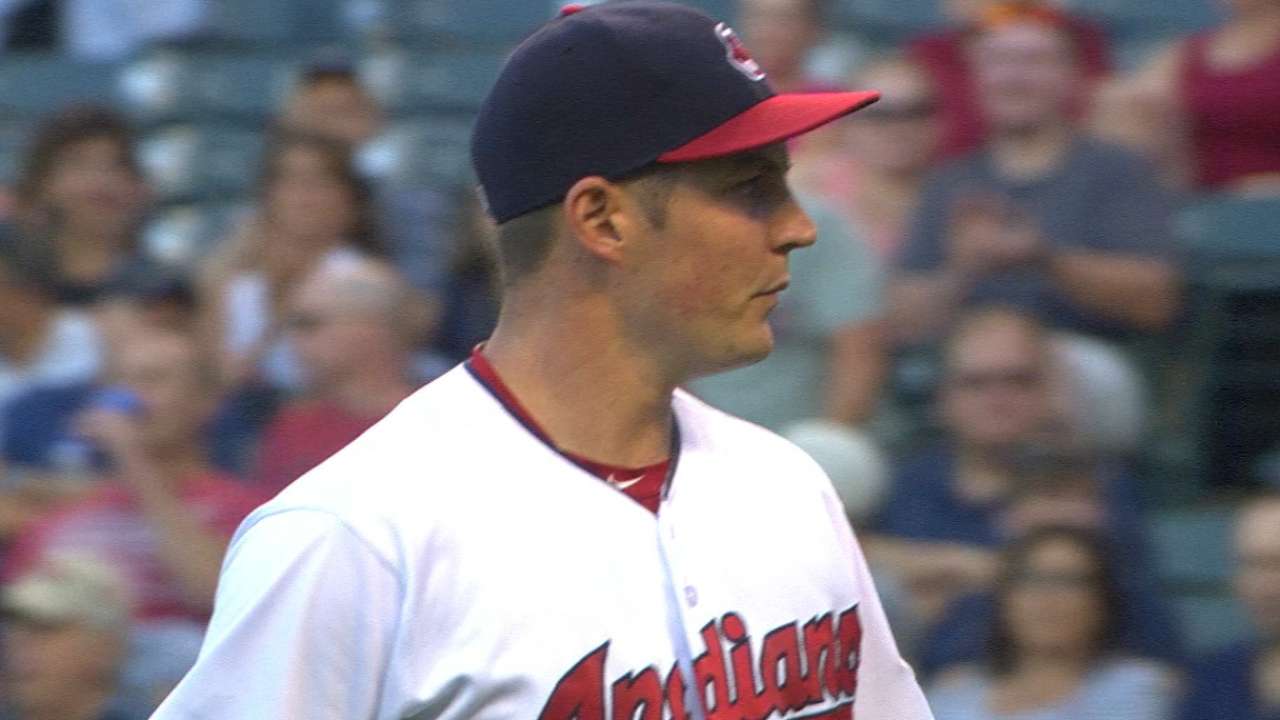 "It was a good game, and we haven't had one of that quality in a while," Twins manager Paul Molitor said. "It was nice to see Hector give us a chance. Offensively, we didn't have a lot of opportunities. With runners in scoring position, we were 0-for-[9]. It's kind of the nature of the game. You go to Toronto and score a lot of runs but can't get a win, and then you get a well-pitched game and you can't believe you can't get one."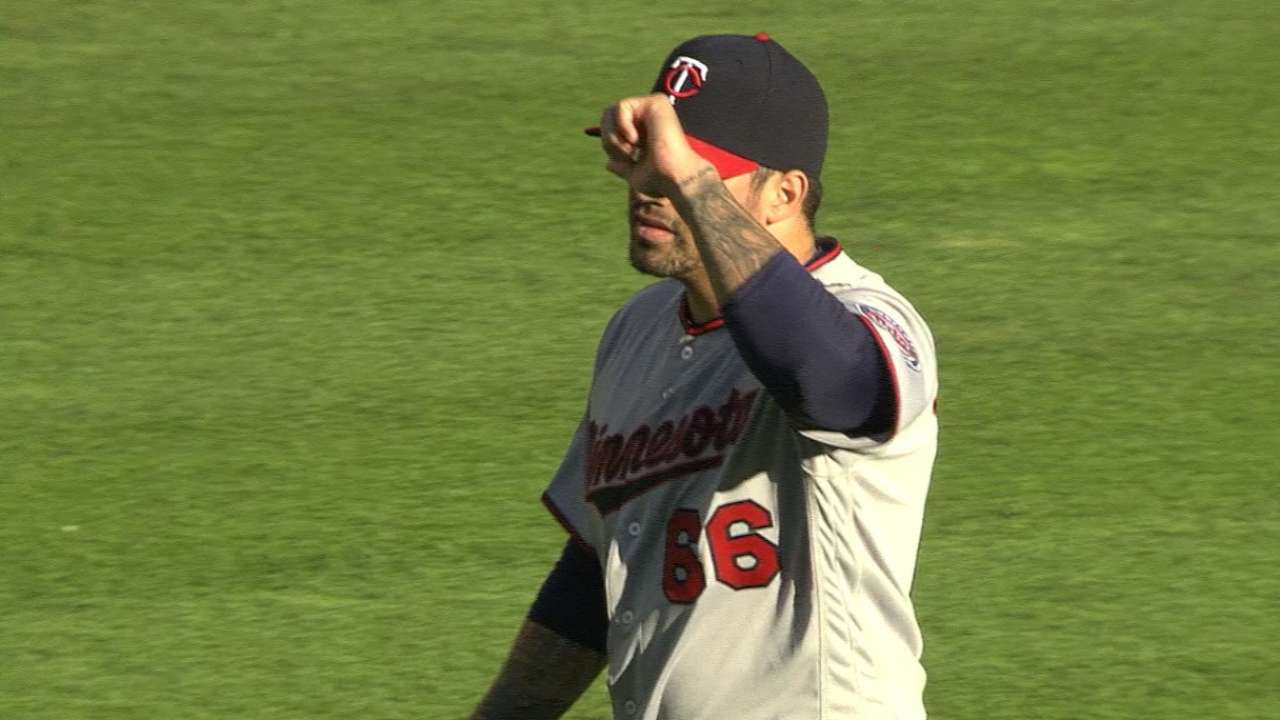 MOMENTS THAT MATTERED
Brilliant bullpen: The Tribe relievers picked up right where Bauer left off. Lefty Andrew Miller got out of the seventh inning unscathed with a pair of strikeouts to leave runners stranded at the corners. Bryan Shaw sat down the only two batters he faced when he relieved Miller in the eighth. After Cody Allen cruised through the ninth, he needed Zach McAllister to clean up the mess in the 10th. McAllister induced a flyout to the only batter he faced, leaving the bases loaded.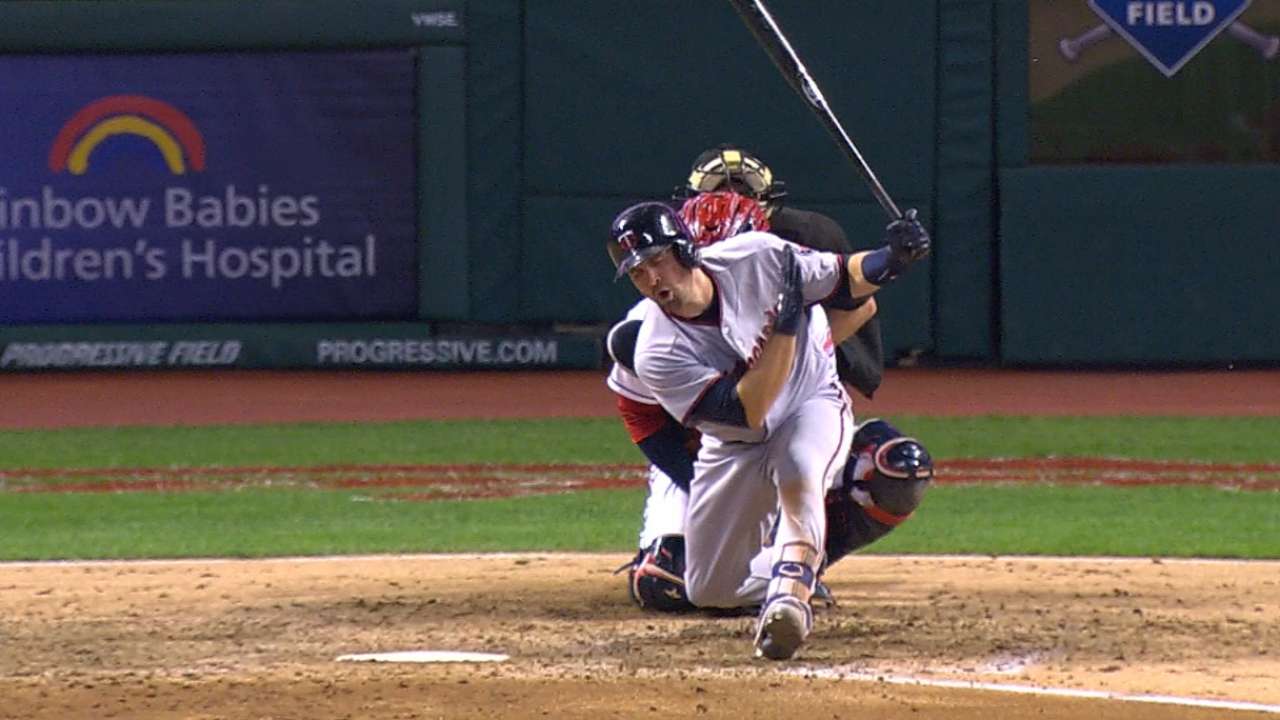 "That was probably the biggest at-bat of the night, honestly," Bauer said. "Mac comes in, starts off 2-0 to a dangerous guy who's hit us well, and comes back and gets him out. Just for team morale, having him come in and be able to get out of a situation like that, it's great. It enabled us to win, and I think it was good for everybody involved." More >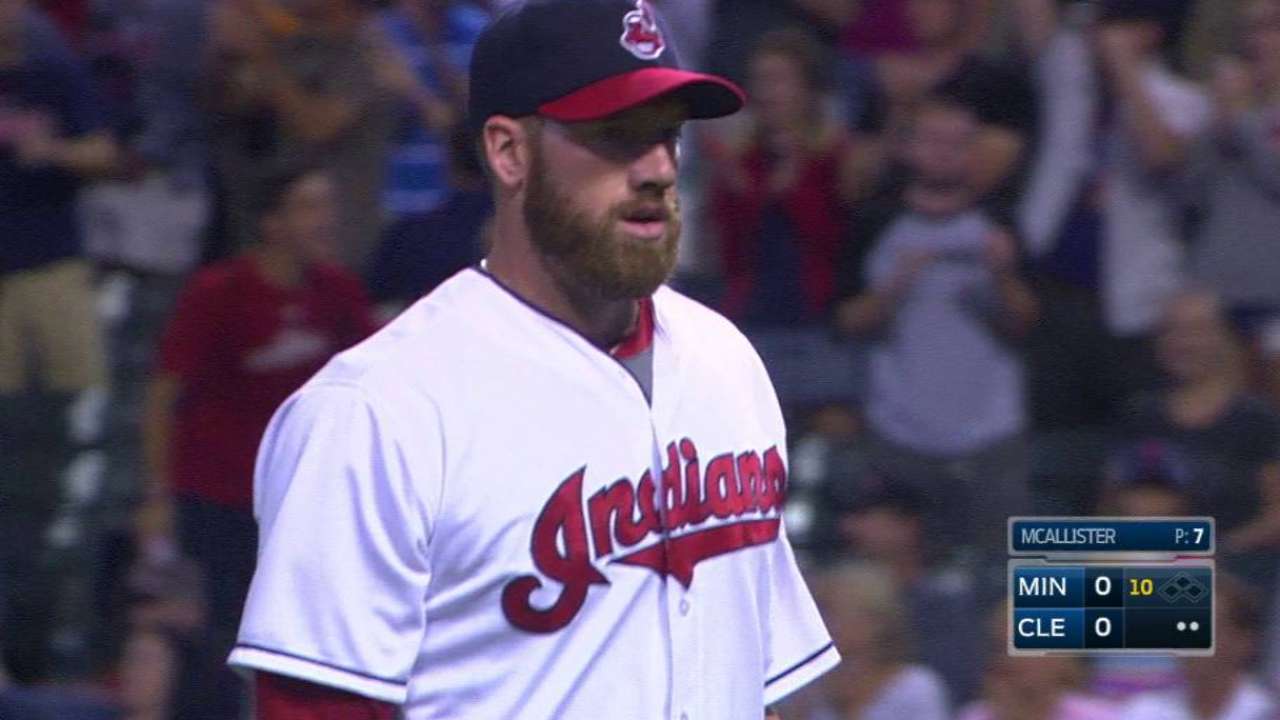 Kepler shows off arm: Francisco Lindor tried to test right fielder Max Kepler's arm in the eighth, when he attempted to advance from first to third on a two-out single from Mike Napoli. But Kepler was able to make a strong and accurate throw to third to nab Lindor to end the inning and the scoring threat.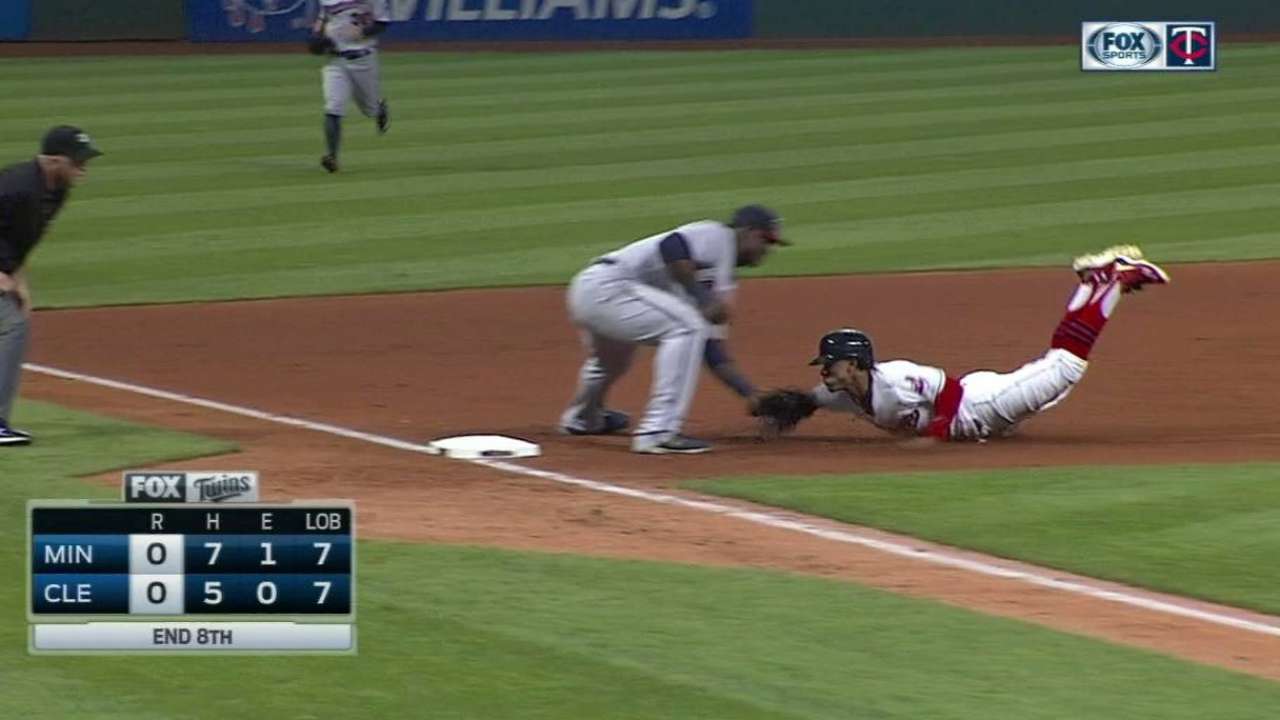 Jason's gem: The Indians made a pair of good defensive plays in a low-scoring affair on Monday night, but the best came on a play by Kipnis. To lead off the sixth, Minnesota first baseman Joe Mauer ripped a hard shot toward right, where Kipnis dove to his left to snag the ball before it bounced back to the grass. Kipnis then jumped back up and fired it to first to complete the putout, prompting Bauer to raise his arms in celebration.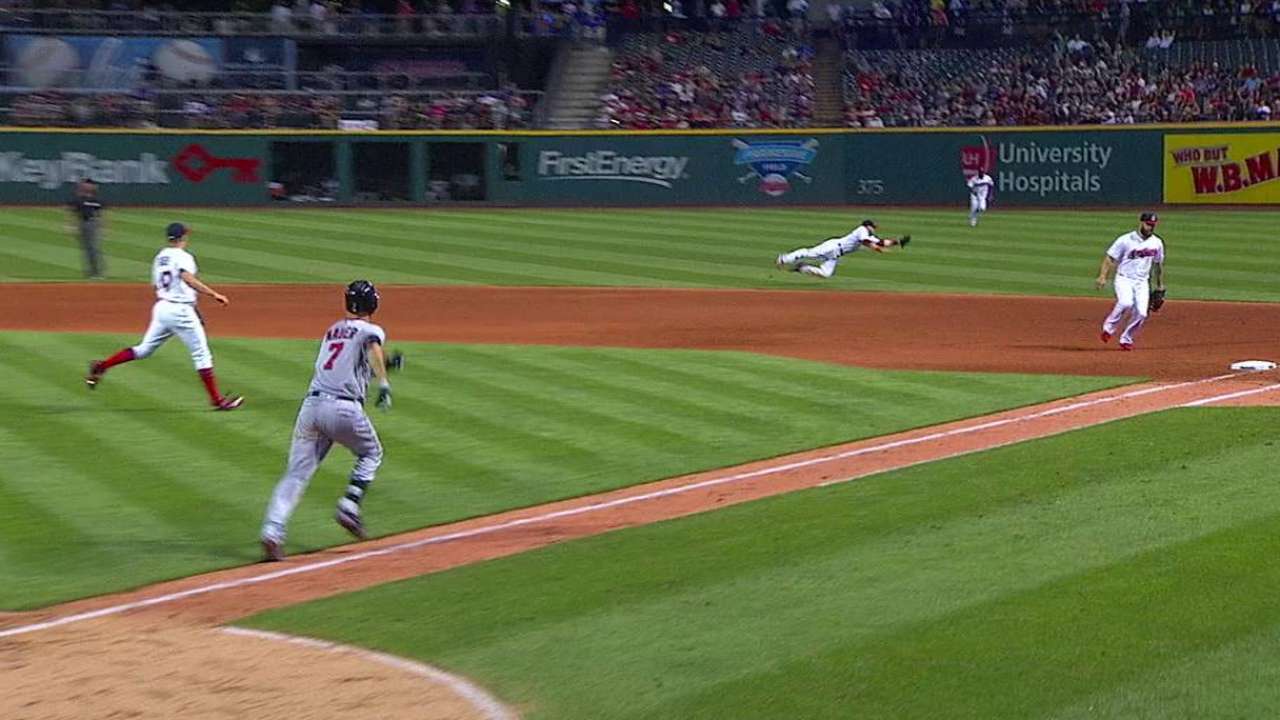 "That was awesome," Bauer said. "It was a big moment. Scoreless game. If I'm not mistaken, it was the leadoff hitter and the middle of the order coming up. To get an out on something that easily could've been a hit was definitely big."
Centeno stays put: With Eddie Rosario at second with two outs in the ninth, Juan Centeno checked his swing on a curveball from Allen that got past catcher Chris Gimenez and was called a third strike by home-plate umpire Jerry Meals. Centeno stayed at home to plead his case instead of running to first on the passed ball. By the time he ran to first, he was thrown out easily to end the inning.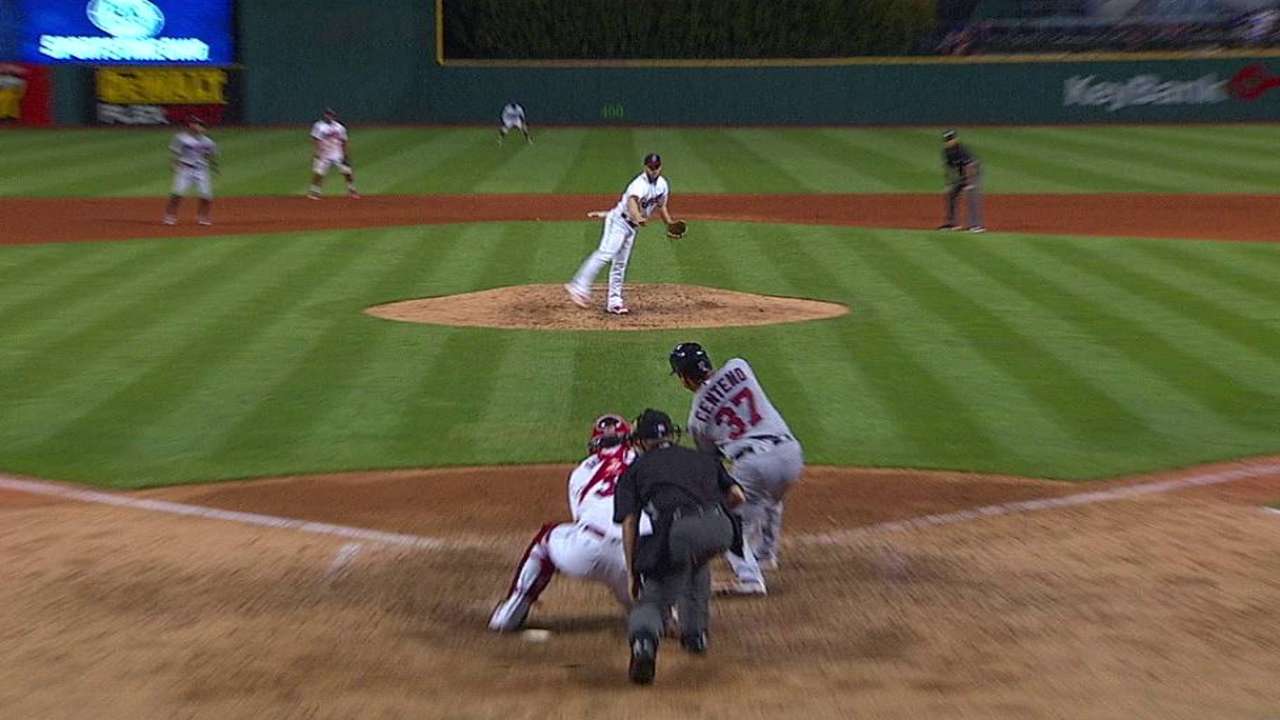 "I thought I didn't go around, so I was looking at the umpire at third base and thought the catcher caught the ball," Centeno said. "Then I looked back and saw and started running. I told the coaches that was my bad."
QUOTABLE
"What are you going to say about last series? It was one of those things that happens during a year that a team just hits everything -- balls, strikes, in, out, up, down, offspeeds, fastballs, whatever. That's a credit to them. So being able to limit the offense and get off to a good start in the series, especially after the road trip we had, it's definitely big." --Bauer, on beating a Twins team that took three of four from the Indians earlier this month
"We talk about it all the time: You want to be one run better. That would be that." --Indians manager Terry Francona, on the 1-0 win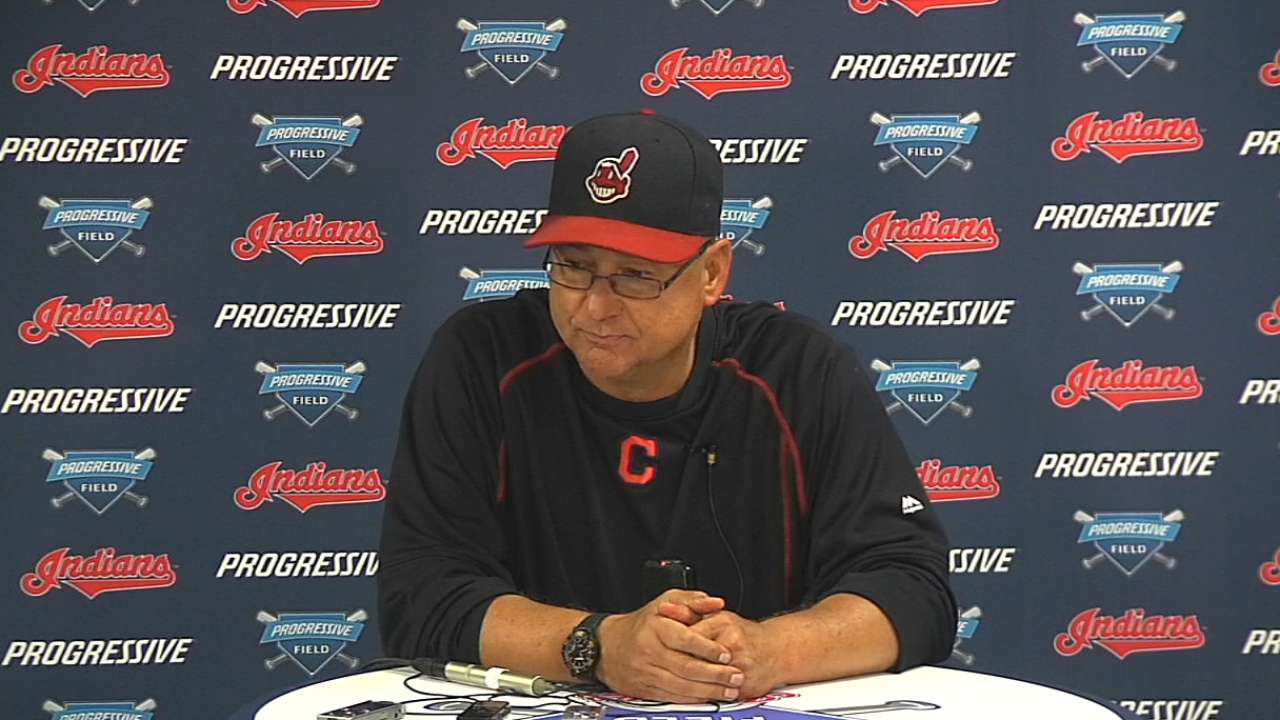 UPON FURTHER REVIEW
In the midst of Cleveland's winning rally in the 10th inning was a close play on the basepaths. With no outs and runners on first and second, Rajai Davis grounded a pitch to Twins third baseman Miguel Sano, who tagged Almonte on his way to third base before throwing across the diamond. The Indians challenged the call to make sure Sano applied the tag, but the ruling stood after a replay review. The out was rendered moot one batter later when Kipnis delivered the game's winning hit.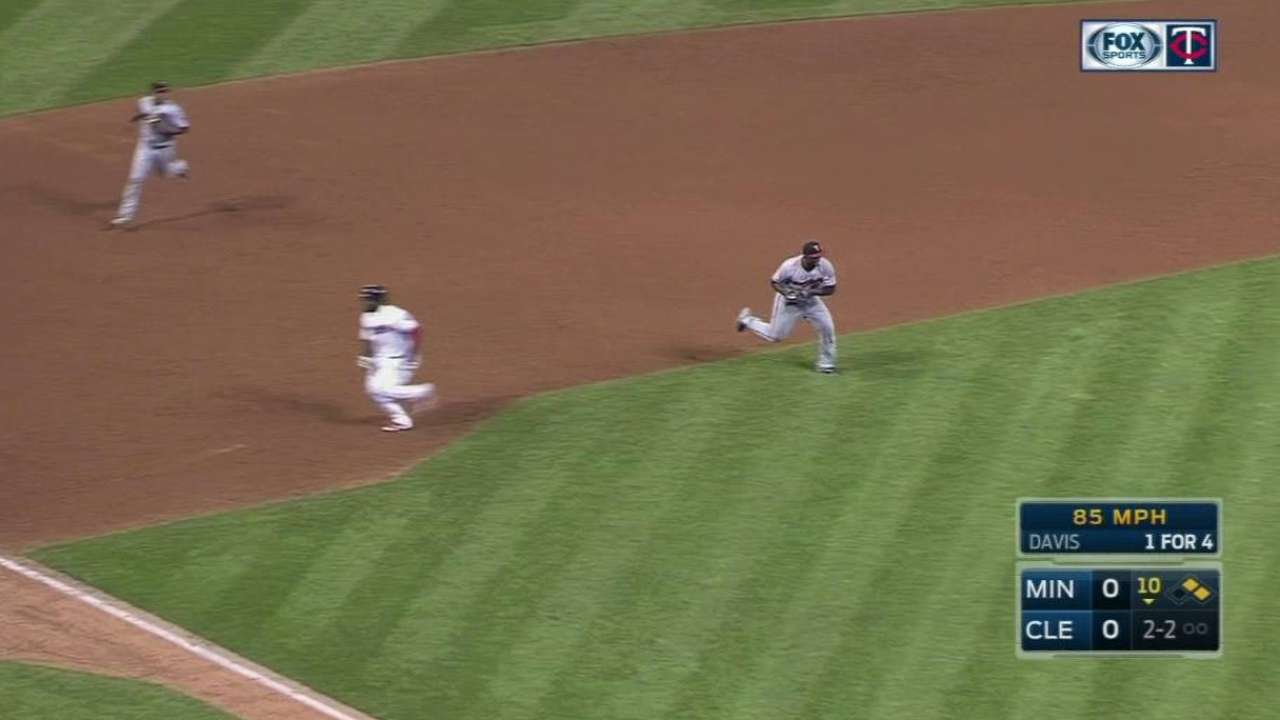 "I actually think Abe was safe," Francona said. "I just think we didn't have a good enough angle to show it. And then Kip with a nice piece of hitting, so everybody goes home happy."
WHAT'S NEXT
Twins: Left-hander Andrew Albers (0-0, 4.32 ERA) is set to make his first Major League start since 2013 on Tuesday at 6:10 p.m. CT against the Indians. Albers, who joined the rotation after Jose Berrios and Tyler Duffey were optioned, has made two relief appearances with Minnesota this year. He threw a shutout against Cleveland in his second career start in '13.
Indians: Right-hander Josh Tomlin (11-8, 4.70 ERA) is slated to take the mound for Tuesday's 7:10 p.m. ET tilt. Tomlin has struggled of late, with a 0-5 record and a 10.80 ERA in five starts this month. He has lasted fewer than five frames in all but one outing in that span. In 13 career appearances (10 starts) against the Twins, Tomlin is 4-4 with a 5.26 ERA.
Watch every out-of-market regular-season game live on MLB.TV.
Shane Jackson is a reporter for MLB.com based in Cleveland.

Rhett Bollinger has covered the Twins for MLB.com since 2011. Read his blog, Bollinger Beat, follow him on Twitter @RhettBollinger and listen to his podcast.

This story was not subject to the approval of Major League Baseball or its clubs.