Bean throws first pitch at Phils' Pride Night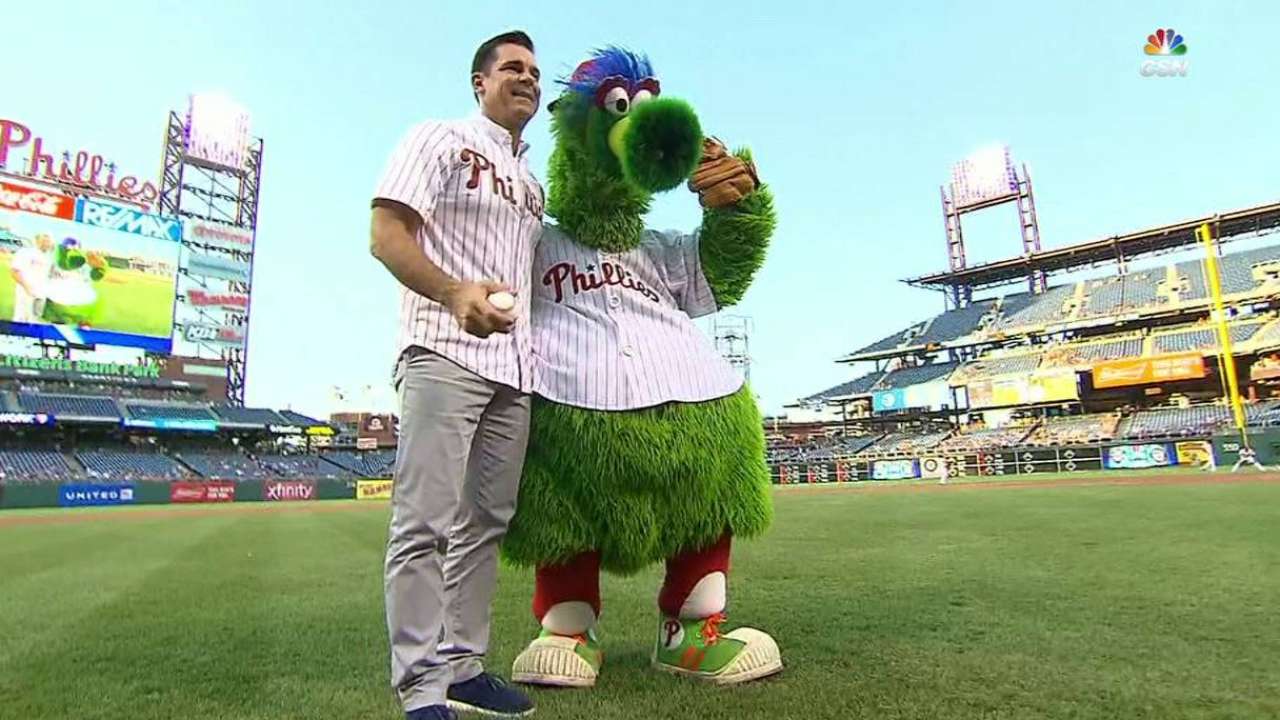 PHILADELPHIA -- A rainbow flag fluttered from a flagpole in center field at Citizens Bank Park on Monday. Billy Bean, Major League Baseball's vice president of social responsibility and inclusion, threw out a first pitch.
That was both fitting -- it was the inaugural Phillies Pride Night -- but not exactly a new gesture by the club, since it was also the 15th consecutive year the organization has recognized the local lesbian, gay, bisexual and transgender (LGBT) community.
It all started when a fan named Larry Felzer approached the Phillies with a question. If he sold 500 tickets, could the LGBT fans get the same recognition on the scoreboard and elsewhere that any other group did? The answer was yes, putting the franchise far ahead of the curve, and the promotion has been a success ever since.
This year, the Phils set aside a date -- in this case, the series opener against the Nationals -- without attaching it to a minimum number of tickets to be sold.
Other clubs that have held official Pride events this season are the Athletics, Blue Jays, Dodgers, Giants, Mariners, Mets, Nationals, Padres, Rays and Red Sox. The Cubs are holding one this Sunday.
Bean, who was hired by MLB on July 15, 2014, acknowledged before the game that he's always a little nervous about any sort of potential negative reaction, even though his personal experience so far has been overwhelmingly positive.
"It's not to polarize anybody or alienate any of our fans. Most fans will come and not even be aware that that's going on," Bean said. "But there will be a large group of LGBT people who are absolutely aware and feeling supported and wearing shirts and know they're in a supportive environment to express their true selves. So to me, the importance of it being the inaugural Phillies Pride Night is that we've had a decade and a half of successful nights that led up to this."
Bean only visits teams when asked; this was his fifth time he's been invited to visit the Phillies. In fact, one of his first appearances after he was hired was to speak at the Phils' organizational meetings.
Pride Night is like most of the group nights that are held each season, with two important differences. One is that the LGBT community spans all other groups. For example, Monday was also the team's Jewish Heritage Celebration.
"The LGBT community is a part of every community," Bean said. "So there are members of the Jewish community that are part of the LGBT community. So I think we cross into every special-interest group."
The other is that most of the other groups take basic liberties, like the right to get married, for granted.
Said Bean: "People are not initiating religious-freedom laws to take away the rights of [other groups] right now."
"Everyone has a right to bring their passion to the front office of a big league organization and say, 'We want to celebrate the things that matter most to us, and we're going to do it by having a party in your stadium. And here are 1,500 ticket requests.'"
The shootings at Pulse nightclub in Orlando, Fla., earlier this year emphasize the importance of the issue, and Bean is working to help baseball become a leader, inspired by the way that Jackie Robinson helped break down racial barriers in 1947.
"We have a great product on the field, and I think we're expanding the initiatives of social responsibility, which makes me very proud," Bean said. "It's about everyone coming to the ballpark and feeling like they can sit right next to the person that's most important to them in their life and cheer as loud as they can.
"That's the beauty of embracing the responsibility that goes with that privilege and us making a great impression for people who may never have heard of an LGBT night. Let's throw an olive branch out across the aisle and make friends. We don't need to be separated. When you raise the visibility, it allows a conversation to be expanded. It's a chance to get to know people better. Then, as communication or conversations happen, we start to see the things we have in common. And then it doesn't seem like such a foreign or scary interaction.
"If the fear was that we don't have anything in common, I can tell you that we have baseball in common. That's a start."
And when the former big leaguer, one of only two to come out as gay, threw out the first pitch on Monday night, he was greeted with a warm round of applause.
Paul Hagen is a reporter for MLB.com. This story was not subject to the approval of Major League Baseball or its clubs.