Banister not worried about Dyson's command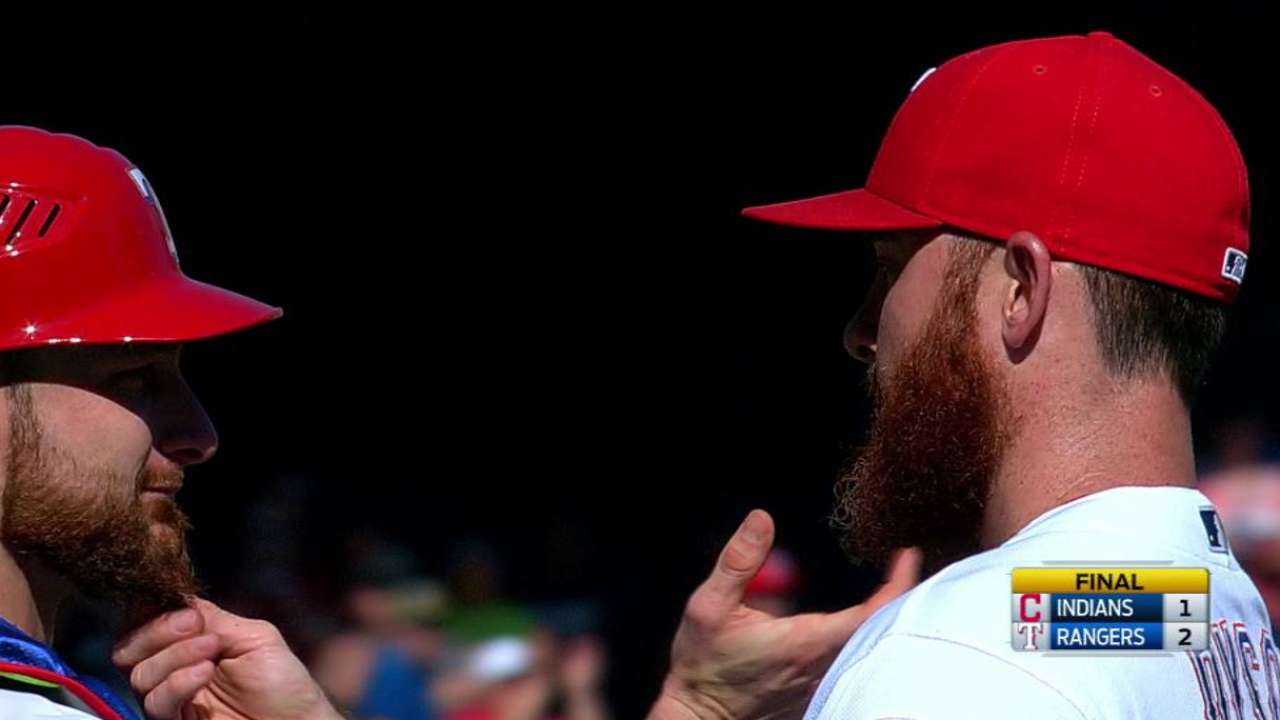 ARLINGTON -- Rangers manager Jeff Banister wasn't willing to look too deep into Sam Dyson's recent control issues after he escaped a bases-loaded jam to pick up his 29th save of the year on Sunday against the Indians.
"He hadn't pitched in three days," Banister said. "The bottom line for gunslingers -- guys that pitch at the end of the game -- it's truly, 'Did you get the job done?' Not how you got the job done."
Before working a clean 1-2-3 ninth inning Monday in a 6-3 win over the Mariners for his 30th save, Dyson had walked seven batters over his last 13 innings and had a 4.15 ERA in that span.
He became the first Rangers pitcher since C.J. Wilson in 2008 to save a one-run win while allowing three-plus baserunners.
"I'm not going to overanalyze or under-analyze it," Banister said. "I know what it is. He had a couple walks, gave up a base hit and then got three outs."
Earlier in the year, Banister was dealt with the problem of using Dyson too much. He's still tied for the American League lead in games pitched entering Monday's game (61), but has pitched just seven times in the last 18 games.
"We can't create situations for him. It's the life and times of a closer," Banister said. "I've got a pretty good feel for him. There's also getting to the sweet spot in number of appearances and where we're at right now as we try to move gently into September."
Scheppers nearing return: Banister said he doesn't think right-hander Tanner Scheppers' return from the 60-day disabled list is very far off. Scheppers has appeared in five games between Triple-A Round Rock and Double-A Frisco as he rehabs from February left knee surgery.
"He's throwing the ball well -- [one] inning stints, not a lot of strikeouts," Banister said. "The velocity wasn't as good in past times. He's got good run on the fastballs. The breaking stuff has been serviceable."
Scheppers has yet to throw in back-to-back days during his rehab assignment. But Banister doesn't think that will be necessary as he expects more arms to be available with September roster expansion, which is when Scheppers is slated to return.
"When you've only got seven to work from [in the bullpen], working back-to-back days is a little more crucial," Banister said. "We're going to have more than seven on Friday, just a guess"
Rangers beat
• Drew Stubbs was placed on irrevocable waivers on Monday after refusing a Minor League assignment. He was designated for assignment on Thursday to make room on the roster for Carlos Gomez.
• Colby Lewis, on the 60-day disabled list with a right lat strain, was scheduled to make his second rehab start with Frisco on Monday but the game was rained out. The Rangers have not said whether he will need another rehab start before being reinstated.
• Yu Darvish's start against Hisashi Iwakuma on Monday marked the fifth time in his career he faced a fellow Japanese pitcher.
Ryan Posner is a reporter for MLB.com based in Dallas. This story was not subject to the approval of Major League Baseball or its clubs.