Volquez focused on present, not past starts
Royals right-hander looking to help red-hot rotation keep rolling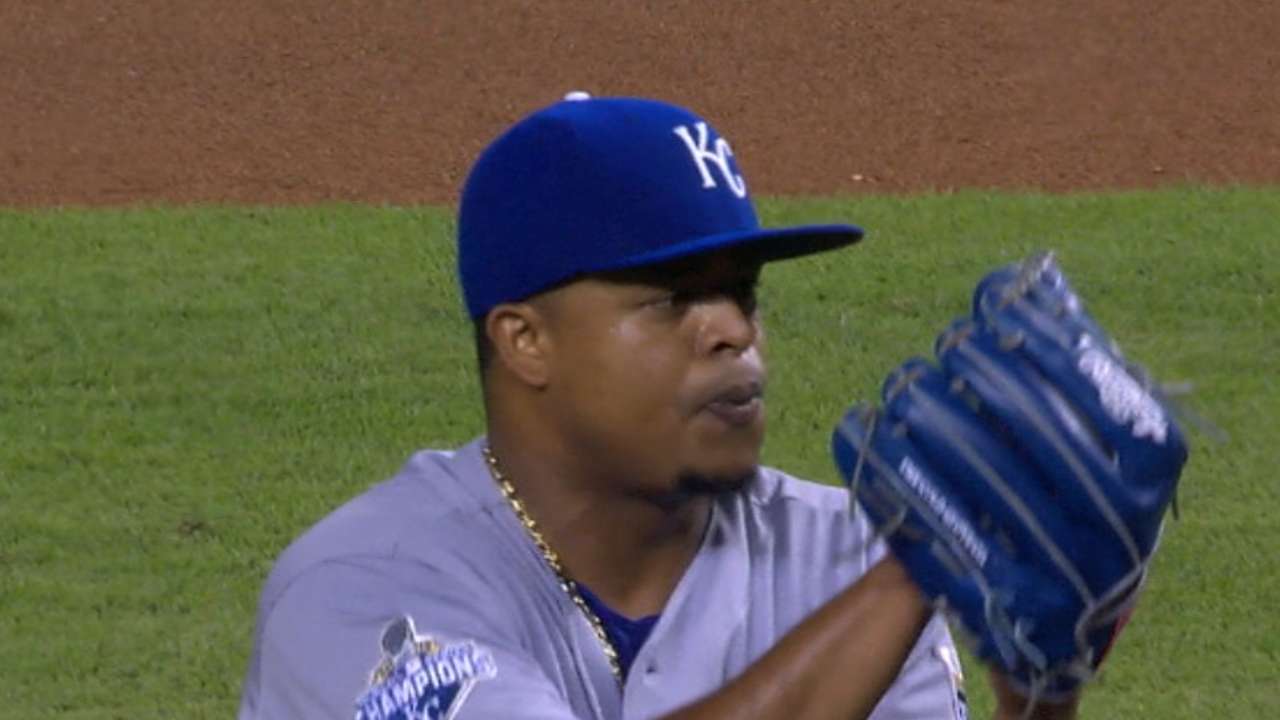 KANSAS CITY -- On Monday, right-hander Edinson Volquez sat in the Royals' clubhouse, listening to music coming out of his locker. His eyes were down, focused on a baseball-reference spreadsheet on his phone, as he prepared for his start against the Yankees on Tuesday.
In his last start against the Marlins, Volquez shrugged off a spell of rough outings. He pitched five strong innings, giving up two runs (zero earned). The outing snapped a stretch of five straight in which Volquez had allowed four or more runs, and was the first time he hadn't yielding an earned run in a start since June.
"I know he's been working a lot in between starts," right-hander Ian Kennedy said, "doing a couple extra bullpens here and there when he has those extras days, working on that fastball command, which it all stems off of."
Preparation is seldom an issue for a Royals pitching staff that had combined to hold opponents to a 2.54 ERA during the month of August entering Monday, which was tied with the Cubs for the best mark in the Majors. However, Volquez acknowledged some of the mental side that seeps into his routine between starts.
One thing Volquez said he tries to do is to think about where he wants to position his hand on the baseball, just to make sure his grip and control are the best they can be. That mental exercise is something that's helped him feel comfortable on the mound.
"Physically I feel good. Mentally too," Volquez said. "I've been up and down the whole year. I think I'm feeling better now."
And even in the rough outings, Volquez hasn't made any excuses. He's stood in the clubhouse after losses and owned up to his performance, even when it isn't necessarily all on him.
Royals left-hander Danny Duffy said that while Volquez has had some rough outings, they haven't necessarily been what the numbers might suggest. In addition to the five unearned runs Volquez has been charged with this month, there have also been times when he has located a pitch well, but given up a hit on a good piece of hitting.
"He's got some of the best stuff I've seen and he's got that nasty front-door two-seam, [which] he executes just about every time. Sometimes people just hit it for a little blooper and it's tough," Duffy said. "His tough starts aren't really tough, in the grand scheme of it all."
And that's the key for Volquez. He isn't trying to dwell on a tough stretch or even about locking himself in as the fourth starter for the postseason push. He has one job, and it's to go out and make a solid start each time he steps on the mound.
"That's what we need right now," Volquez said. "Everybody's been pitching good lately. If I can pitch one game pretty good and keep the streak winning, that's good for us.
"It's too early [to worry about the playoffs]. We've got a lot of games to play and a lot of games to win."
Davis progressing
Royals closer Wade Davis is continuing to work back from a strained muscle flexor in his right forearm, and was slated to make his next injury rehab appearance with Triple-A Omaha on Monday, but the game was postponed due to weather. Davis previously pitched one inning in relief for the Storm Chasers on Saturday.
"We don't have to [rush him] when we still have two more days before we make roster moves [for September callups]," manager Ned Yost said.
Scott Chasen is a reporter for MLB.com based in Kansas City. This story was not subject to the approval of Major League Baseball or its clubs.