Eaton shakes off HBP; Lawrie remains in limbo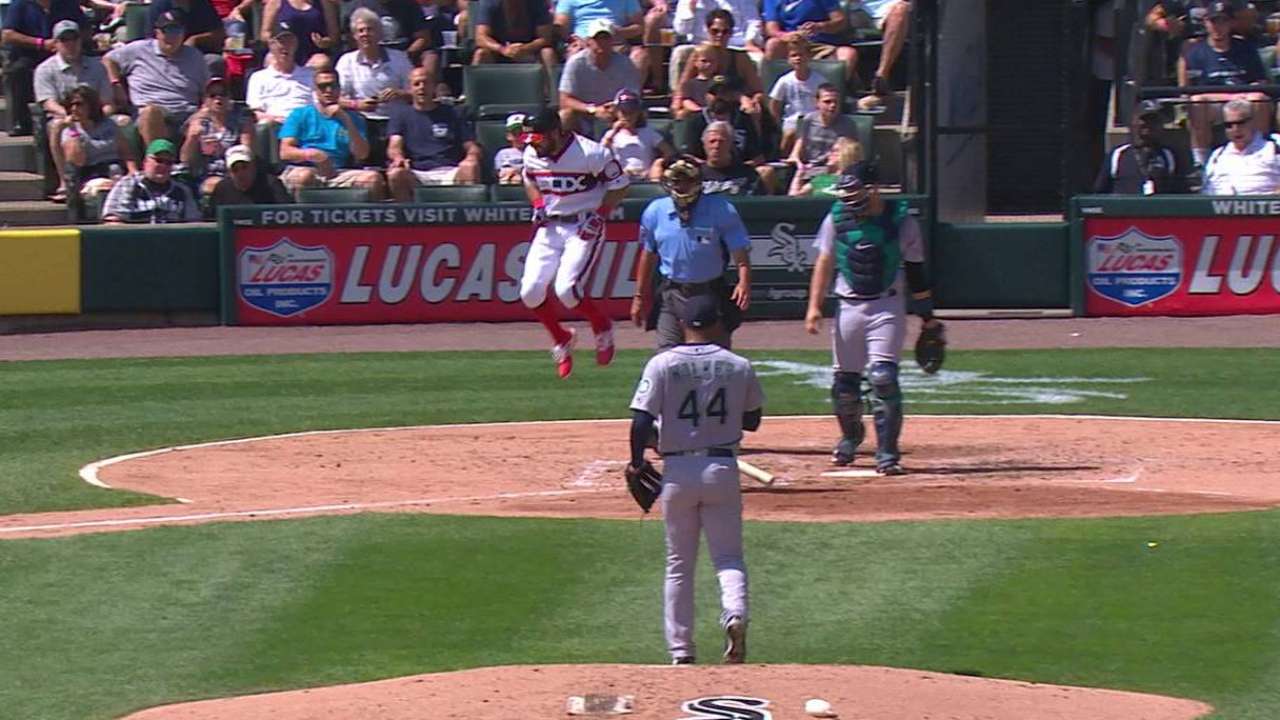 DETROIT -- Adam Eaton was back in the White Sox lineup Monday against the Tigers a day after being hit by a pitch in the right forearm. Eaton went back to center field in Sunday's 4-1 win over the Mariners, but he eventually came out of the game in favor of J.B. Shuck.
X-rays came back negative and Eaton said Monday that he felt good enough to go. Eaton wants to play every day -- he's played in all but one game this season -- even though he is often banged up throughout the course of a season, and it is no different with this minor injury.
"On any night I'd say I'm 75 percent healthy and this might just tick it down a percent," Eaton said. "I'll be all right; it won't bother me too much. I'll get nice and warmed up and our training staff does a great job of putting me in a position to be healthy, and I feel healthy."
White Sox manager Robin Ventura waited to see how Eaton was feeling Monday before deciding he was good enough to be in the lineup. Eaton was unable to grip anything Sunday, but Ventura shook his hand Monday and knew he was good to go.
"For one, it takes a lot for him to come out of the game, and it takes a lot for him to show up the next day and not be in it," Ventura said. "There are very few times he's come in and said that he couldn't go. It would have to be pretty bad for him to not be in there."
Brett Lawrie remains in limbo on the other side of the injury front. The second baseman has been out since July 21 with a strained left hamstring. Lawrie went 5-for-16 in five games in a rehab assignment at Double-A Birmingham earlier in August, but he still had some lingering pain and has not felt right since starting the rehab.
"They're still checking him out, and for him, he just senses that something doesn't feel right," Ventura said. "And you can understand that as a player, a guy that's played before, he knows what he's supposed to feel like when he goes out there. Guys play with pain and play with discomfort, but this is a little bit more than the norm, I guess."
Lawrie will likely need another rehab stint with the Barons, but Ventura said he still has no timetable as to when that could be. Birmingham's season ends Sept. 5.
Kyle Beery is a reporter for MLB.com based in Detroit. This story was not subject to the approval of Major League Baseball or its clubs.