Cobb to make long-awaited return Friday
Right-hander had Tommy John surgery last season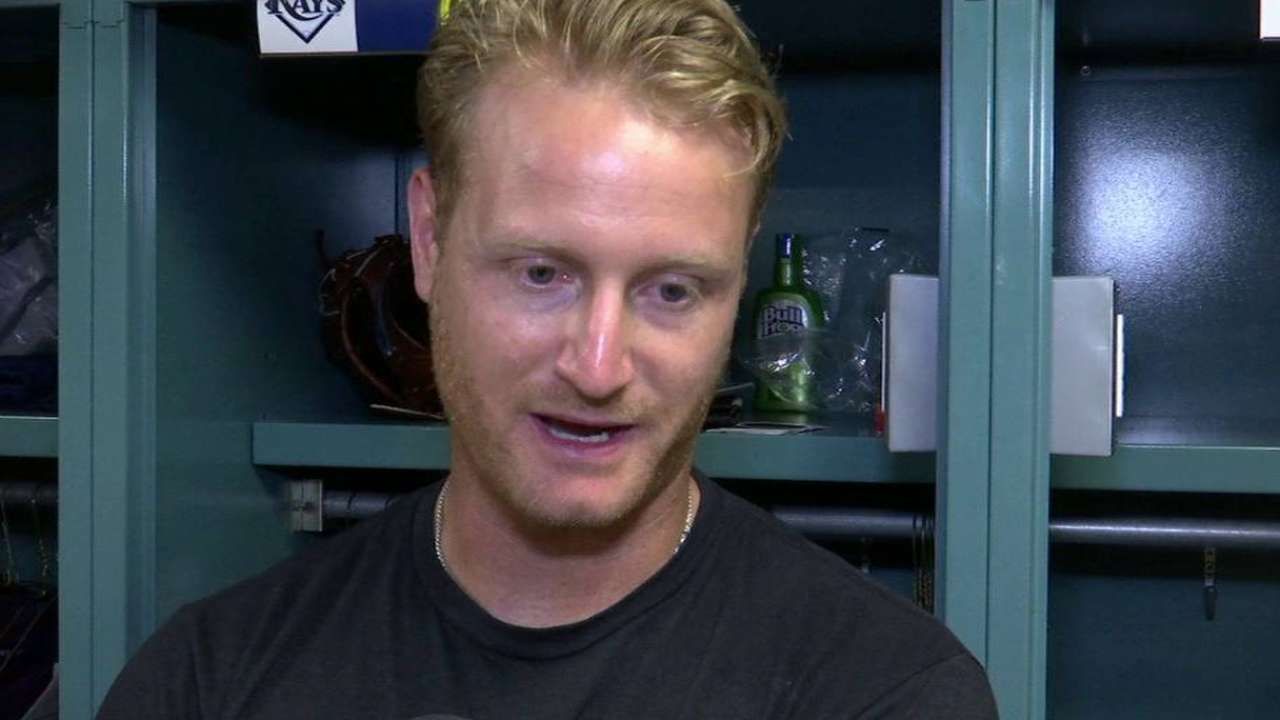 BOSTON -- Alex Cobb will start against the Blue Jays on Friday night at Tropicana Field, completing the right-hander's return from Tommy John surgery.
"Man, I'm happy," Cobb said. "I've had some setbacks in the past where I gained another perspective for how fortunate I am to be up in the big leagues, and none's compared to this one.
"It's a very humbling experience to go down and be away from the game that you loved so much for so long. So to be close to where I'm at, know that I'm going to get an opportunity to pitch this year, I'm very thankful about that."
Cobb, who has not pitched in a big league game since the 2014 season, will slide into the six-man rotation the Rays plan to use for the remainder of the season.
Alex learned he'll make his first start Friday. "Makes it real...Exciting to feel like a big leaguer again." #RaysUp pic.twitter.com/6TMkBDP5Dn

— Tampa Bay Rays (@RaysBaseball) August 29, 2016
"It was actually a pretty simple decision," Rays manager Kevin Cash said. "We feel like we have six guys that all have a reason to be starters. With Cobb, it's so important to get him back here. He's worked so hard to get through the injury to get back. Let him get as many innings here as possible in September, let him have some success and go into the offseason feeling normal."
Cobb, 28, was one of baseball's most promising young pitchers, putting together his best season in 2014 when he went 10-9 with a 2.87 ERA over 27 starts. The following spring, he suffered a full ulnar collateral ligament tear.
During his rehab assignment, he struggled in eight starts across two Minor League levels, pitching to a 6.65 ERA in 21 2/3 innings. However, he pitched better in his final start Saturday night when he allowed one run on five hits in four innings, striking out one and walking none. Ronnier Mustelier, the Gwinnett Braves left-fielder, accounted for the only run off Cobb when he homered against him with two outs in the second inning.
"I wouldn't say back to 100 percent, but back to where I can compete," said Cobb, assessing where he's at in his recovery. "Before, I felt like every little mistake I was making was getting crushed. Something in my delivery and maybe the life in my fastball is a little better. But [Saturday night], I was able to have them hit balls that found fielders and weren't line drives in the gap, stuff like that. So I was able to compete."
Cobb did call attention to the fact he only had one strikeout.
"So it was obvious my swing-and-miss pitches weren't fully there," Cobb said, "but I was really good at getting to two strikes. Just need to find a way to get that third one. ... I still have a lot of growing and figuring out to do as a pitcher."
Cobb is 35-23 with a 3.21 ERA in 81 career starts.
Bill Chastain has covered the Rays for MLB.com since 2005. This story was not subject to the approval of Major League Baseball or its clubs.