Sanchez is AL Player of the Week -- again
Yankees catcher hits 5 more homers, becomes first rookie to win consecutive awards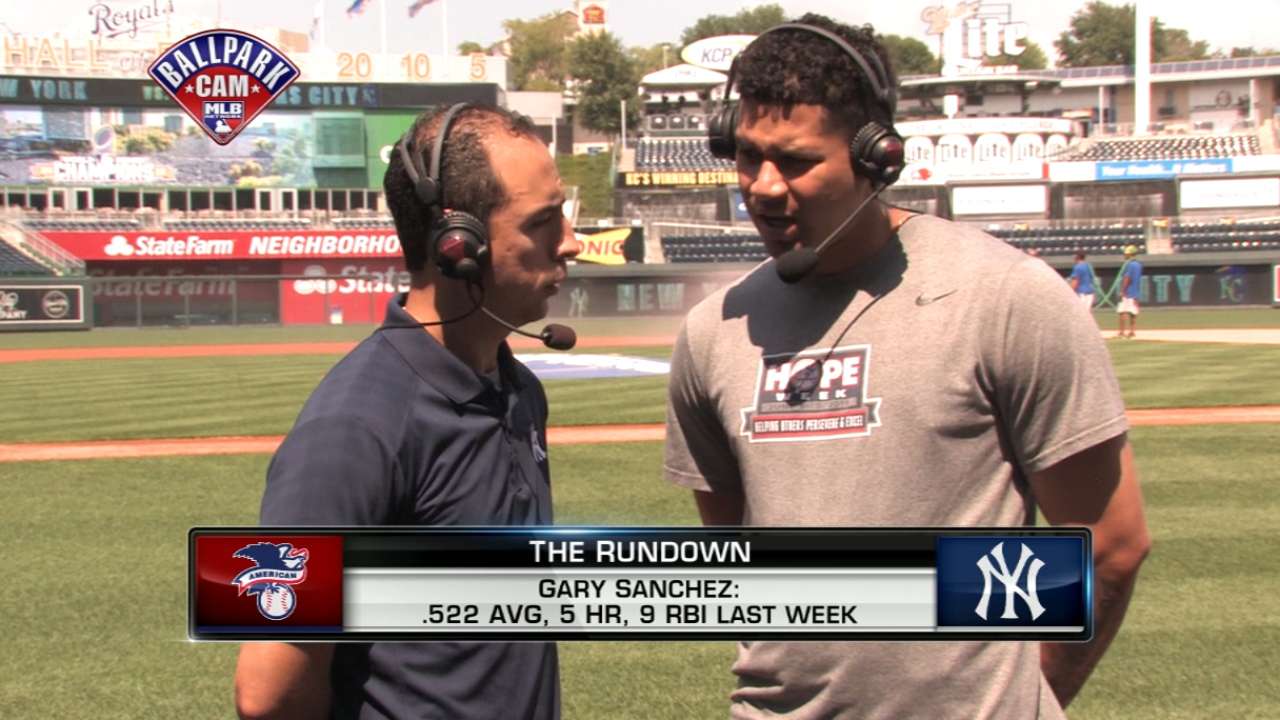 KANSAS CITY -- Yankees catcher Gary Sanchez continues to smash through the record books, again earning selection as the American League's Player of the Week and becoming the first rookie in either league to bring home the honor for consecutive weeks.
Sanchez batted .522 (12-for-23) with seven runs scored, three doubles, five home runs and nine RBIs over six games, becoming the first AL player to win back-to-back Player of the Week awards since Albert Belle of the White Sox in July 1998.
"You feel happy and excited when you get an award like that," Sanchez said through an interpreter. "At the same time, what I'm happier about is that we keep winning series right now. That's what we want to keep doing; keep winning series."
• Petriello: Not just a slugger, Sanchez has power behind plate
The twin honors should make Sanchez even more popular with his friends and family. In recognition, Sanchez will be awarded another watch courtesy of Game Time, the leader in licensed sports watches (available at MLB.com). Seems that his biggest challenge of the week might be deciding who gets the extra timepiece.
"I haven't gotten the first one yet, so I don't know what I'm going to do," Sanchez said.
Regardless, Sanchez doesn't need to glance at his wrist to recognize that the game seems to have slowed down, as he enjoys a streak of historic proportions that has vaulted the Yankees back into the thick of the postseason chase.
"I'm not really surprised at this point," Yankees manager Joe Girardi said. "He had an unbelievable week again, a ton of home runs, driving the ball all over the place, throwing runners out and playing really good defense. What he's done in two weeks has been pretty special."
Yankees left-hander CC Sabathia said that as impressive as Sanchez's bat has been, the club appreciates his polished defense even more.
"Behind the plate, he's blocking every ball, calling good games, coming up in a tough situation in the middle of a pennant race," Sabathia said. "He's filled in nicely and done a great job not only hitting, but behind the plate has been the biggest thing."
The last Yankees catcher to win the award was Thurman Munson on July 25, 1976, and Sanchez said that he has heard from a variety of peers and legends to congratulate him on the quick start to his career.
"Pedro Martinez sent me a tweet congratulating me on the award," Sanchez said. "It's something that's very exciting because he was a great player and a Hall of Famer. To be congratulated by someone like that is a nice feeling."
Among his AL counterparts, the 23-year-old finished the period ending Aug. 28 first in extra-base hits (eight), slugging percentage (1.304) and total bases (30); tied for first in home runs; second in batting average, on-base percentage (.607) and RBIs; tied for third in runs scored; tied for fourth in hits; and tied for sixth in doubles and walks (five).
Sanchez entered Monday hitting .405 with 11 homers and 21 RBIs in 22 games overall and is the fastest player in Major League history to reach 11 homers, having done so in 23 career games.
"It's definitely a nice feeling when you're doing good and at the same time the team is doing good," Sanchez said. "We're right there in the fight; it's even better. If we keep winning games, we'll have a good chance of making the playoffs."
Bryan Hoch has covered the Yankees for MLB.com since 2007. Follow him on Twitter @bryanhoch, on Facebook and read his MLBlog, Bombers Beat. This story was not subject to the approval of Major League Baseball or its clubs.