Butler back from DL; A's option Alcantara
Veteran DH returns following incident with Valencia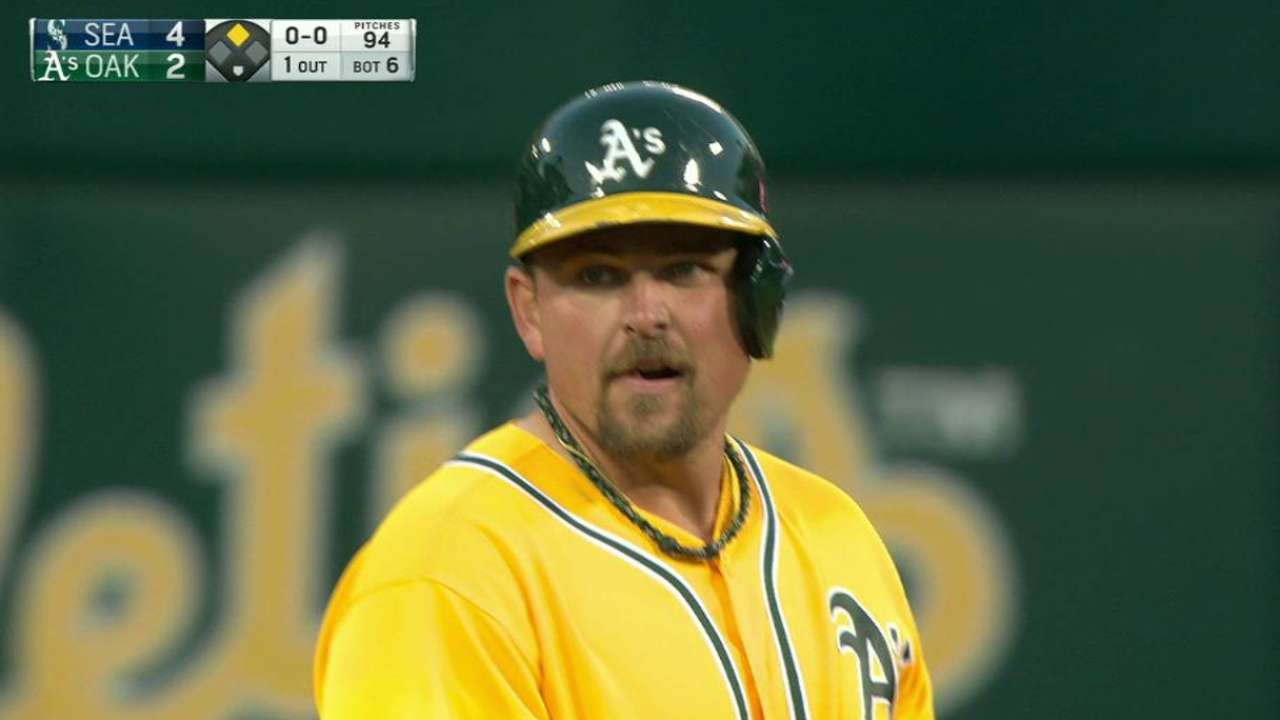 HOUSTON -- After landing on the 7-day concussion disabled list following a clubhouse incident with Danny Valencia, Billy Butler was reinstated by the A's on Monday, but the designated hitter wasn't in the starting lineup in a 6-0 loss to the Astros.
Infielder/outfielder Arismendy Alcantara was optioned to Class A Stockton in a corresponding move.
"He hasn't been in the lineup every day this year anyway," A's manager Bob Melvin said of Butler, who grounded out to end the game as a pinch-hitter, "and he's always a good option to have off the bench."
Butler suffered a head injury during a physical altercation with Valencia on Aug. 20, which both players were fined and disciplined for. He took the final portion of his concussion test Sunday, and the A's brought him back as soon as he was eligible.
A 10-year veteran, Butler was one of the club's hottest hitters before the incident, batting .362 with a .507 slugging percentage in the 22 previous games, but his role going forward appears unclear now that the A's, 57-73 entering Monday, are effectively out of playoff contention.
"We'll see how it plays," Melvin said. "We're doing things a little bit differently anyway right now, looking at some of the younger players, so we'll see where he fits in."
For Monday's game, Khris Davis was batting in Butler's usual spot as the DH. Entering Monday, Davis had 26 hits, eight home runs, 17 RBIs and a .286 batting average in August.
"[Butler's] been off a few days, but we have a few guys swinging the bat well," Melvin said. "We're trying to balance between [Brett Eibner] and keeping Valencia in the lineup, who's swinging the bat well, too."
The situation with Butler is sort of emblematic of the A's situation: trying to find a balance between keeping the veterans happy with appropriate playing time, while also giving younger guys a look.
"It's not an enviable position to be, and we put ourselves in this position with our record," Melvin said. "It's not unlike some other teams that want to take a look at their younger guys, give them experience going into next year as well, so it's a little bit of a delicate balance."
Jordan Ray is a reporter for MLB.com based in Houston. This story was not subject to the approval of Major League Baseball or its clubs.