Inbox: Who is Padres' second baseman of the future?
Beat reporter AJ Cassavell fields San Diego fans' questions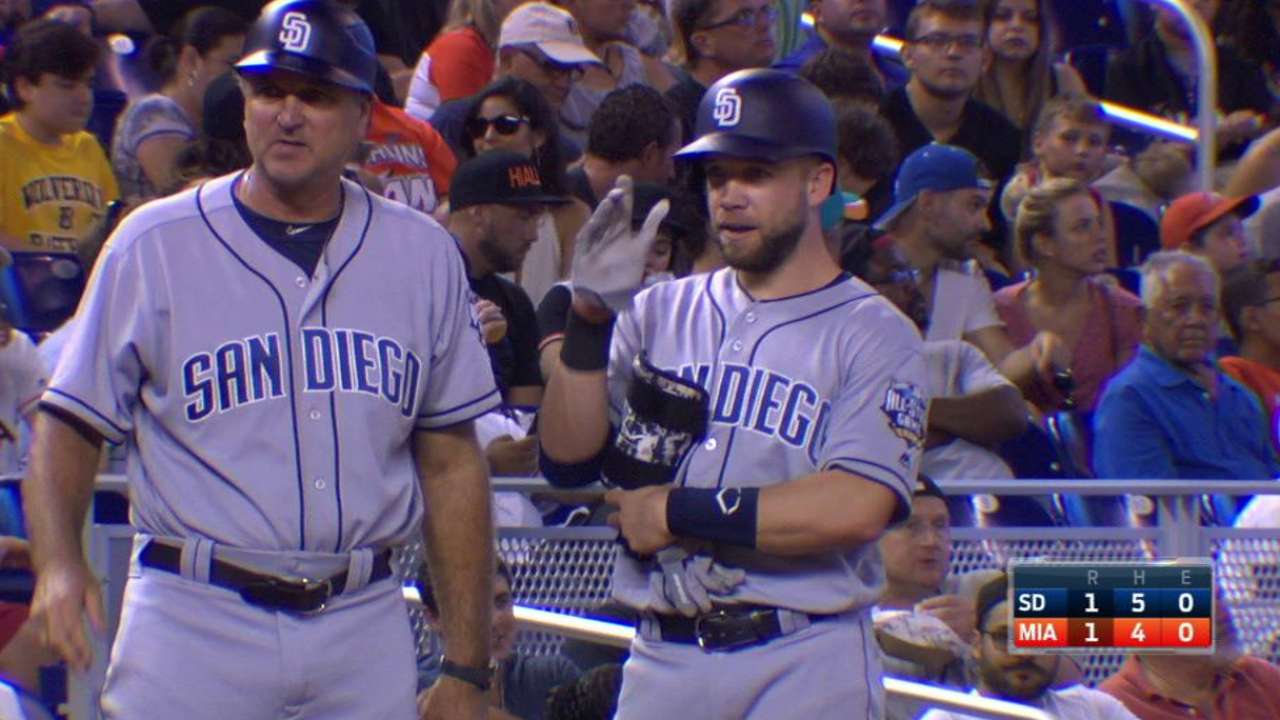 SAN DIEGO -- As the Padres enter the home stretch of the 2016 season, many of their most pressing questions are centered around the upcoming offseason.
Spring Training in 2017 will feature position battles galore, and several players will be looking to boost their stock during the season's final month. With that in mind, here are a few answers to the most intriguing questions in Padres-land.
@AJCassavell Padres were high on Spangenberg until he got hurt but is Schimpf the starting 2nd basemen going forward next year and beyond?

- Jared Cothren (@JaredCothren) August 29, 2016
The Padres are still very high on Cory Spangenberg, when he's healthy. They handed him the keys to an Opening Day job and batted him second until he tore his left quad in late April. In the meantime, Ryan Schimpf has seized the opportunity in Spangenberg's absence. Sure, he's only hitting .242, but he's slugging .613. In MLB history, no player has ever finished a season with a batting average below .250 and a slugging percentage above .600 (minimum 200 place appearances). Schimpf could very well be the first.
In any case, Schimpf's remarkable rookie campaign hasn't guaranteed him anything going forward. Manager Andy Green has said there will be an open competition for the starting second-base job next spring. (Expect Spangenberg to see some playing time in winter ball before then.) Schimpf's .371 ISO is almost certainly not sustainable, and pitchers will begin to adjust on him. That said, if he's anything close to the hitter he is right now, San Diego will find a place for that kind of power in its lineup.
@AJCassavell When will @Padres fans finally see the call up of Hunter Renfroe? Also, is there a possibility we see Margot and maybe Asauje?

- Justin Kamoss (@TheRealJKamoss) August 29, 2016
There's a serious chance all three callups will come within the next few weeks. The Padres have repeatedly stated their desire to give their top prospects a chance to compete in the Pacific Coast League playoffs. El Paso is slated to begin its playoff run on Sept. 7, and it could last until Sept. 18. When that's over, Hunter Renfroe, the club's No. 3 prospect, will almost certainly get his first taste of the big leagues.
Carlos Asuaje, who is batting .319/.374/.459 with El Paso, figures to get the call as well. Catcher Austin Hedges should, too, but his shot most likely won't come until Sept. 15 -- the date at which the Padres would gain an extra year of team control. As for Manuel Margot, he's the only one of those guys who might not get the promotion. He's only 21 and his 540 plate appearances are by far the most he's ever had. He may get a callup anyway, but playing time would probably be scarce for him.
All four of the aforementioned Chihuahuas are likely to be competing for big league jobs next spring -- and they could very well end up starting in 2017.
@AJCassavell What is Wil Myers current contract situation? If he is going to test the open market after this season, the Pads have no chance

- Daniel Kuhfal (@SDKiD19) August 29, 2016
Wil Myers can't test the open market until after the 2019 season, so San Diego has him under team control at least until then. He's entering his first year of arbitration eligibility, so he's due for a significant raise during the offseason. But it's practically a certainty Myers will be a Padre in 2017. He's the exact type of player the club wants to build around -- young, personable, marketable and, most importantly, productive.
With that in mind, don't be surprised if the Padres take a stab at signing Myers to an extension during the offseason. Both sides have already said they're open to the idea, and a potential deal would buy out his three arbitration years, while tacking on another year or two afterward. At 25 years old, Myers will still be in his prime when the horde of recently acquired prospects hits the big league level.
@AJCassavell this season is a wash. Which players should we expect to come back next year?

- RebuildingMode (@rebuildingmode) August 29, 2016
Among current starters, you can expect almost all of them to be back -- but they'll face some serious job competition from the youngsters at Triple-A. San Diego entered the season with plenty of trade bait -- and it dealt almost all of those players in advance of the Aug. 1 non-waiver Trade Deadline. Since then, the Friars been playing games with one eye on the future. They're the only team in baseball to start six rookies this year -- and they've done so multiple times.
Jon Jay is the only key contributor on the Padres in the final year of his contract, and he'll likely test the open market. If San Diego doesn't bring him back, expect the club to go after another veteran presence who can serve as a fourth outfielder, while helping to nurture their young talent. As it stands, the Friars have three rookie outfielders, Travis Jankowski, Alex Dickerson and Jabari Blash. Two more -- Renfroe and Margot -- will be competing for a starting job next season.
On the pitching staff, Tyson Ross presents the biggest question mark. He will be a free agent after the 2017 season, and every contender in baseball would be happy to add the version of Ross from '13-15. But Ross has missed almost all of the season with a right shoulder injury, and his value is lower than it's been in a while. With that in mind, don't be surprised if the Padres hang onto him with the possibility of flipping him at the Deadline next summer, once his stock has risen.
@AJCassavell any chance Lament or Kelly get a shot in the big leagues this year?

- Trevor Brzezniak (@TheBrezident) August 29, 2016
With Michael Kelly on the disabled list, I think the better options are Dinelson Lamet and Walker Lockett. They've been the two most impressive pitchers at San Diego's upper levels this season. Both have cruised through Class A and Double-A and are currently with El Paso. Like the hitters mentioned above, they're likely to stay there until the end of the Chihuahuas' playoff run. It would be a truly remarkable feat if the duo could cycle through all four levels in one season.
That being said, Lamet and Lockett will have increased their innings workload by well over 50 percent once the season ends. Meanwhile, the Padres are content to finish out the season with their current staff plus the potential addition of Ross in a couple of weeks. The prudent decision might be to let the pair finish out their brilliant campaigns in mid-September.
AJ Cassavell covers the Padres for MLB.com. Follow him on Twitter @ajcassavell. This story was not subject to the approval of Major League Baseball or its clubs.