Tom Coughlin receives Little League's highest honor
Former New York Giants head coach inducted into Hall of Excellence
Over the course of his 40-plus years working at the collegiate and professional football levels, Tom Coughlin earned a reputation as a dedicated, no-nonsense coach -- values that were cultivated in his youth, in large part because of time he spent involved in Little League Baseball.
On Saturday, the day before the conclusion of the Little League World Series, Little League Baseball International bestowed its highest honor on him when he was inducted into the Little League Hall of Excellence, an annual honor given to Little League graduates who have demonstrated a commitment to excellence in their chosen profession and exemplify the values learned as children in Little League Baseball or Softball.
Two-Time @SuperBowl Champion Tom Coughlin enshrined into Little League Hall of Excellence: https://t.co/iVkK9LyDe3 pic.twitter.com/ebDYO8wIug

— Little League (@LittleLeague) August 27, 2016
"Little League was a big part of my life," said Coughlin, who threw out the first pitch before the U.S. championship game between New York and Tennessee. "It taught me about dealing with success and failure. It was the first time it got my competitive juices flowing. The drive to be successful starts on the Little League diamond."
Coughlin's Little League career began in the 1950s in Waterloo, N.Y., a small town southwest of Syracuse. He went on to play football at Syracuse University and began his coaching career in 1970 at the Rochester Institute of Technology. Gradually working up the ranks, Coughlin earned his first NFL head coaching gig with the expansion Jacksonville Jaguars, leading them to two AFC championship games. He later went on to coach the New York Giants for 12 seasons, becoming a household name by leading them to a stunning last-minute victory over the undefeated New England Patriots in Super Bowl XLII. Four years later, he again led the Giants to an unlikely championship over the Patriots, cementing his status as a coaching legend.
Despite Coughlin's success in football, he emphasized the importance of kids playing multiple sports rather than focusing on one, and he cited baseball as his first love.
"One of the most important things for kids to do is to stay involved and play all sports," Coughlin said. "The change of seasons was great for me. Winter came and basketball was fun, then spring would come and I'd play baseball. I would play baseball in the summer, too. My grandkids now sometimes play three sports in one season. Point is, get involved, stay involved, try them all. In my case, baseball was my first love, then basketball, then finally football."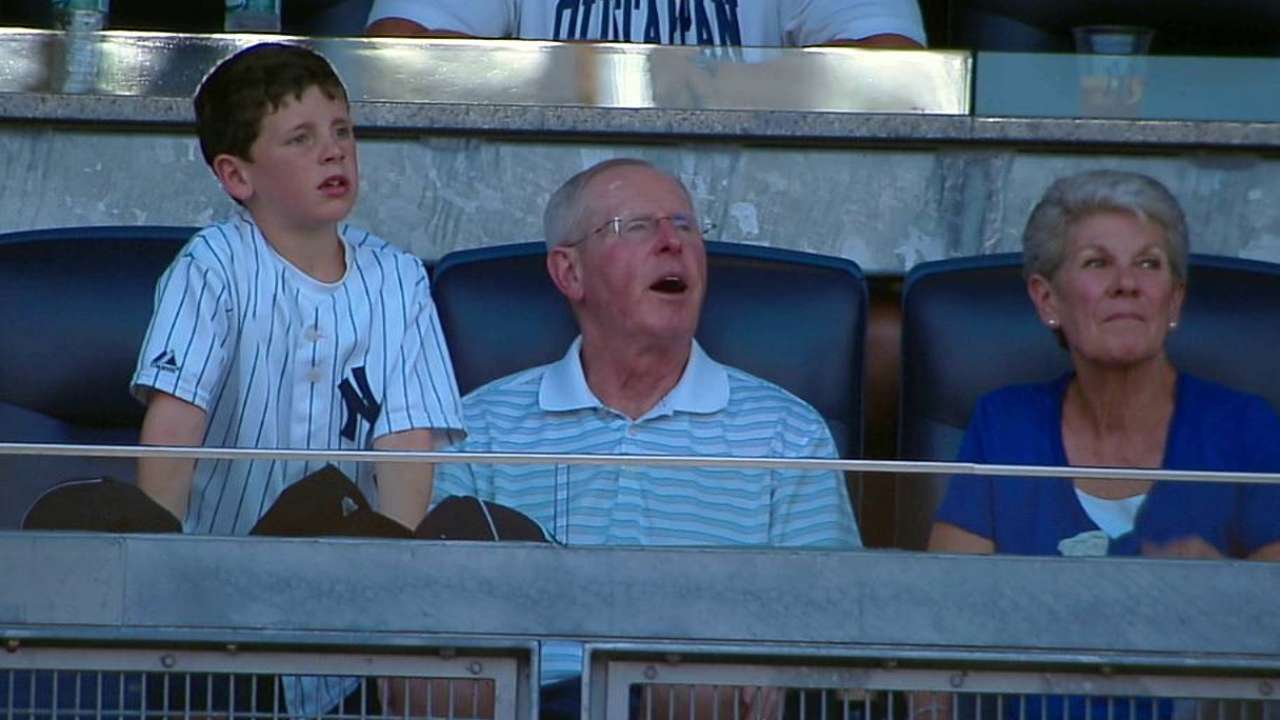 For Little League president and CEO Stephen D. Keener, Coughlin's enshrinement into the Hall of Excellence was a no-brainer.
"Mr. Coughlin approached his coaching career, both in college and the National Football League with passion, commitment, leadership, hard work, as well as a deep appreciation for the players -- all of those are tenets of the Little League program," Keener said. "He leads by example both on and off the field, and we are honored to enshrine him."
Coughlin joins former Olympian and National Pro Fastpitch softball player Cat Osterman and former Major Leaguer Torii Hunter as 2016 inductees into the Hall of Excellence, which was established in 1988 and now has 52 members.
As Coughlin prepared to throw out the first pitch, he left some parting wisdom for kids playing sports.
"Have fun and play hard," he said. "I watch some of these kids, and these are pressure-packed games for 12-year-old kids. You gotta learn from these experiences. You aren't going to win them all. As I tell my grandkids, there's another game tomorrow."
Jake Schwartzstein is an editor for Major League Baseball. This story was not subject to the approval of Major League Baseball or its clubs.