MLB.com Columnist
Jonathan Mayo
Yanks' Sanchez, Giants' Slater repeat on Prospect Team of the Week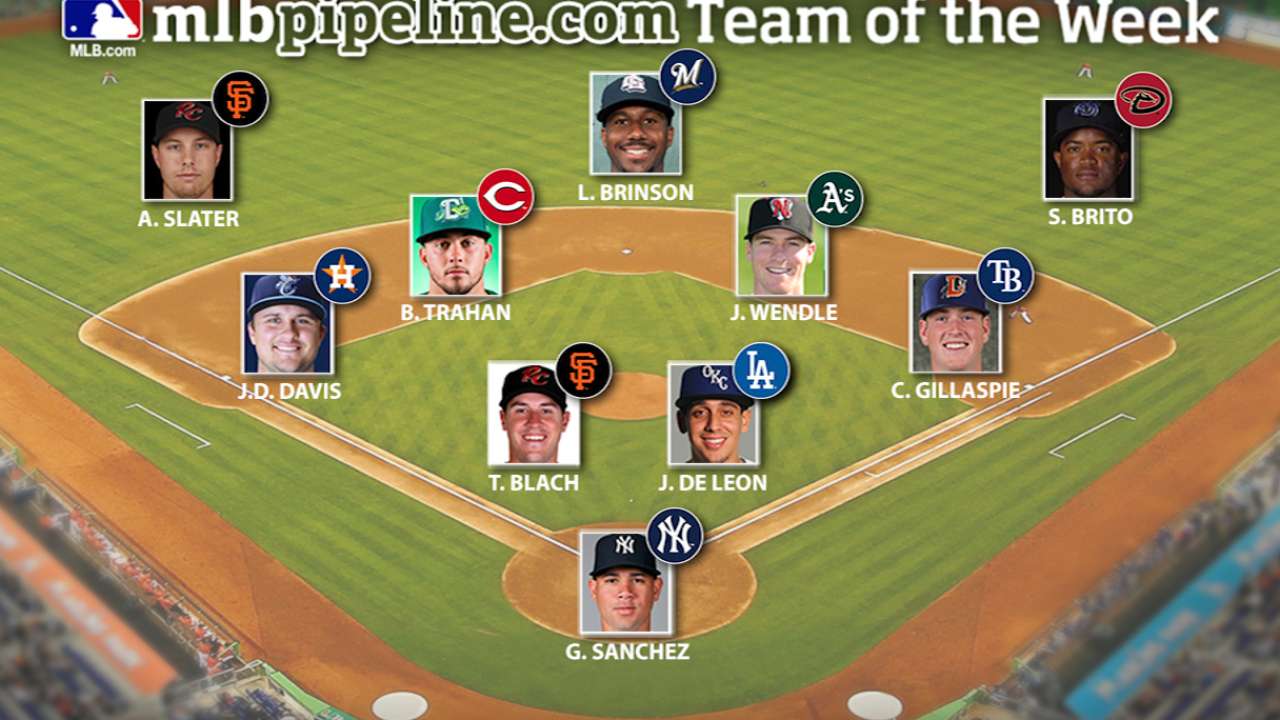 MLBPipeline.com's Prospect Team of the Week honors the best performances from the previous seven days. Any player currently on an organization Top 30 Prospects list on our Prospect Watch is eligible, including big leaguers.
We here at MLB Pipeline are running out of superlatives for Yankees catcher Gary Sanchez. Luckily for us, we're running out of weeks for the Prospect Team of the Week.
Since he still qualifies as a prospect, Sanchez is on the PTOW for the second week in a row. He's not alone in that honor. Giants prospect Austin Slater also used his red-hot bat to make this penultimate Team of the Week for his second straight time. He's joined on this week's squad by a Sacramento teammate and three others who are making repeat appearances on the roster, albeit not in consecutive weeks.
C: Gary Sanchez, New York Yankees (MLB)
Yankees' No. 5 prospect
6 G, .522/.607/.1.304, 7 R, 3 2B, 5 HR, 9 RBI, 5 BB, 2 SO
It wasn't enough for Sanchez to hit four homers a week ago and earn American League Player of the Week honors. He had to go out and hit five more bombs and drive in nine more runs. In 22 Major League games (84 at-bats), the catcher has 11 home runs and 21 RBIs. Sanchez hit 10 homers in 284 Triple-A ABs. Those 11 homers with New York actually ties him for fifth among all AL catchers. He's also thrown out six of nine would-be basestealers. This is Sanchez's fourth turn on the Prospect Team of the Week.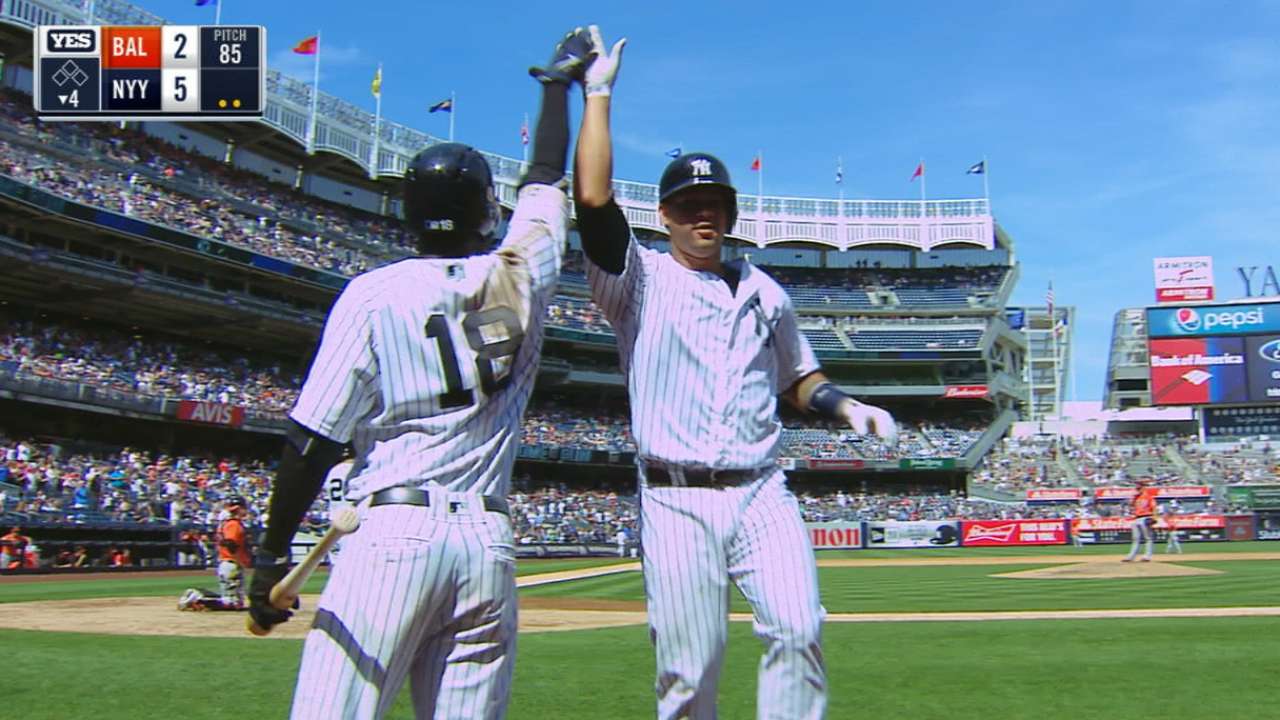 1B: Casey Gillaspie, Durham Bulls (Triple-A)
Rays' No. 9 prospect
7 G, .345/.406/.793, 8 R, 2 2B, 1 3B, 3 HR, 8 RBI, 3 BB, 3 SO
Any time you begin a week with a four-hit, two-homer game, it's going to be a good week. That's exactly what the switch-hitting first baseman did, driving in four in that contest as well. Gillaspie finished the week with another long ball and three more RBIs. The 2014 first-rounder has hit well in Triple-A, especially in August, with a .299/.376/.505 line for the month.
2B: Joey Wendle, Nashville Sounds (Triple-A)
A's No. 28 prospect
6 G, .481/.481/.741, 5 R, 5 2B, 1 3B, 7 RBI, 6 SO
Like Gillaspie, Wendle opened last week with a four-hit performance, driving in three. He also had a three-hit game to finish the week, as well as a pair of two-hit contests. The second baseman now has an eight-game hitting streak going and has been hot in the second half, with a .327/.370/.537 line after the break.
3B: J.D. Davis, Corpus Christi Hooks (Double-A)
Astros' No. 14 prospect
6 G, .455/.520/1.045, 7 R, 4 2B, 3 HR, 6 RBI, 3 BB, 6 SO
Davis is making his second appearance on PTOW thanks to a week that saw him hit in all six games he played, extending his active hitting streak to 12 games. Davis had four two-hit games, homering on Thursday, Friday and Sunday. The 2014 third-round pick is finishing his Double-A Texas League season well, with a .308/.350/.582 line in August. He's tied for third in the TL with his 21 home runs.
SS: Blake Trahan, Daytona Tortugas (Class A Advanced)
Reds' No. 18 prospect
6 G, .565/.577/.913, 9 R, 3 2B, 1 3B, 1 HR, 5 RBI, 2 BB, 3 SO, 4 SB
Trahan is finishing is first full season of pro ball with a flourish. The 2015 third-rounder hit in all six games he played last week, highlighted by a four-hit performance on Thursday that included a home run, three RBIs and one of his four steals. The shortstop is hitting .314/.365/.467 in August and has gone 7-for-8 in stolen-base attempts.
OF: Austin Slater, Sacramento River Cats (Triple-A)
Giants' No. 22 prospect
7 G, .393/.485/.964, 5 R, 1 2B, 5 HR, 12 RBI, 5 BB, 9 SO
Slater has to be one of the hottest hitters in the Minors, making this squad for the second week in a row. In the past two weeks combined, the Giants outfield prospect has hit .452 with seven homers and 17 RBIs. Slater did a lot of his damage early in the week, with two homers and five RBIs on Monday, then homering again on Tuesday while driving in four. For the season, Slater now tops the Giants organization in OBP (.398), he's third in SLG (.508) and home runs (18), while standing fourth in RBIs (66).
OF: Socrates Brito, Reno Aces (Triple-A)
D-backs' No. 2 prospect
7 G, .500/.545/.767, 12 R, 1 2B, 2 3B, 1 HR, 6 RBI, 3 BB, 5 SO, 2 SB
Brito missed a good chunk of time with a fractured right toe, then was optioned to Triple-A after not being able to get the bat going in the big leagues. That hasn't been a problem since he's been back with Reno. This past week, the outfielder hit in all seven games, collecting multiple hits in five of them. Brito has hit in all 12 games since being sent down, with a .431 average during the streak.
OF: Lewis Brinson, Colorado Springs Sky Sox (Triple-A)
Brewers' No. 2 prospect
6 G, .409/.458/.909, 4 R, 2 2B, 3 HR, 6 RBI, 2 BB, 7 SO
This is Brinson's second time making the PTOW since he's joined the Brewers, and even missing time with a minor hamstring issue couldn't cool down his bat. He homered in his first game off of the disabled list on Tuesday, then followed that up with a three-hit, three-RBI performance on Wednesday and a two-homer game on Thursday. Brinson's approach might still need some refinement (13 SO/2 BB in 18 games since the trade), but it's hard to knock the results: .397/.403/.662 with four homers, 17 RBIs and four steals in 68 at-bats in the Brewers' system.
LHP: Ty Blach, Sacramento River Cats (Triple-A)
Giants' No. 23 prospect
1-0, 0.00 ERA, 1 GS, 7 IP, 3 H, 0 R, 0 ER, 2 BB, 9 SO, 0.717 WHIP
Blach put up zeroes for seven innings on Friday as the left-hander continues to put a solid exclamation point on what has been a quality 2016 season, his second in the Pacific Coast League. His nine strikeouts against Fresno was his second-highest total for the year, and the outing lowered his second-half ERA to 2.42 (vs. 3.90 in the first half). A big reason for his improvement: a .193 batting average against, compared to .267 in the first half.
RHP: Jose De Leon, Oklahoma City Dodgers (Triple-A)
Dodgers' No. 2 prospect
2-0, 0.00 ERA, 2 GS, 14 2/3 IP, 5 H, 0 R, 0 ER, 0 BB, 23 SO, 0.34 WHIP
A very good argument could be made that De Leon has been more dominant than any other pitching prospect of late. On Monday, the right-hander allowed just one hit over seven shutout innings, striking out 10 without issuing a walk. There was speculation he might get called up to start in the big leagues on Sunday, but instead he pitched Oklahoma City into the PCL playoffs with another 7 2/3 innings of shutout ball. This time, he struck out 13 without a walk. Over his last 28 1/3 innings, De Leon has struck out 40 and allowed just one walk. He has three straight double-digit strikeout performances.
Jonathan Mayo is a reporter for MLBPipeline.com. Follow him on Twitter @JonathanMayo and Facebook, and listen to him on the weekly Pipeline Podcast. This story was not subject to the approval of Major League Baseball or its clubs.