MLB.com Columnist
Alyson Footer
Dodgers just outside top 5 in Power Rankings
Nationals, Blue Jays move past Indians; Royals crack the top 10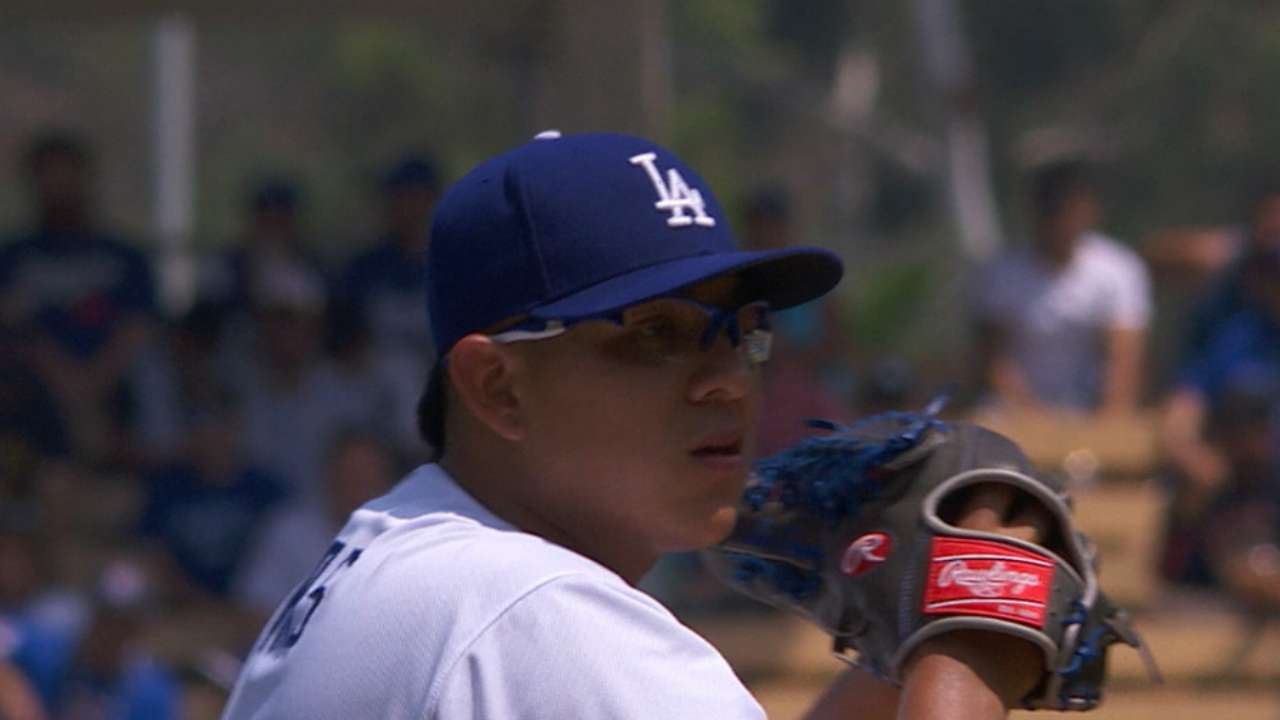 The notion that the strength of a starting rotation typically dictates where a team will end up by the end of the season is a nice theory and all, but one particular team in the National League is making a strong case that starting pitching is way overrated.
How else can you explain the Dodgers, with six starting pitchers on the disabled list, firmly holding their grasp onto the top spot in the NL West? They're without Clayton Kershaw and a whole mess of others, while piecing together a rotation consisting of (for now at least) Rich Hill, Bud Norris, Ross Stripling, Julio Urias, and ... well, pick someone.
Yet here they are, with 73 wins, a .562 winning percentage and a seemingly mental advantage over the Giants, who, on paper, should not be one of the worst teams in the NL since the All-Star break.
What's working for the Dodgers? Everything but the rotation, really. They have Corey Seager, who will not only run away with the NL Rookie of the Year honors, but will also garner plenty of MVP votes. And he's not the only one raking. The Dodgers are slugging over .460 since the All-Star break and are in the top five in the league in batting average and runs per game, and their overall slugging percentage is on pace to be the highest in Los Angeles history after the break.
The bullpen is holding up its end, too, ranking second in the Majors in ERA and first in opponents' batting average and WHIP.
And it looks like they're getting Kershaw back soon. Amazingly, the Dodgers played some of their best ball of the season without him.
Biggest jump: The Royals jumped four spots, from 14 to 10, and they may continue climbing. They struggled through four months with a shaky rotation, which has now stabilized. The bullpen has been typically steady of late. Since dropping to a season-high seven games below .500 on Aug. 6 at 51-58, the Royals have won 17 of their past 21 to climb to within 5 1/2 games of the division lead, and are only three back in the Wild Card race.
Biggest drop: The Marlins dropped four spots, from 12 to 16. Obviously, losing Giancarlo Stanton for the rest of the season was going to take a major toll on this lineup. The Marlins were shut out twice in the past week, and scored only three runs in their four losses. Still, they're four games over .500 and very much still in the Wild Card race.
Power Rankings Top 5:
1. Cubs: Chicago displayed few weaknesses in August as it coasted to one of its best records in history for this particular month. Entering Sunday's finale in Los Angeles, Kris Bryant was slashing .376/.449/.742 this month, only a smidge ahead of Anthony Rizzo at .362/.429/.521. On the pitching side, Kyle Hendricks (1.53) and Jake Arrieta (1.98) have two of the top five lowest ERAs in baseball in August. The Cubs have gone 30-12 in their last 42 games dating back to July 10, more than doubling their lead in the NL Central from 6 1/2 games to 14.
2. Rangers: Not only do the Rangers have the best record in the American League and one of the more comfortable division leads with an 8 1/2-game advantage over the Astros and Mariners, but their schedule can work favorably for them through the remainder of the season. Beginning Aug. 25, Texas was to play 22 of its final 35 games at home. Further, of their final 17 games, 14 will be played at home. A couple of standout players of late: Mitch Moreland has 11 home runs since the All-Star break, and Adrian Beltre, entering Sunday's game, was batting .366 (26-for-71) over his past 19 games to improve his batting average from .273 to .287.
3. Nationals: Boasting the second-highest run differential in the NL behind only the Cubs, the Nationals, from Aug. 10 through Saturday, led Major League Baseball with 105 runs scored and a .292 batting average while ranking third in on-base percentage (.352) and sixth in slugging (.479). Entering Sunday, Trea Turner had reached base safely in 17 straight games, hitting safely in 15 of the 17. During that stretch he batted .405 with five doubles, two triples, two homers and eight RBIs. He scored 20 runs and stole nine bases.
4. Blue Jays: Fresh off a three-game sweep of the Twins and a three-homer game from Josh Donaldson, the first-place Blue Jays, winners of eight of their past 11 series, are 19-12 since July 25. Against teams under .500, they're 29-23 with a plus-21 differential; against teams that are .500 or better, they're 45-33 with a plus-81 differential.
5. Indians: The Tribe's offensive woes continued through much of the past week, with only their 12-1 thrashing over the Rangers on Aug. 26 the exception. The euphoria was short-lived: the Indians dropped the final two games to Texas by scores of 7-0 and 2-1. Overall, in their last seven games, the Indians were outscored 33-16. Not enough to edge them from the top five in our Power Rankings, but they did drop from three to five. They open a long homestand on Monday with the first of three against the Twins, so maybe a series against a struggling team, at home, where the crowds have been great, will get the Indians back on track.
The rest of the top 20:
6. Dodgers (7)

7. Red Sox (6)

8. Orioles (8)

9. Giants (10)

10. Royals (14)
11. Tigers (13)
12. Mariners (9)
13. Cardinals (11)
14. Yankees (17)
15. Astros (16)
16. Marlins (12)
17. Mets (18)
18. Pirates (15)
19. Rockies (19)
20. White Sox (20)
Alyson Footer is a national correspondent for MLB.com. Follow her on Twitter @alysonfooter. This story was not subject to the approval of Major League Baseball or its clubs.