Papi ties Foxx on all-time list with 534 HRs
Ortiz takes Royals' Ventura deep for 31st homer of season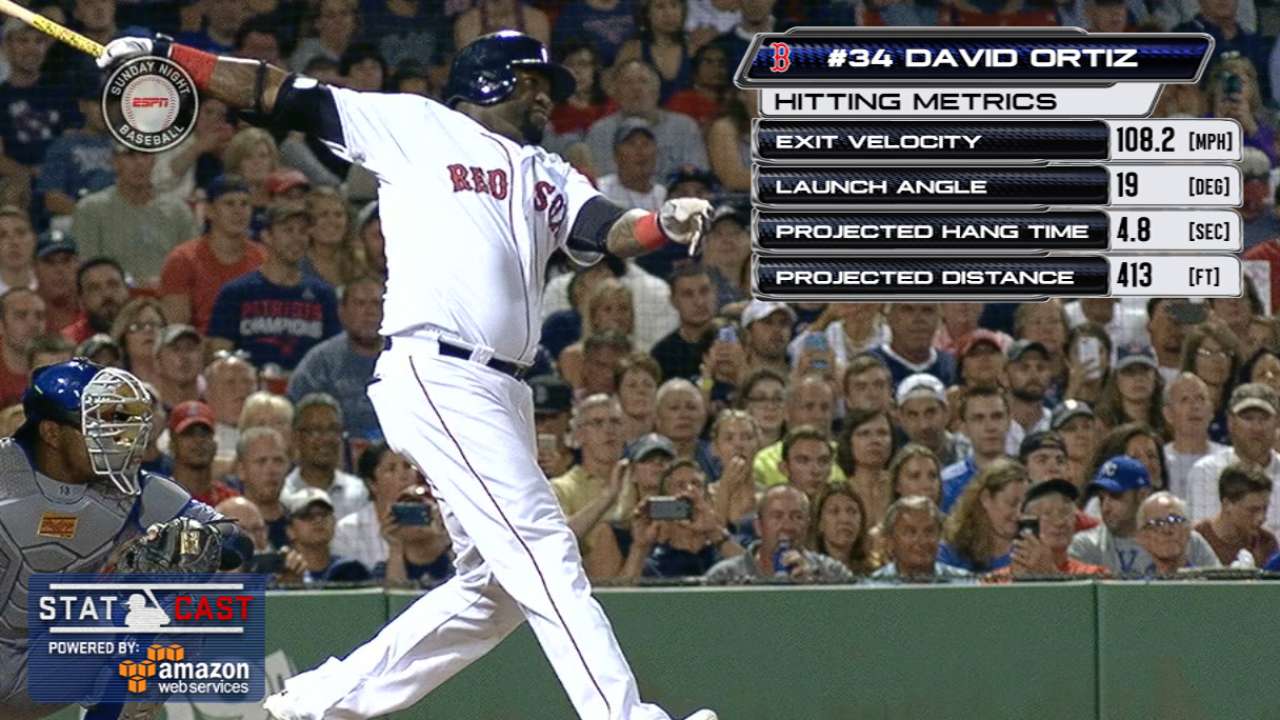 BOSTON -- Red Sox designated hitter David Ortiz continues to pound the baseball in his final Major League season, joining legends as he does it. The slugger roped career homer No. 534 in Sunday night's 10-4 loss to the Royals to tie Hall of Famer Jimmie Foxx for 18th on the all-time list.
Big Papi is now two home runs away from tying Mickey Mantle.
"Every day you come to the ballpark and get to play with David Ortiz, it's a special day," said Red Sox reliever Matt Barnes. "He's one of the greatest players to ever live."
The blast came against right-hander Yordano Ventura, hitting a railing on top of the Red Sox bullpen and taking a giant hop over a bigger wall in front of the bleachers in center.
"David gets a fastball in the middle of the plate and does what he's done so many times with it," said Red Sox manager John Farrell.
Career HR
Jimmie Foxx - 534
David Ortiz - 534

HR through age 26
Foxx - 266
Ortiz - 58

HR after age 33
Ortiz - 217
Foxx - 15

— Andrew Simon (@AndrewSimonMLB) August 29, 2016
Not even Red Sox lefty Robbie Ross Jr., who has made a sport out of hauling in homers by teammates from the Fenway bullpen, had a shot at that one.
"I was more concerned more with Robbie potentially tripping over the [equipment] bag," Barnes said. "Robbie saw it coming, took his hat off and started running. He jumped over the bag and then thank God the ball hit and ricocheted up, because if that ball hit any further and ricocheted, it probably would have hit him in the chest. But the chances of that happening , and the ball jumping up into the stands that far, it was crazy."
It was another chapter in Ortiz's storybook final season. Though 121 games, Ortiz is slashing .319/.407/.633 with 31 doubles, 31 homers (the most ever by a player 40 or older) and 101 RBIs.
"Put the age aside," Barnes said. "Everybody says, 'Nobody over the age of 40 has ever done this or that.' What he's doing now would be incredible if he was 28 years old, 29 years old. It's unbelievable to watch. He never ceases to amaze me. It's almost like if he doesn't' hit a ball in the gap you're like, 'Oh man, is he struggling?' It's amazing and it's a pleasure to watch that guy play the game."
Foxx played seven seasons with the Red Sox, hitting 222 homers from 1936-42.
Ian Browne has covered the Red Sox for MLB.com since 2002. Follow him on Twitter @IanMBrowne and Facebook. This story was not subject to the approval of Major League Baseball or its clubs.