Archer reaches 200-K milestone for 2nd straight year
Righty avoids club record-tying 18th loss with finale win over Astros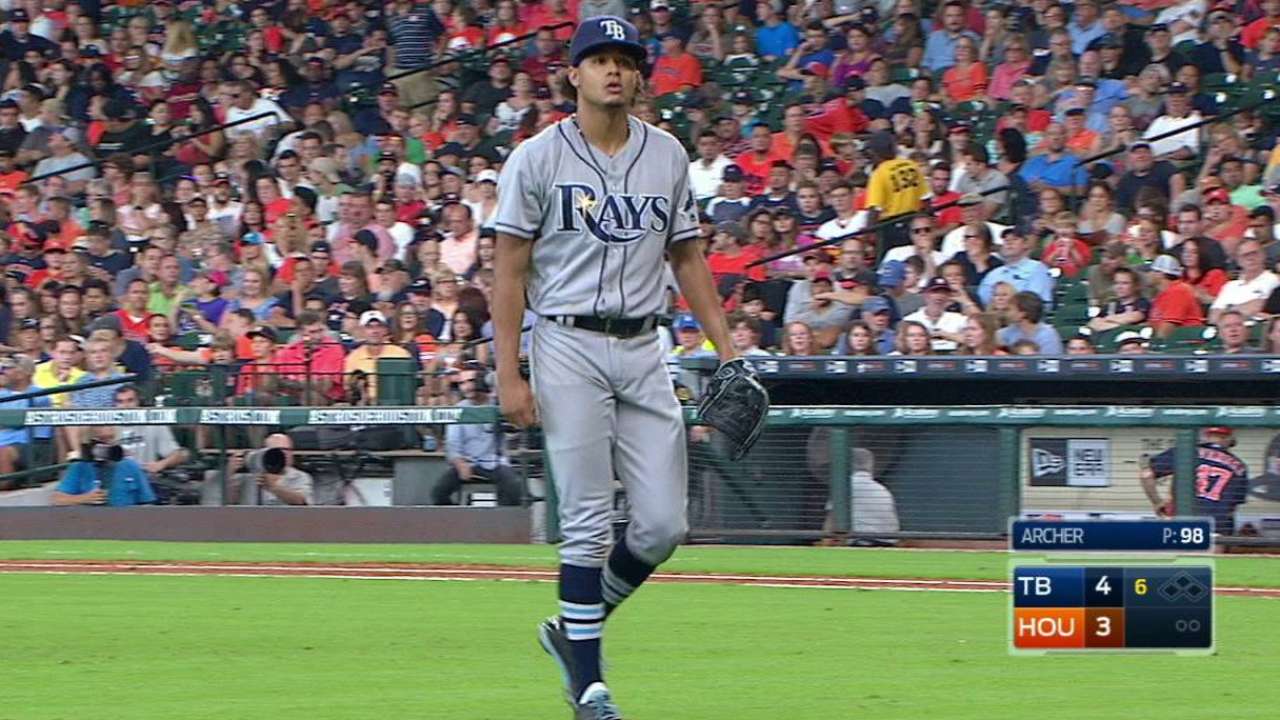 HOUSTON -- Chris Archer reached one milestone while avoiding another on Sunday.
The Rays right-hander struck out 10 in the Rays' 10-4 win, moving him to 202 strikeouts for the season. He also picked up the win, which prevented him from tying Tanyon Sturtze, who set the club record with 18 losses in 2002 when he went 4-18.
When Archer struck out A.J. Reed swinging to end the sixth, he logged his eighth strikeout of the game and his 200th of the season.
"Elite stuff," said Rays manager Kevin Cash when asked what reaching 200 strikeouts means. "You're putting yourself in a category that not a lot of pitchers get into."
Rays catcher Luke Maile said Archer did a "really nice job of throwing strikes" on Sunday.
"That's kind of been the consistent theme of when he's had really good starts, he's been in that strike zone a lot," Maile said.
Archer said giving the bullpen a rest was his "No. 1 initiative" going into the game.
"I think for the most part, I was able to do that," said Archer, who left after the seventh. "Those guys in the 'pen have been working extremely hard all year. To get a team win and let our guys back there get a blow was huge."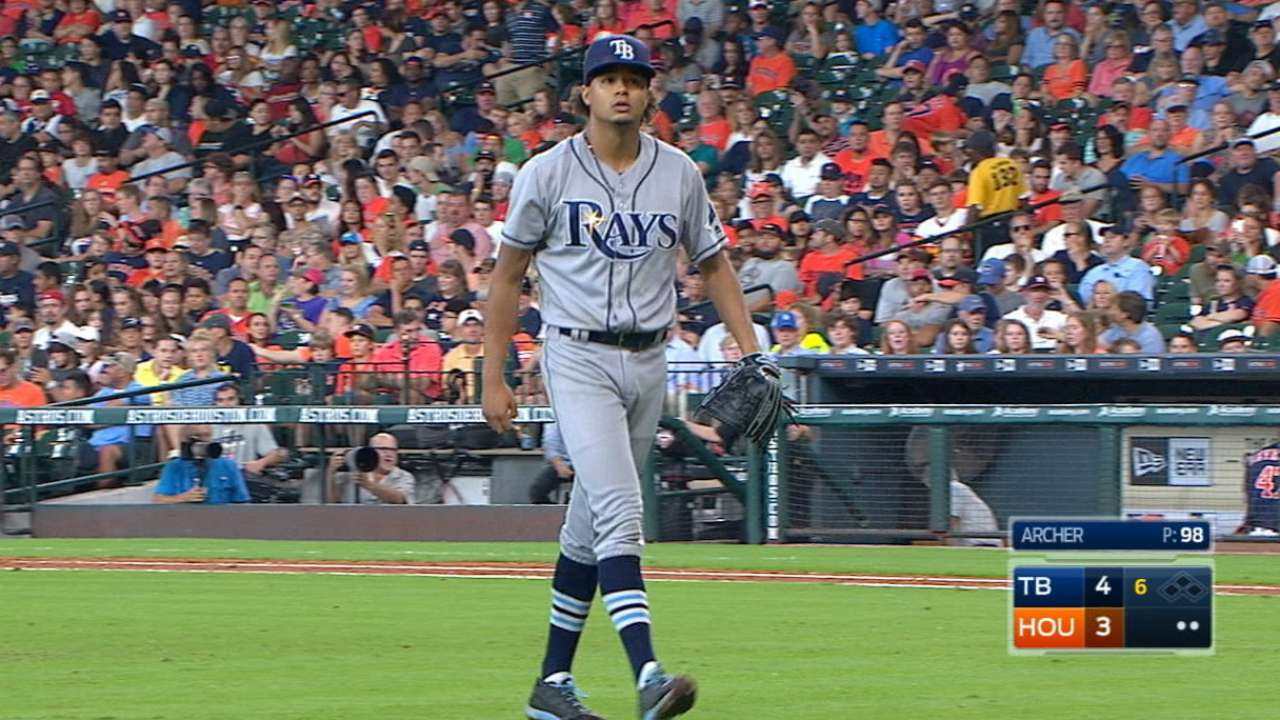 George Springer became Archer's 10th strikeout victim, and the Astros' center fielder seemed to take exception to Archer showing emotion after he swung and missed.
"I think we both got caught up in the heat of the moment," Archer said. "No hard feelings. No love lost. I respect that guy as a player. Part of the reason I got so excited is because he's a really good hitter.
"I knew that I was down to my last couple of pitches. Looking at the situation, that was my last hitter. And he had a great at-bat. I was fortunate enough to win that battle. And I think he got caught up in the heat of the moment, as did I. But we've squashed it. We've already communicated and it's over with."
Archer reached the 200-K mark for the second consecutive season after setting a club record with 252 in 2015. The only other Rays pitchers with multiple 200-strikout seasons were David Price and James Shields.
Meanwhile, Archer moved to 8-17 on the season. His 17 losses are the most of any pitcher through the end of August since 2003, when Detroit's Mike Maroth had 19.
The combination of strikeouts and losses is definitely an oddity. Frank Viola had been the last pitcher to record at least 200 strikeouts and 17 losses on a season, which he did in 1989.
If Archer does take another loss, he will become the first pitcher since Phil Niekro (1979) to strike out over 200 while recording at least 18 losses (Niekro had 20 that season).
Bill Chastain has covered the Rays for MLB.com since 2005. This story was not subject to the approval of Major League Baseball or its clubs.