Mariners appreciate Walker's aggressive effort
Despite loss to White Sox, Servais likes righty's approach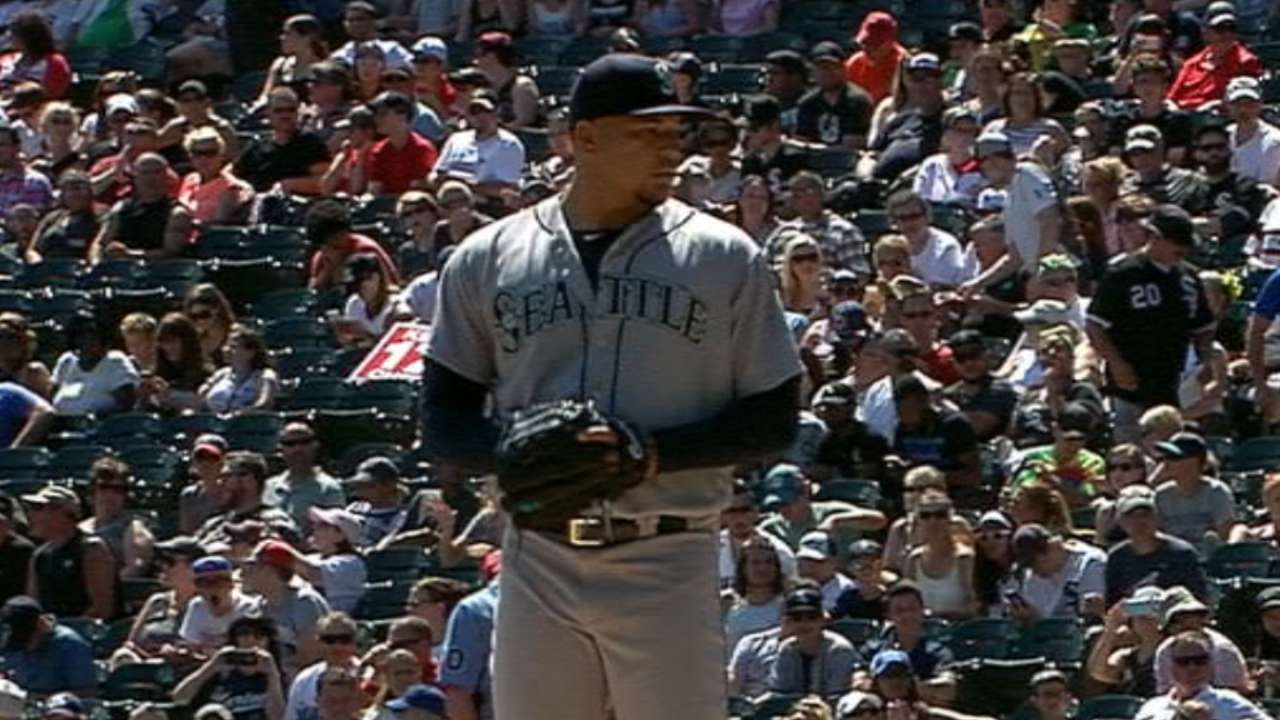 CHICAGO -- He didn't get a win to show for his efforts, but Mariners right-hander Taijuan Walker proved a few things in Sunday's 4-1 loss to the White Sox.
Pitching with an aggressive approach, Walker allowed just four hits in 7 1/3 innings and looked far more like the youngster who dazzled the American League for the first six weeks of the season before foot troubles and a stint back in Triple-A derailed his progress.
Walker took the loss in part because he didn't get much help from his offense and because two well-placed balls fueled the White Sox two-run fourth, which was the only inning he allowed hits until the eighth.
"I thought he threw the ball outstanding," manager Scott Servais said. "That was a really good effort, good stuff. He was on top of his game, about as good as we've seen him since early in the year."
Servais noted that Walker had been "in a little different frame of mind -- a little more quiet, subdued, focused, whatever you want to call it" leading up to this game. The Mariners sent the 24-year-old to Tacoma earlier this month, a message that they weren't happy with his approach, and he clearly has returned with a bit of an edge.
On Sunday, Walker carried that out on the field, and the result was an outing tied for his second longest of the season, not to mention three hit batters as he and catcher Mike Zunino pounded the White Sox inside.
"I was just trying to stay aggressive and pitch in," Walker said. "Me and Z did a good job of that. That was the game plan. A lot of these guys like the ball away, so we wanted to pitch inside, and we were able to do that and throw the changeup off that, so we got a lot of ground balls and quick outs."
But, no, he wasn't looking to take anything out on the White Sox hitters, despite twice hitting Jose Abreu in the hands and knocking Adam Eaton out of the game with a bruised right forearm.
"When you throw in, it's going to happen," he said. "You kind of have to make them uncomfortable at the same time. Obviously, I'm not trying to hit a batter, but I'm trying to get in there and get them off the plate and off the fastball."
Servais liked what he saw of Walker's body language and approach.
"His presence, just getting after it with the fastball early and getting ahead in the count was a big thing for me today with him," the skipper said. "And then getting his other pitches going -- he was very aggressive, and certainly that's what we want to see from him out there."
Walker said he didn't have his best fastball, mostly firing in the 92-93 mph range, but his command was better and he showed an aggressive attitude.
And while the Mariners didn't get anything to show for that in the win column, with Walker falling to 4-9 with a 4.19 ERA, they know that sort of effort will be rewarded in the long run and could be a key factor as they push for the postseason.
A rotation headed by Felix Hernandez and Hisashi Iwakuma is going to need help from James Paxton and Walker in order to make a run.
"Taijuan pitched a really good game today, we just didn't score runs," said Robinson Cano, who provided the lone offense with a solo home run. "That's the Taijuan we all know when he first came up. This game is about time. Not everyone can be like King Felix, come up and make the adjustment right away. This game isn't that easy.
"How many guys take four or five years to come in and be who they're supposed to be?" Cano said. "We just have to give him a chance. He's young, and I think he can be one of the best in this game."
Greg Johns has covered the Mariners since 1997, and for MLB.com since 2011. Follow him on Twitter @GregJohnsMLB and listen to his podcast. This story was not subject to the approval of Major League Baseball or its clubs.