2 pitches, 3 outs: Sox execute efficient escape
Beck, Jennings work out of 7th-inning jam, capped by Saladino's slick double play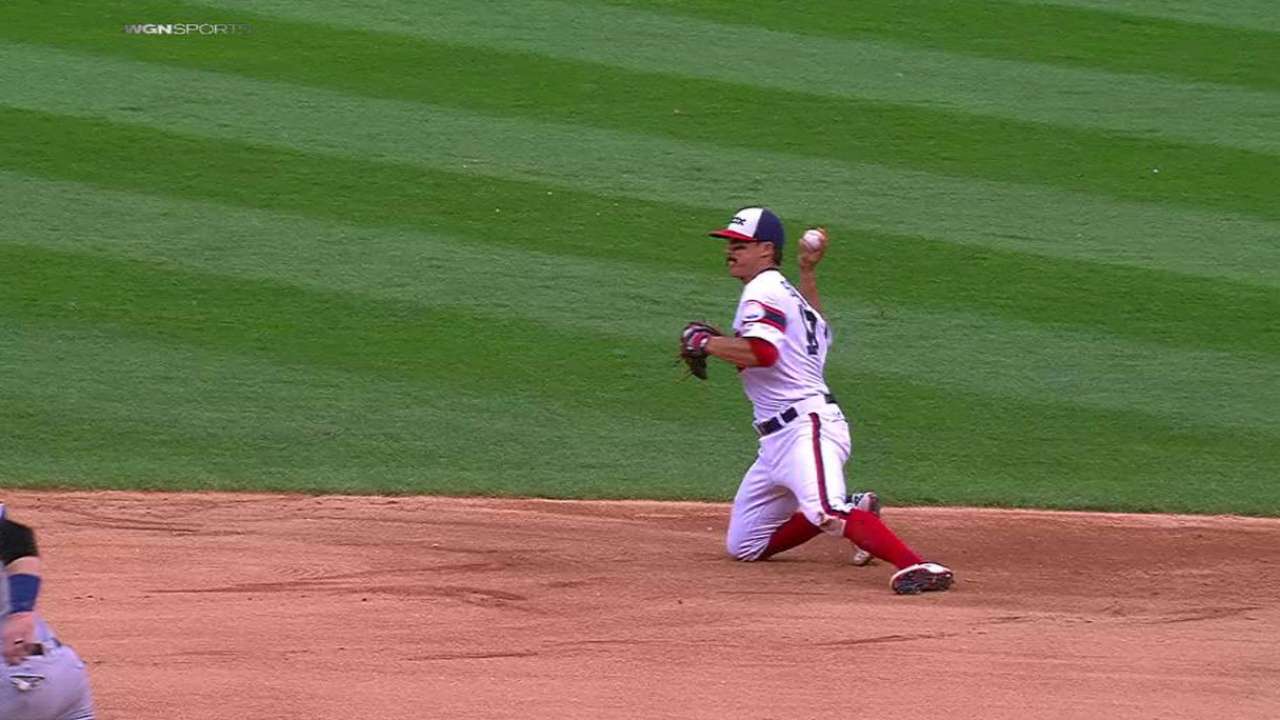 CHICAGO -- The seventh-inning pitching lines from White Sox relievers Chris Beck and Dan Jennings were highly efficient during the team's 4-1 victory over the Mariners on Sunday at U.S. Cellular Field.
For Beck, it was one pitch, one strike, one out. For Jennings, it was one pitch, one strike, two outs.
Of course, they had some defensive help in extricating the White Sox from a first-and-second, nobody-out situation left by starter Carlos Rodon after he pitched brilliantly for six-plus innings.
"He got me that win right there," Rodon said. "That's Dan Jennings. I owe him a steak. And the guys up the middle, too, so I kind of owe some people something for making those plays for me. Hats off to them. Great teammates."
"No, he knows better. He pitched a great game," Jennings said of Rodon. "To get us to that point, and a couple of hitters get on in that inning, it just happened to be an inning where he was at 100 pitches. He was great fun to watch."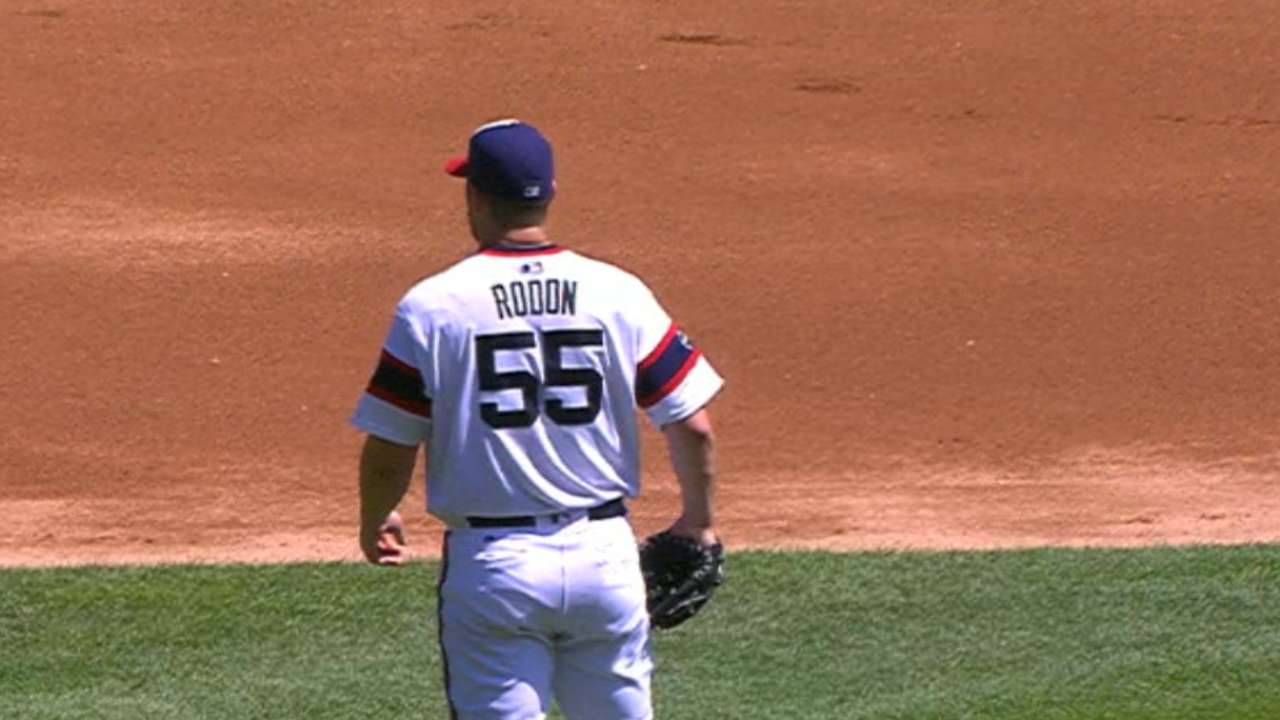 Rodon cruised into the seventh, allowing Robinson Cano's solo homer in the sixth and three other baserunners in total, before Kyle Seager and Franklin Gutierrez opened the seventh with singles. White Sox manager Robin Ventura went to Beck at that point to face Mike Zunino, and Seattle manager Scott Servais elected to have Zunino bunt.
Zunino popped up the bunt toward third, which Todd Frazier fielded on one bounce and fired to second to force Gutierrez. The relay throw from shortstop Tim Anderson almost nailed Zunino at first with second baseman Tyler Saladino covering.
"Any time the ball gets bunted that hard, you are going to have a chance at second base," Saladino said. "Obviously, there's nobody at third, and him picking it up and going to second, and having a chance for the double play is a good play right there. It's big."
Left-handed-hitting Adam Lind was announced as a pinch-hitter, leading Ventura to bring in the southpaw Jennings. Lind pulled the first pitch in between first and second, but Saladino not only gloved the ball moving away from second but also spun and made a perfect throw to Anderson, who easily completed the double play.
Those moments of defensive excellence caused Jennings' jubilant reaction.
"You can kind of tell he was ready to swing getting in there," Saladino said. "Call was for a slider, so I was anticipating a rolled-over ground ball, and he hit it just about where I was expecting it."
"I literally went from thinking, 'Let's try to get one here,' based on the tough angle that he had," Jennings said. "And then just seeing him go to second, that's when I started getting excited."
Two eighth-inning runs gave closer David Robertson some breathing room for his 33rd save. But the defensive execution in the seventh spurred the White Sox to their sixth win in their past eight games.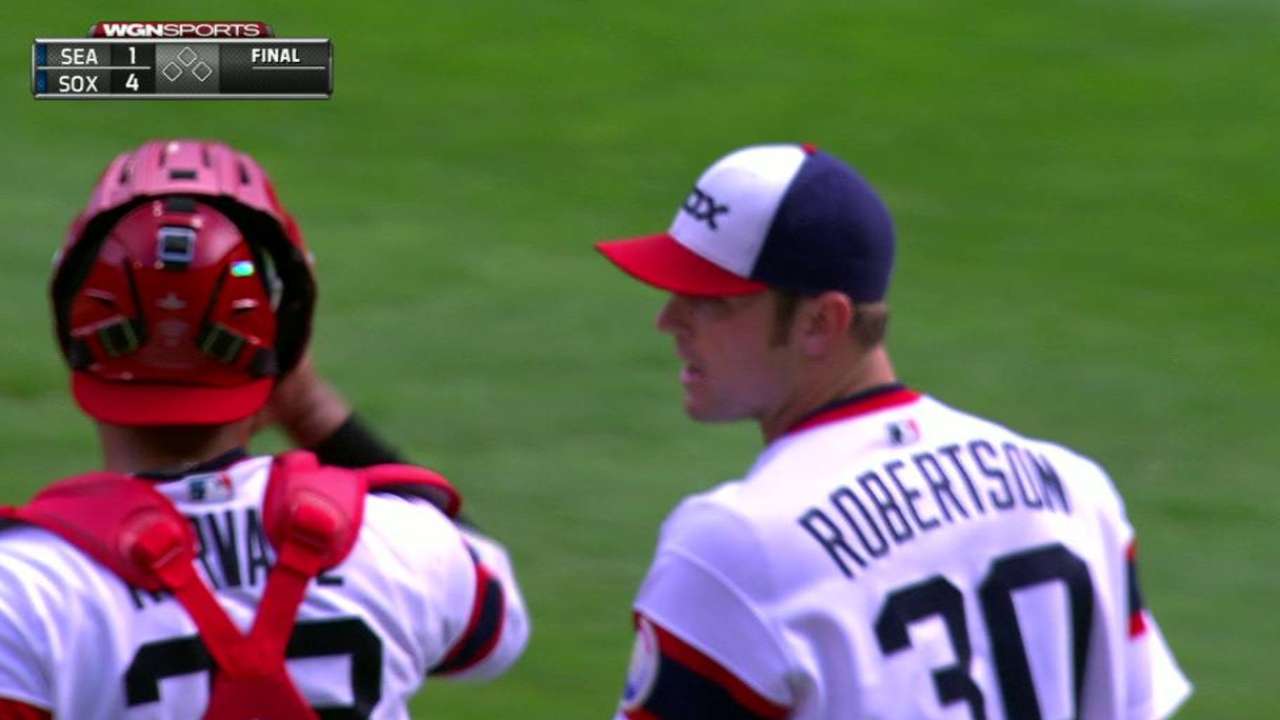 "Defensively, we make a nice play and got out of it," Ventura said. "That was the big one that gave us a little momentum going forward."
Scott Merkin has covered the White Sox for MLB.com since 2003. Read his blog, Merk's Works, follow him on Twitter @scottmerkin, on Facebook and listen to his podcast. This story was not subject to the approval of Major League Baseball or its clubs.