MLB.com Columnist
Mike Bauman
Bullpen helping Bucs in Wild Card chase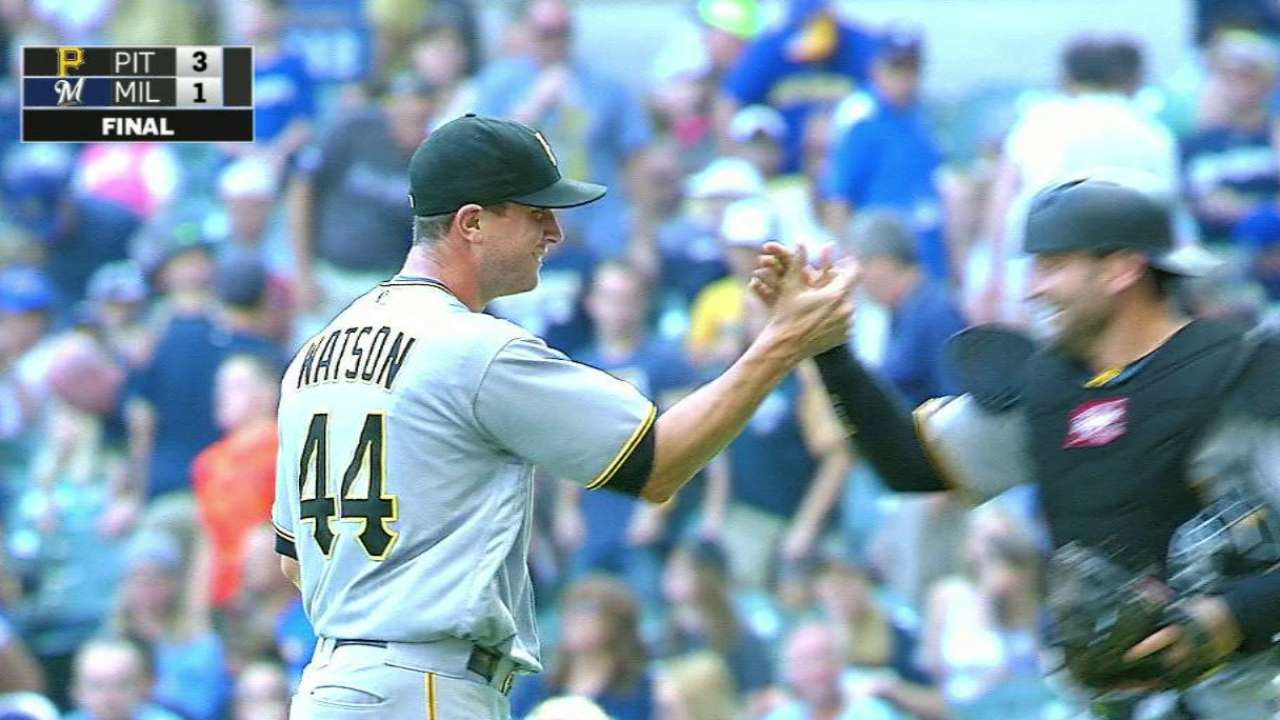 MILWAUKEE -- The Pirates turned their Miller Park experience all the way around; from consistent defeat to daily victory.
After losing nine straight here, not to mention 64 of 81 over the past 10 seasons, the Bucs swept a four-game series, finishing the job with a 3-1 victory on Sunday. In the process, they moved to one-half game back of the Cardinals for the second National League Wild Card berth.
How did the Pirates do it? They had solid starting pitching in three of the four games, fine defense and hitting that was, if not plentiful every day, timely. But the one constant that went through each of these victories for the Bucs was the work of their bullpen.
Pittsburgh relievers worked 16 1/3 innings in this series and gave up just two earned runs, while striking out 25. Three shutout innings were pitched Sunday, courtesy of lefty Antonio Bastardo, lefty Felipe Rivero and new closer Tony Watson.
"We've been blessed with a good bullpen since '13," Pirates manager Clint Hurdle said. "This bullpen has been able to hit a switch lately. You look at Bastardo's outing today. He had a season in New York, he's having a different season here. Nine pitches [to get three outs] today.
"Rivero is pitching in higher leverage situations than he did in Washington and he's adding value to the things he does. Watson, that's his 10th save on a guy that moved in when we traded [Mark] Melancon. He moved in, he's got 10 saves. And other guys have thrown in. It's been a complete, collective work of very solid pitching out there by everybody."
Brewers manager Craig Counsell saw the work of the Bucs' bullpen as a critical factor in this series.
"I feel like we've done a good job against bullpens for most of the season, but this series has been difficult for us against their bullpen," Counsell said. "They've been really good against us for sure. It's a credit to them. They traded their best reliever, their closer, who had a really successful run for them. And some guys have really stepped up.
"[Neftali] Feliz has been really good against us this series. They added Rivero in the trade [for Melancon] and he's pitching big innings for them. He's got a good arm and he's doing a good job.
"Certainly their bullpen has been the key to this series. They have shut us down. There have been close ballgames and they've closed it out, really."
This kind of work from the bullpen, individually and collectively, explains why the Pirates were able to deal an elite closer such as Melancon, but still remain in postseason contention. There was a substantial supply of talent in Pittsburgh's bullpen, and the return in the trade was impressive; a power arm in Rivero, and a legitimate pitching prospect in Taylor Hearn.
"We felt very comfortable that Watson and Feliz could pick up some of those big late-inning, high-leverage situations," Bucs executive vice president and general manager Neal Huntington said Sunday. "We felt comfortable that Rivero could step right into a mid- to high-leverage role. [Juan] Nicasio had been successful out of the bullpen with Los Angeles last year, so we felt that he could pick up some important middle innings as well.
"So we felt like we had the makings of a bullpen. We were seeing some very positive signs out of Jared Hughes. And we recognized that we were trading one of the best closers in the game; that would have significant impact on us over the next two months. But in return, we felt like we were getting a reliever that has a significant ceiling and five-plus years of potential contributions, as well as another left-hander with a big arm that we feel can be a quality Major League pitcher down the road.
"So our goal was to continue to give this team a chance to make the postseason, and we believe we were able to do that with the deals we made at the [non-waiver Trade] Deadline."
This bullpen was good enough to make a huge difference as the Pirates finally turned around their fortunes at Miller Park. To the Brewers, these Bucs still look like the team that has reached the postseason for three straight years.
"They're a great team," left fielder Ryan Braun said. "You look at what they've done over the last few years, consistently getting to the postseason. It seems like every young player they bring up is really talented. Obviously for a long time, we had a lot of success against them here, but it's never something we took for granted. It's never something you expect to continue.
"We were in three of the four games, played pretty well. Could have gone either way. But credit to them. Great bullpen, quality starters up and down the lineup, challenging at-bats for our pitching staff. There's a reason they've won so many games the last few years."
Mike Bauman is a national columnist for MLB.com. This story was not subject to the approval of Major League Baseball or its clubs.