Gsellman, Mets endure one rough frame
Righty solid in first start until Phils' four-run seventh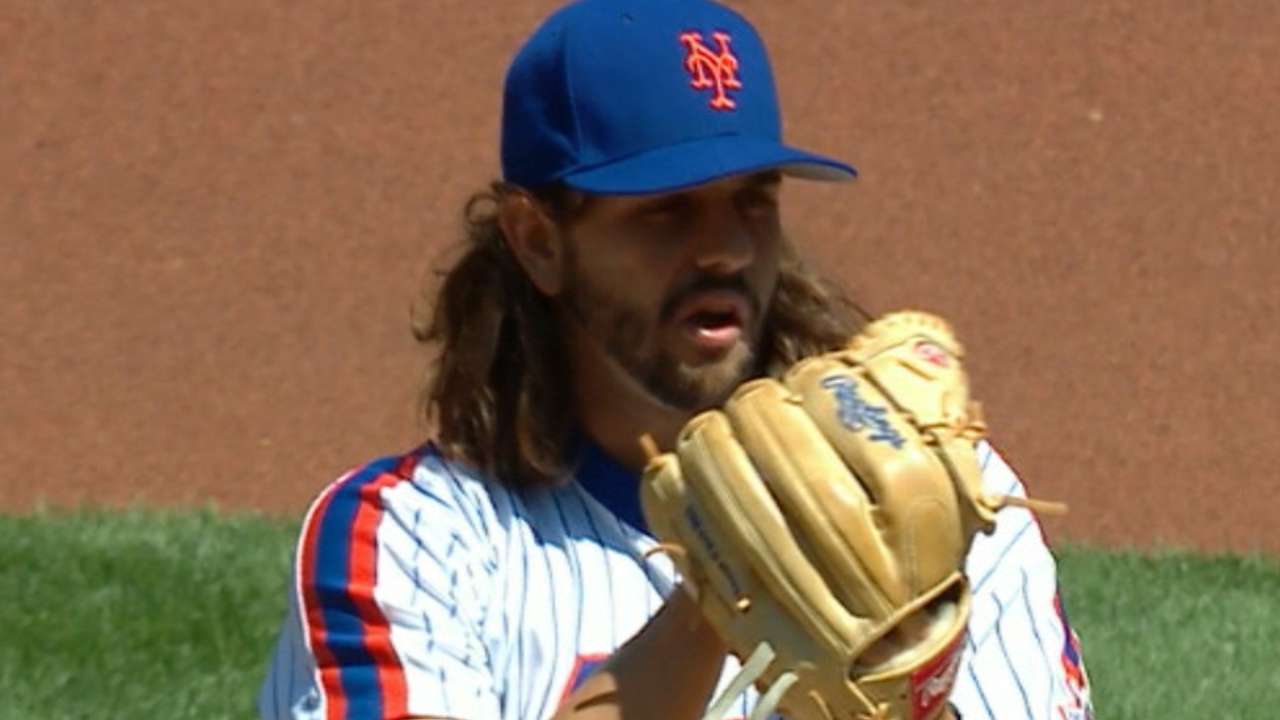 NEW YORK -- Curtis Granderson raised his arms to his sides in confusion, shooting a quick glance to Alejandro De Aza. Where was the ball?
With his sunglasses flipped up, the Mets' left fielder fought to see through the sunny glare at Citi Field, but eventually settled under the pop fly off the bat of the Phillies' Cesar Hernandez, avoiding a potential embarrassment in an already unsettling seventh inning for the Mets on Sunday afternoon at Citi Field.
Robert Gsellman kept the game knotted at 1 through six innings in his first career start, but manager Terry Collins elected to keep the 23-year-old on the mound to start the seventh. The decision proved costly. Philadelphia scored four runs in the frame and avoided the three-game sweep by handing New York a 5-1 loss.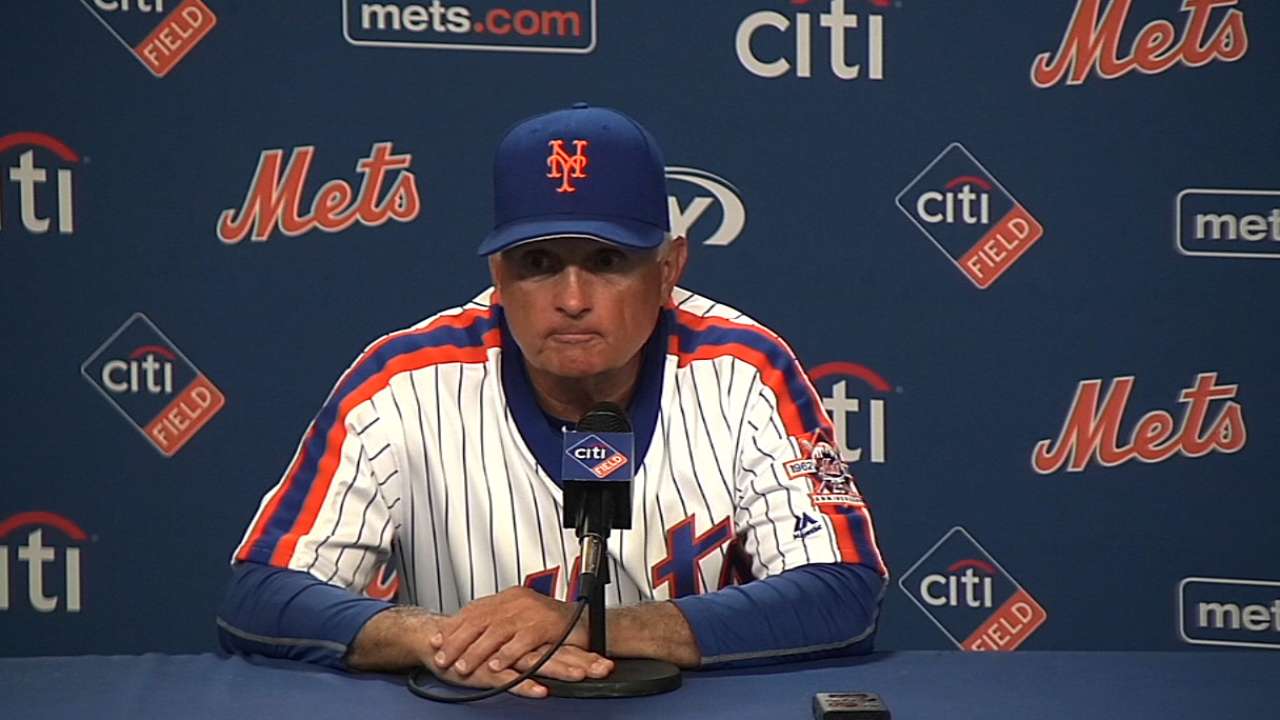 "We know he's certainly capable of throwing 100, 110 pitches. Done it in the Minor Leagues all year," Collins said. "I thought he was cruising pretty good."
Granderson's near-gaffe resulted in Philadelphia's final run, as A.J. Ellis tagged up from third.
Before that, Gsellman handed the ball to Collins having allowed three consecutive singles to begin the frame. Hansel Robles promptly allowed a two-run double to Ellis, then hit Peter Bourjos with a pitch after intentionally walking Freddy Galvis to load the bases.
The Mets couldn't get anything going offensively in the last three innings. It was a trend that played out throughout the game, as the Mets' only run came on a Granderson sacrifice fly in the first. Yoenis Cespedes (quad) and Neil Walker (lower back) didn't play and Jay Bruce went 1-for-4 with three strikeouts.
The Mets finished with seven hits and went 1-for-5 for with runners in scoring position, leaving Gsellman with little breathing room. He threw 84 pitches through six innings, but unraveled in the seventh.
"No, not really tired [in the seventh]. I just left pitches elevated and they took advantage of it," Gsellman said.
After Robles retreated to the dugout, Jerry Blevins allowed the sac fly. Blevins struck out the next batter, Odubel Herrera, and was spelled by Jim Henderson. He set down Maikel Franco to finally end the inning.
After the game, Collins lamented the injury bug that his team can't seem to squash. Asdrubal Cabrera was the latest casualty, as he left the game with a sore left knee after a first-inning collision with Phillies first baseman Tommy Joseph.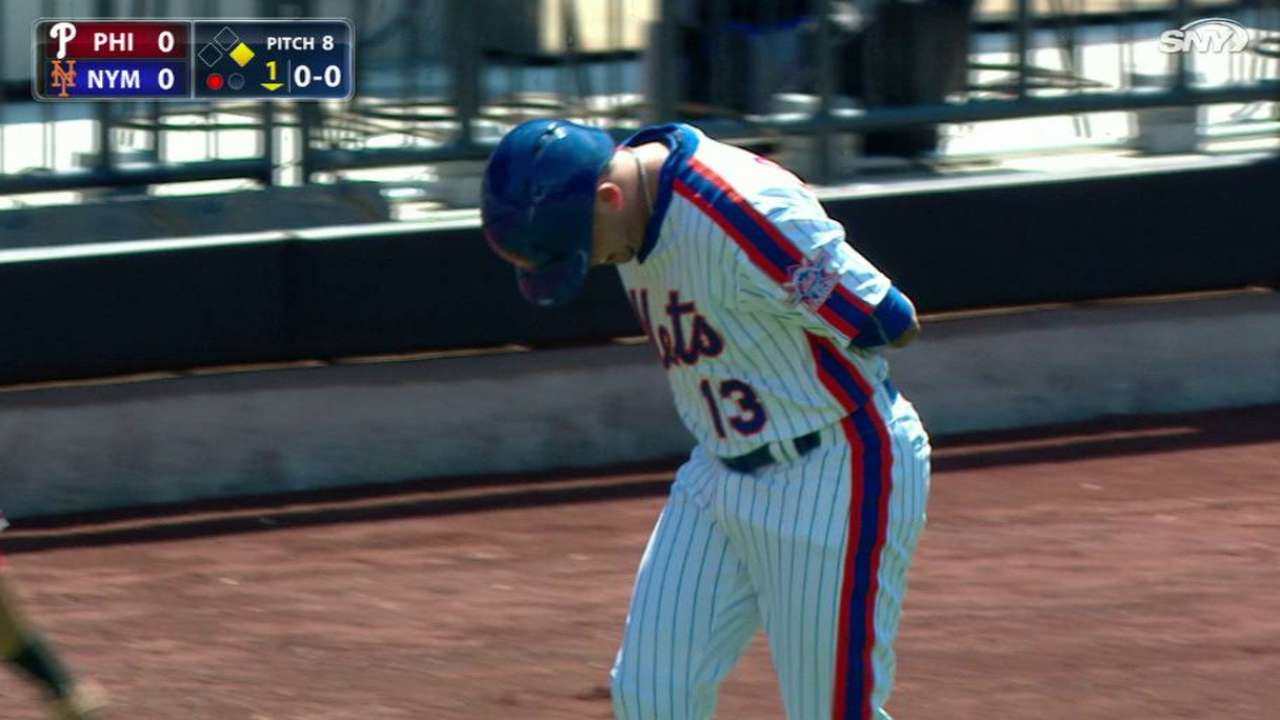 "It took a little air out the balloon," Collins said.
Cabrera's absence, in addition to Cespedes and Walker, proved more glaring as the Mets fell into a cavernous hole in the seventh from which they couldn't climb.
Joshua Needelman is a reporter for MLB.com based in New York. This story was not subject to the approval of Major League Baseball or its clubs.