Scoreless start snaps tough stretch for Skaggs
Angels lefty holds hot Tigers team to just two hits over six innings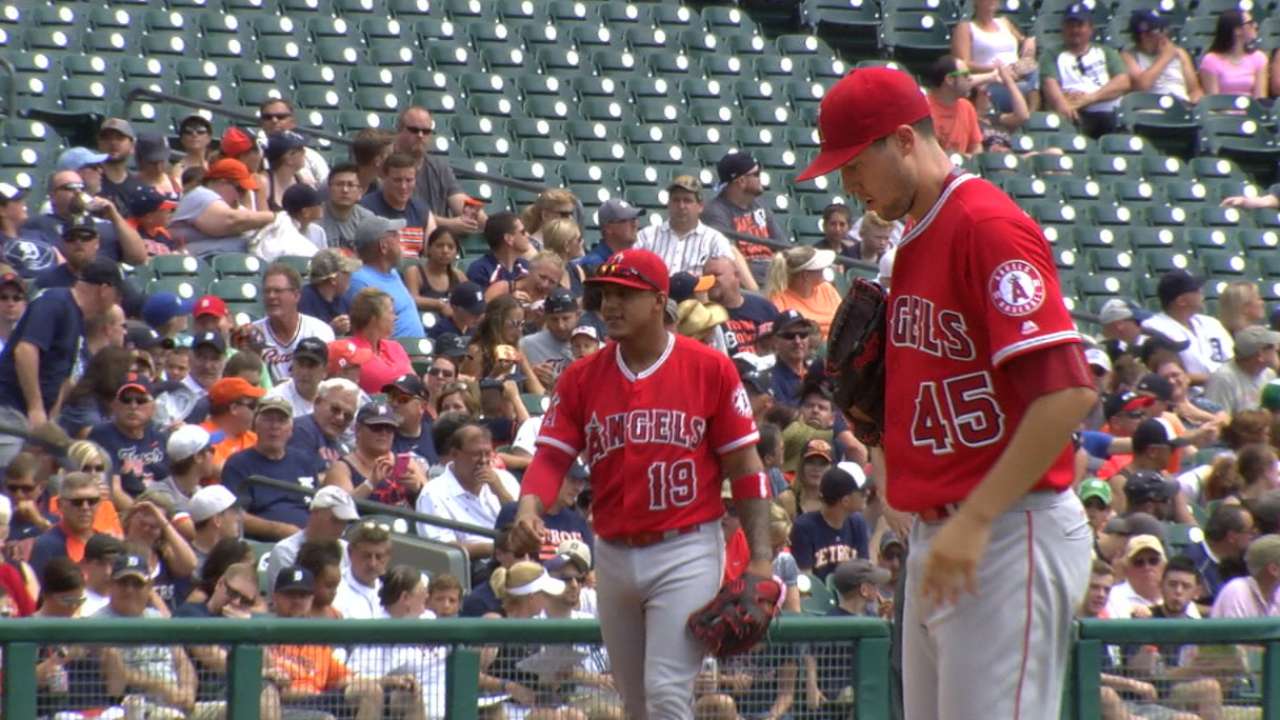 DETROIT -- Tyler Skaggs threw six shutout innings at Comerica Park on Sunday, giving the Angels their second straight win and a 4-2 record on a six-game road trip against two contending teams.
Skaggs allowed two hits, issued two walks and hit a batter in the Angels' 5-0 win against the Tigers. His first quality start in over a month felt extra rewarding considering he had allowed at least four earned runs in four straight starts entering Sunday.
"Anytime you step on the mound, this is one of those things, you try to go out there and put up zeros for the team," Skaggs said. "Definitely pleased today, especially after my last four. I haven't been too pleased with them."
The win in the rubber game against the Tigers came right after taking two of three from the Blue Jays in Toronto. Both teams are battling for trips to the postseason.
"I think it's huge for us, it shows that we're a good ballclub," Skaggs said. "We haven't been playing that well, especially on our last road trip, so it's nice to win two series. [The Tigers] are a hot team. We came in here and took two out of three, so I was very happy with it."
Skaggs seemed to have much better command of his fastball on Sunday, which led to fewer baserunners and less damage, though his pitch count ran a little high, up to 91 pitches through six innings. By the end of the sixth, Skaggs -- making his seventh start since his return from Tommy John surgery -- was out of gas, so he was expecting not to return for the seventh inning.
"It was definitely hot out there today, kind of gassed myself about the fifth inning, it was a hot one today," Skaggs said. "Other than that, I thought the fastball command was really good today. It was a big pitch for me. I thought I was working well in and out."
Manager Mike Scioscia thought Skaggs' outing in Detroit was more indicative of the pitcher he is than his last four starts.
"That could happen any time during a season to any pitcher, so you're not going to overreact to that," Scioscia said of Skaggs' recent performance. "But I do think there are some adjustments that he has to continue to move forward with. Today I thought he did a great job."
Kyle Beery is a reporter for MLB.com based in Detroit. This story was not subject to the approval of Major League Baseball or its clubs.