Carpenter's big day bodes well for Cardinals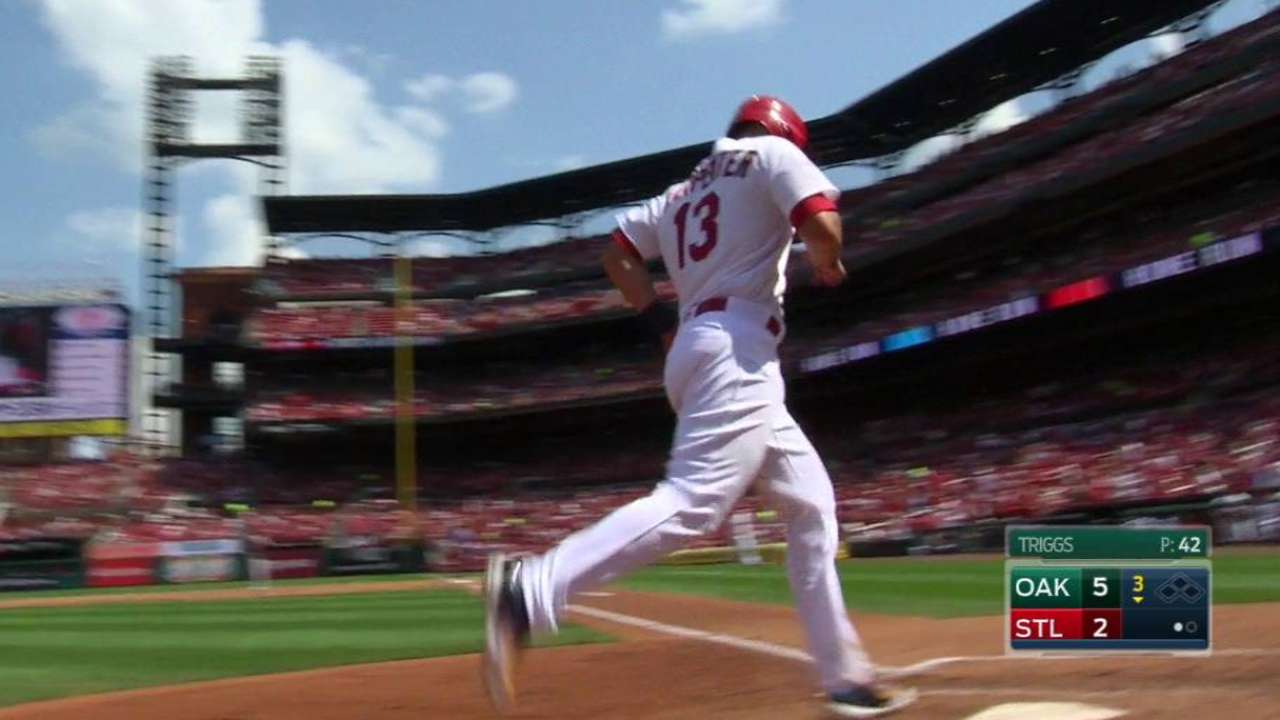 ST. LOUIS-- Matt Carpenter has now spent 23 days off the disabled list since returning from a strained oblique injury that sidelined him for most of July.
While he hasn't returned to his pre-injury form, Sunday's 7-4 loss to the A's offered the first glimpse that he might be getting close. Carpenter knocked two doubles and hit a solo home run for his first three-hit game since July 4, two days before he suffered his injury.
"Any time you take time off, it's hard to get back into the swing of things," said Carpenter, who also scored three runs. "Trying to have good at-bats and hitting the ball hard, that's kind of the recipe for that. So that's what I try to do, and today was a good start with that."
Carpenter tied a career high with three extra-base hits, the fourth time this season he has accomplished the feat. It also marked his fourth game this season with two doubles, and the 18th time in his career he has scored at least three runs.
The process is proving slow, but Carpenter is continuing to regain trust that he won't strain his oblique again with a hard swing.
"There is definitely some confidence you have to get when you're going through something like that," he said. "But just coming back from any injury in general … getting timing, getting a feel, sometimes that takes time."
Carpenter will likely be disappointed to see the A's leave town, as his .333 average in Interleague games is the second highest among active Major Leaguers. Although he boosted his average to .287 with the three-hit effort, he's still hitting just .244 with three home runs and 19 hits in 20 games since returning from the DL.
"Matt looked good today," manager Mike Matheny said. He had a good day for us. He got us started like he always does, and then kept it going. We need him to keep doing what he's doing. He looks like he's in a good place."
Nick Krueger is a reporter for MLB.com based in St. Louis. This story was not subject to the approval of Major League Baseball or its clubs.