Ellis' first game with Phils one to remember
Catcher quickly acclimates to new club, delivers game-winning hit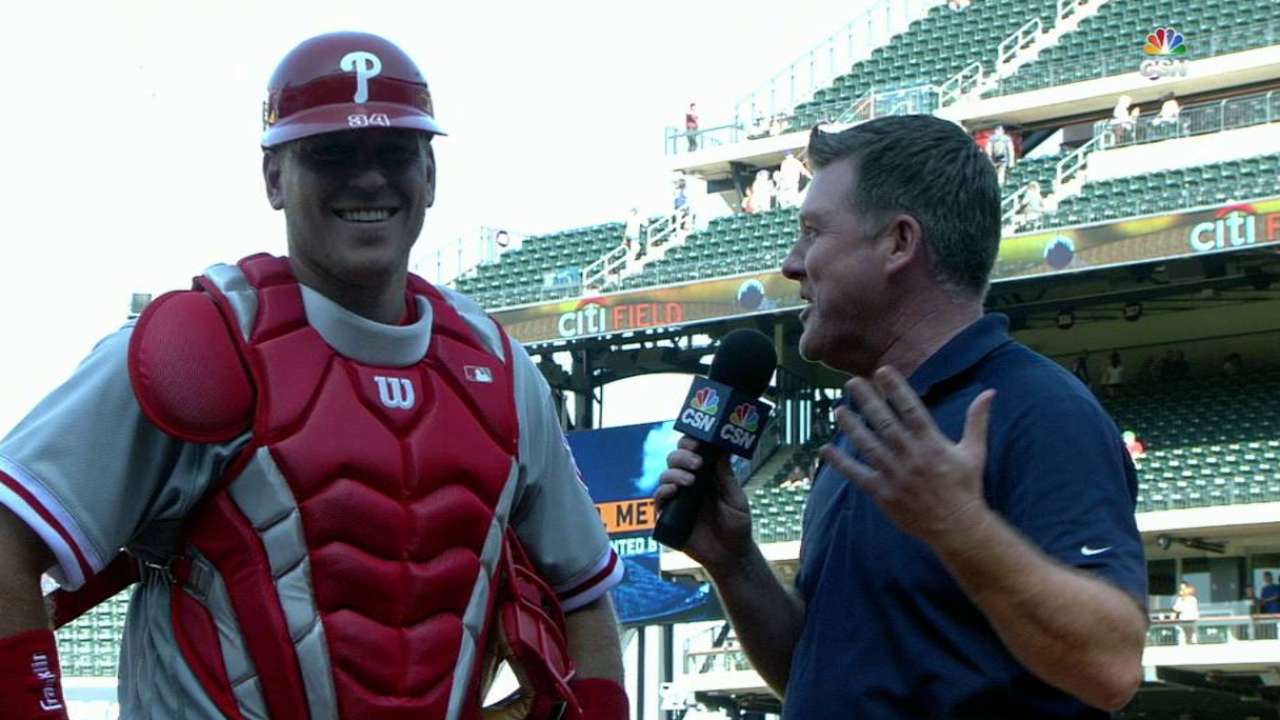 NEW YORK -- A.J. Ellis could not hide his disappointment Thursday, when the Dodgers blindsided him and traded him to the Phillies.
He had been with the Dodgers since they drafted him 2003, and they have a legitimate chance to reach the World Series this year. The Phillies? They hope to contend, maybe in a year or two. But as Ellis joined the Phillies on Saturday, he said his feelings of disappointment had started to fade and he had refocused and found a new purpose with his new team.
Ellis came up big in Sunday afternoon's 5-1 victory over the Mets at Citi Field. Making his first appearance in a Phillies uniform, he doubled to left field with the bases loaded and one out in the seventh inning. Two runs scored to give the Phillies a 3-1 lead.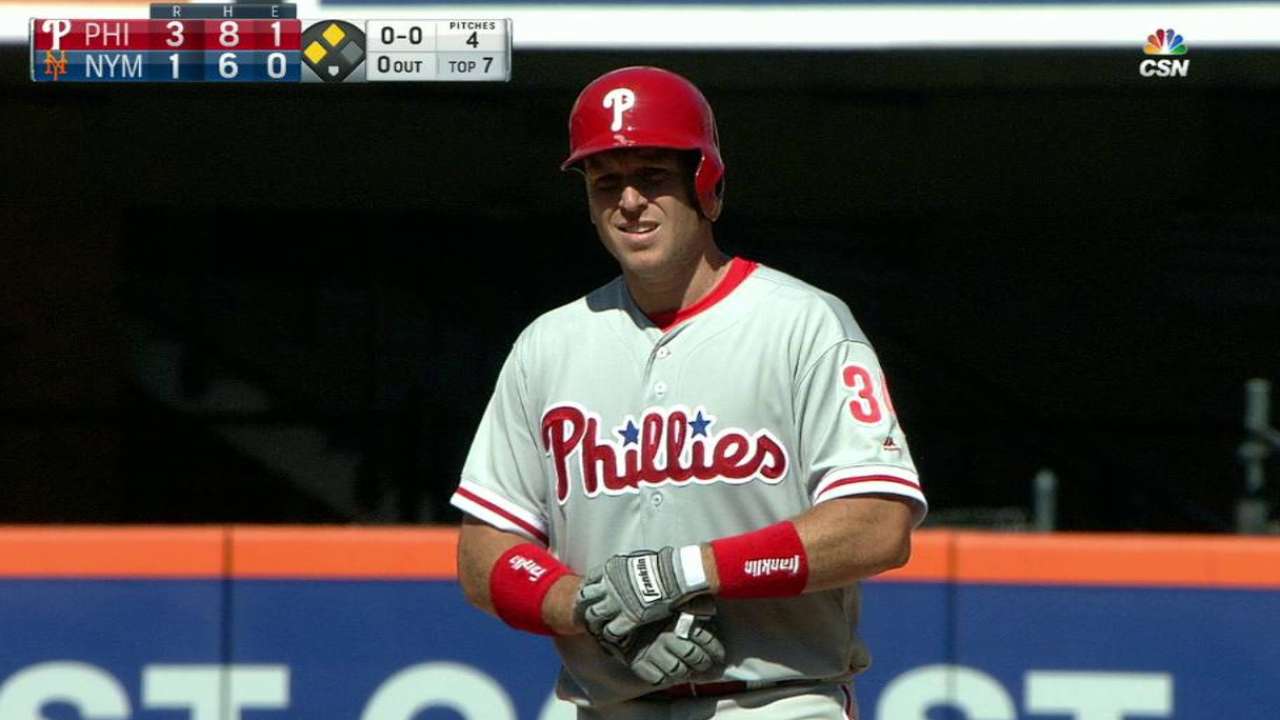 He later scored on a sacrifice fly to make it 5-1.
"It felt good regardless of what's happened in the last four days," Ellis said. "It feels good to drive in runs, feels good to help put your team ahead and help contribute to a team win.
"It's just great to be playing baseball again. You kind of lose yourself in the competition and then playing again. It was a long morning for me prepping, but as soon as that first pitch came, I was back in the game and felt right where I was supposed to be."
Ellis certainly felt at home behind the plate, where he has a stellar reputation. He caught a couple of bullpen sessions Saturday and then spent the second half of Saturday night's game in the bullpen, talking to the relievers, learning what they like to throw.
He worked hard with Sunday starter Vince Velasquez before the game, too.
"You just have to dive right in, no hesitation and communicate with the guys," Ellis said. "You can't say enough of what these guys on the mound did out there today, what Vince did, his pitch count got elevated the first two innings and he was able to grind through the last three to turn the ball over to David [Hernandez] in the sixth. That showed a lot to me, the way he was able to battle and bulldog his way through five tough innings.
"And like I told these guys when I came in, the one thing you know about the Phillies is if they get a lead late, the game is over. [Edubray] Ramos, [Hector] Neris and [Jeanmar] Gomez. The game's over. Those guys are lights-out. We saw it firsthand in L.A., and I got to see it behind the plate today."
Todd Zolecki has covered the Phillies since 2003, and for MLB.com since 2009. Read his Phillies blog The Zo Zone, follow him on Twitter and listen to his podcast. This story was not subject to the approval of Major League Baseball or its clubs.