For Phils' Velasquez, another step forward
Righty runs up pitch count, but works out of jams over five solid innings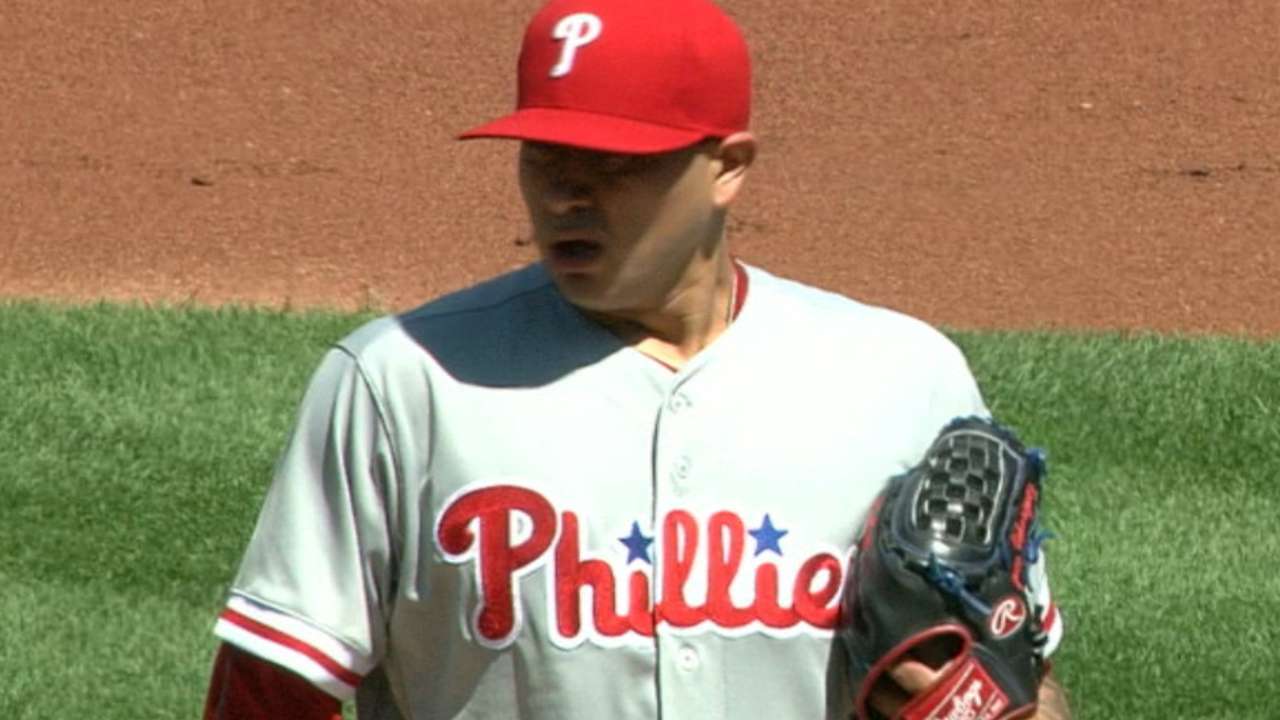 NEW YORK -- Vince Velasquez did not pitch to perfection Sunday afternoon at Citi Field, but he pitched to positive results anyway.
He needed them.
He allowed five hits, one run, one walk and struck out seven in five innings in a 5-1 victory over the Mets. He threw 103 pitches, loading the bases with one out in the first and working with runners on first and second with no outs in the second. But he worked out of both jams and retired 12 of the final 14 batters he faced.
"I guess it's just a step in the right direction," Velasquez said. "I had another high pitch count, another long first inning, but I battled my way through it and made my pitches."
Velasquez (8-6, 4.21 ERA) had struggled recently, posting a 10.47 ERA in his previous three starts and a 7.29 ERA in his previous six. He also had given up eight home runs in his previous 15 1/3 innings after he allowed just 11 in his first 103 2/3.
So, yes, Velasquez needed this, even if he found himself frustrated with his pitch count.
"It just [stinks] to put yourself in situations like that every outing," he said. "To be in a predicament like that is very hard to get out of. On my part, I don't want to be in that situation. I'm going to have to battle through it, but that's just something to keep under my cap and work on in the offseason and to approach it the right way coming into Spring Training."
Velasquez should get at least one or two more starts. He has pitched 124 innings, just two-thirds of an inning short of his season high in professional baseball. The Phillies had targeted 150 for Velasquez, but if he continues to pitch only five or six per start, he might not hit that number.
"Yeah, I think that would be the right move," Velasquez said about 150 innings. "Discussing with the pitching coach [Bob McClure], they don't want to go too far and they don't want to go too low with my innings. I don't' know. It's their call, but I would like to get to 10 wins and call it a season.
"Today was a struggle, but again, it was a step in the right direction."
That is the goal for Velasquez: Enter the offseason feeling some good vibes. The Phillies remain high on him, despite his recent struggles. He is still learning on the job and everybody still sees his potential.
"The stuff is electric," Phillies catcher A.J. Ellis said. "He has so many weapons, so many options. When he keeps growing and keeps polishing that gift up, it's going to be really, really special. So I'm excited to be able to continue to work with him, excited now to work with him and Bob McClure and [catcher] Cameron Rupp, kind of talk to them about things, things he sees, that we see, together we can build a plan for him going forward in his career."
Todd Zolecki has covered the Phillies since 2003, and for MLB.com since 2009. Read his Phillies blog The Zo Zone, follow him on Twitter and listen to his podcast. This story was not subject to the approval of Major League Baseball or its clubs.