Marlins may need to get creative to score runs
Offense hits into club-record six double plays in Sunday's loss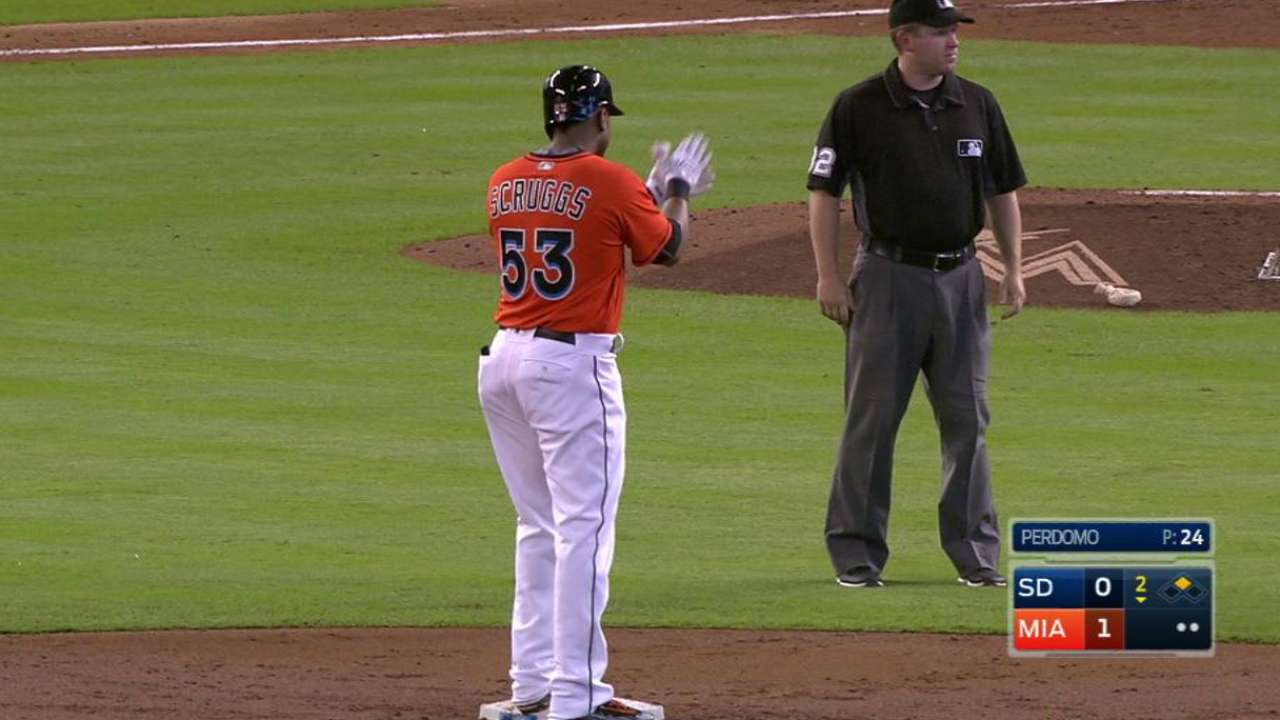 MIAMI -- No matter how high or low the Marlins have been, manager Don Mattingly has remained level-headed. He has aimed to maintain continuity with the lineup and batting order, but after Sunday's 3-1 loss to the Padres at Marlins Park, he noted some subtle changes may be needed.
The Marlins were completely flabbergasted by Luis Perdomo in their series finale, hitting into a franchise-record six double plays. Miami is the first team since the Rays against the D-backs on Aug. 7, 2013, to hit into six DPs in a nine-inning game.
"It was fairly flat as the game went on today," Mattingly said. "I'm sure our guys know that we're last in the league in runs this month. They know our offense hasn't been very good. We have to find a way to get better."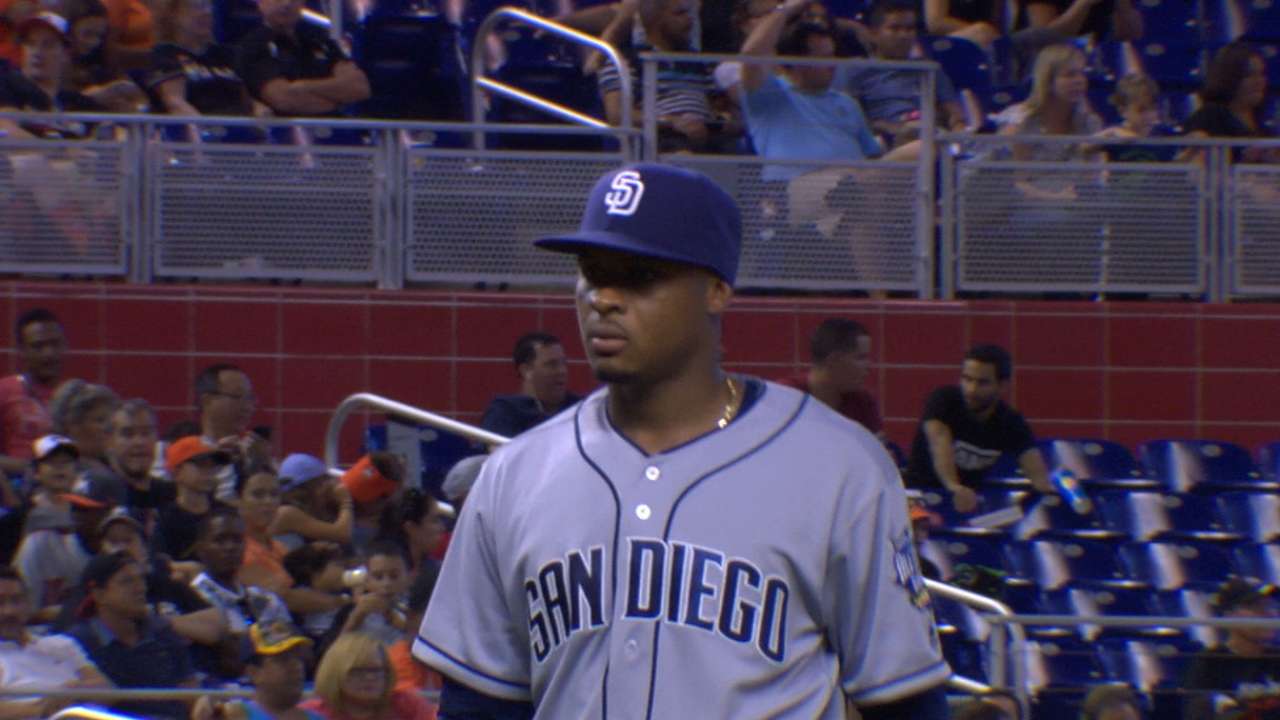 Miami ranks last in the National League in runs scored in August with 90, and in its 2-4 homestand, it managed just 13 runs, with seven of them coming in Friday's 7-6 walk-off win.
The Marlins' lineup is depleted with Giancarlo Stanton (left groin strain), Justin Bour (high right ankle sprain) and Derek Dietrich (bruised right knee) on the disabled list.
Mattingly has avoided dramatically tinkering with the lineup, staying with Dee Gordon leading off, Martin Prado hitting second, Christian Yelich third and Marcell Ozuna fourth.
"I guess we can throw it in a hat, spin it around and hope magic pops out," Mattingly said. "But you've been doing something all year long. I just think we've got to get better."
But Mattingly noted he may have to be more creative with runners on base.
"If that's having to do some more things, more hit-and-run or whatever," Mattingly said, "maybe I need to do some things differently, as far as putting guys in motion, things like that, trying to generate some offense. It's hard to move Dee, Martin or Yelly around at this point. Your lineup has been thinned out a little bit, and you don't have a whole lot of choices, just to stick guys in different spots and think that's the answer to win a game.
"We've tried to be consistent all year long in what we do. Again, we've got chances to win games."
The Marlins remain in the NL Wild Card mix despite being 20-22 since the All-Star break.
"If you say in Spring Training that we're going to be on Aug. 28 a game-and-a-half out at the start of the day in the Wild Card race, and you have a chance to get hot down the stretch and get yourselves in the playoffs, we'd all sign up and say, 'We're good, we haven't been there in a while,'" Mattingly said. "It's something that is still attainable. And as bad as it looks right now, the little slump that we're in, it's still doable. That's the one thing we can't get away from."
Joe Frisaro has covered the Marlins for MLB.com since 2002. He writes a blog, called The Fish Pond. Follow him on Twitter @JoeFrisaro and listen to his podcast. This story was not subject to the approval of Major League Baseball or its clubs.