Donaldson records first career three-homer game
Reigning AL MVP helps power Blue Jays to sweep of Twins
TORONTO -- Last season, Josh Donaldson referred to the Major Leagues as a "get-it-done" league. On Sunday afternoon at Rogers Centre, Donaldson got it done in a manner few others around the game can.
The reigning American League MVP recorded his first career three-homer game and received his first career curtain call, lifting the Blue Jays over the Twins, 9-6, completing another comeback victory.
"I think it's one of those things as a baseball player that you want to have happen one day, and you don't know if it's ever going to happen," Donaldson said. "It's a rare thing and I was happy to do it after seeing Edwin [Encarnacion] do it last year. It was great."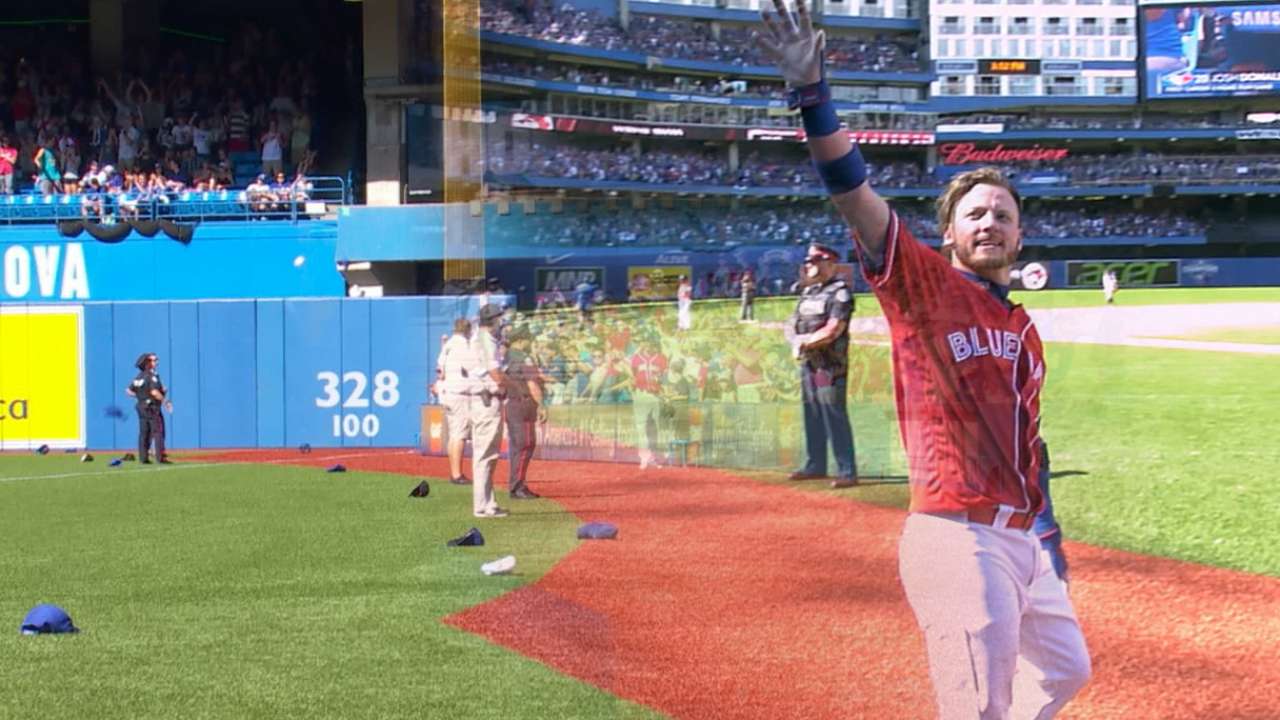 Donaldson's day was one for the Blue Jays' record books, as he became the 16th player in franchise history to hit three homers in a game. Perhaps more impressive, Donaldson's outpouring came after the 30-year-old fouled a ball off his left knee in the first. Hobbled and clearly in pain, Donaldson would stay in at third base and go deep three of his next four times at the plate.
"It hurt pretty bad," Donaldson said, adding he received treatment between each inning. "It was kind of hard for me to stand on it in the beginning. It was something that didn't really linger with me too long, but the initial response was that I couldn't really stand on it. Our training staff was like 'Hey, take your time, get your breath back.'
"It was one of those things where I've never been shot before, but if I can somewhat relate it kind of felt like I was shot in the knee. It was something where after I gave it a little time and our training staff was able to do a few things, it progressed throughout the game."
Donaldson's second home run of the day provided the big blow to the Twins. The homer was a go-ahead two-run shot off reliever Pat Light that gave the Blue Jays a 6-5 lead, having trailed 5-2 after five innings. He's no stranger to those scenarios. Including his outburst on Sunday, 41 of Donaldson's 73 home runs as a Blue Jay have tied the game or given his team the lead.
"He's a challenge," said Twins starter Kyle Gibson, who gave up Donaldson's first home run of the day in the third inning. "There's a reason he's an MVP looking for back-to-back awards. After that at-bat when I walked him in the fifth, I thought I threw a couple pitches right down the middle thigh high that he really didn't even move his hands on. Whether he was looking offspeed or not, his pitch recognition and plate discipline are really good. That's why he's such a good hitter and puts the barrel on the ball quite a bit."
Donaldson's final home run of the day and second solo shot gave Toronto a four-run lead in the eighth, and he was then showered with some Canadian love after that. On Canada Baseball Day at the ballpark, the sellout crowd of 47,444 tossed their hats onto the field, much like the traditional honor in hockey, for the hat trick of homers. The Rogers Centre crowd summoned the third baseman back onto the field for his first career curtain call.
"I've never had a curtain call before so that was nice," Donaldson said. "I tried to enjoy it for a second. [Encarnacion] was on deck after the third one, he had a huge smile on his face, and I think that brought it into reality a little bit. Obviously, he said congratulations. My teammates are so supportive and my coaches and everyone do such a great job of being positive."
Alykhan Ravjiani is a reporter for MLB.com based in Toronto. This story was not subject to the approval of Major League Baseball or its clubs.