Umpire Muchlinski hit by WP, stays in game
Descalso scores from second base on Glover's errant fastball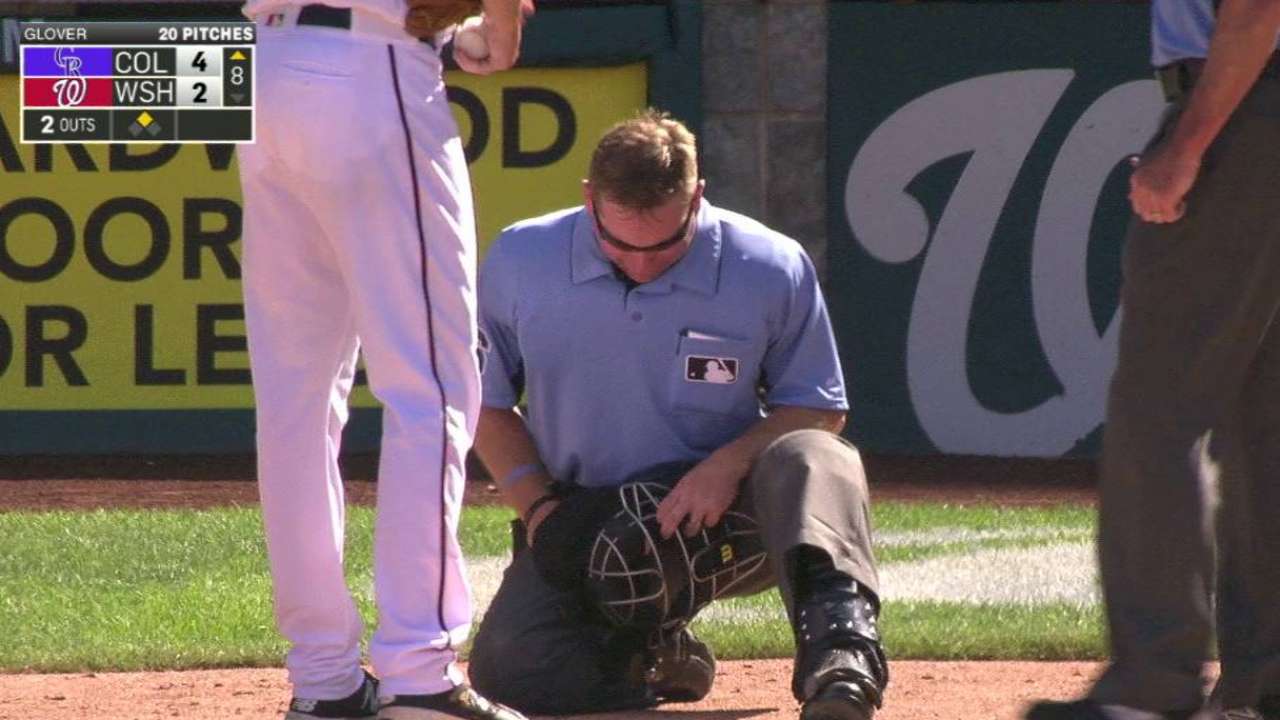 WASHINGTON -- When a Koda Glover fastball hit home-plate umpire Mike Muchlinski's shoulder in the seventh inning Sunday, Nationals catcher Wilson Ramos' first instinct was to turn around and see if Muchlinski was all right.
But as Ramos checked on the umpire, the ball ricocheted to the backstop, allowing Rockies baserunner Daniel Descalso to score from second base. The run extended Colorado's lead in an eventual 5-3 win over the Nationals.
"Initially, I knew it was a very hard-thrown baseball, and I heard the impact, and it was very hard and loud," Ramos said through an interpreter. "My initial reaction was to catch the umpire and see if he was all right. When I picked up my eyesight, I looked for the ball, and I looked in the wrong direction."
Muchlinski, in his third year as a full-time MLB ump, remained in the game after kneeling on the ground for several minutes. The Nationals' public relations department said after the game that he was not seriously hurt.
Glover took blame for the wild pitch, which gave the Rockies a 5-2 lead, saying it was a result of a miscommunication between him and Ramos. Glover said that he, like Ramos, was at first just concerned that Muchlinski was OK, and he thought the ball should have been called dead after it hit the umpire.
"Honestly, I don't know how that run's able to score," Glover said. "At most, I thought he'd be told to go to third."
Nationals manager Dusty Baker said the umpires told him the ball was not dead after hitting the ump. Baker said he had never seen a play like that, a sentiment echoed by Glover and Rockies manager Walt Weiss.
"I've seen guys score from second on wild pitches, but I don't know if I've ever seen one hit the umpire. ... But it got him good," Weiss said. "You don't like for the umpire to have to wear one like that. It ended up being a pretty big run for us at the time."
After the wild pitch, Glover struck out batter Ryan Raburn to end the inning. Though the Rockies ended up winning by two runs, Descalso's score looked at the time to be a valuable insurance run.
Baker said the incident taught him what to do if an umpire gets hurt.
"I guess in that sense, you've got to go get the ball and then come back to see how he is," Baker said.
Alex Putterman is a reporter for MLB.com based in Washington. This story was not subject to the approval of Major League Baseball or its clubs.