Ruiz spending time in 'pen to learn pitchers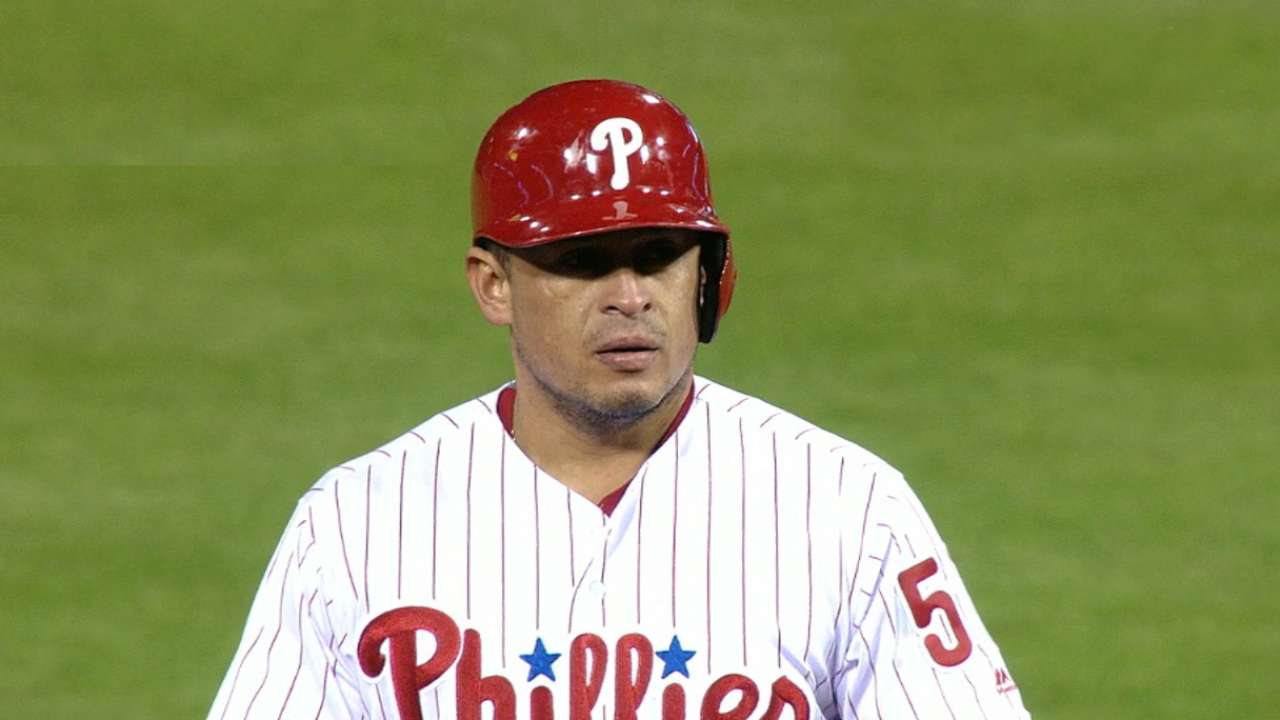 LOS ANGELES -- Dodger relievers found themselves throwing to an unexpected bullpen catcher while warming up during Saturday's 3-2 win over the Cubs: Carlos Ruiz. It's a gesture from the veteran that has left the team impressed, to say the least.
After spending his entire career in the Phillies' organization, Ruiz was acquired through a waiver trade Thursday and found himself having to learn the movement and velocities of an entire new pitching staff. To accelerate the learning process, he asked the coaching staff if he could catch every reliever in the bullpen before they entered Saturday's game.
"That was a welcome question," manager Dave Roberts said. "For him to do that and want to learn the pitchers and humble himself and educate himself, that's something A.J. Ellis would do. To acquire a guy like that, who brings similar attributes, it's not surprising, but definitely pleasant."
Ruiz said catching in the bullpen is something he plans to do for the rest of the season. The only Dodger he has prior experience catching is Joe Blanton. He has faced most of the staff before as a hitter.
Concerns about bringing in a new catcher unfamiliar with the staff in the middle of the playoff hunt came to a head Friday night when two balls Ruiz couldn't get his glove on -- a dropped third strike in the dirt and another ruled a wild pitch -- allowed Jason Heyward to score and tie the game in the ninth against Kenley Jansen. The next day, Ruiz made his request.
"It's just a learning experience. No one felt worse than him," J.P. Howell said. "Sometimes you have to pay the price. That's too bad, but at the same time, that was huge for him to just catch [Jansen]."
Ruiz already entered the clubhouse with an excellent reputation as a teammate. Clayton Kershaw mentioned that Chase Utley, Ruiz's longtime teammate in Philadelphia, "loves him to death," and president of baseball operations Andrew Friedman said the team wouldn't have traded Ellis if they weren't getting back a player of similar leadership qualities.
Roy Halladay, who won a Cy Young Award with Ruiz behind the plate, gushed about the catcher to CSNPhilly.com when news of the trade hit, saying, "He was the best catcher I've ever thrown to and, in my opinion, the best catcher in baseball in the years I was with him."
Even with that reputation preceding him, Ruiz is still showing how it was built.
"It's unbelievable," Howell said. "That's something where you don't see anyone do that. What I think I would usually hear is 'I got 15 years, I got a World Series ring, whatever.' Not from him."
Worth noting
• Roberts said the Dodgers would bring back Casey Fien and Austin Barnes from Triple-A Oklahoma City and Louis Coleman (right shoulder fatigue) from the DL when rosters expand in September.
Coleman, currently on a rehab assignment, has thrown three scoreless innings so far between OKC and the Rookie-level Arizona League Dodgers.
• Andre Ethier played a second straight rehab game for Class A Advanced Rancho Cucamonga on Sunday, going 2-for-3 with a double and a pair of hit-by-pitches. It was the first time he had played in consecutive games in his rehab assignment.
• It was draft day for the Dodgers' fantasy football league. Among the jerseys seen in the clubhouse were Jared Goff, Todd Gurley, Ricky Williams, Dan Marino and Pat Tillman. Jansen entered the room decked out in an Aaron Rodgers jersey, Green Bay Packers-patterned sunglasses and a cheesehead.
• The Dodgers outrighted catcher Shawn Zarraga from the 40-man roster on Sunday. His contract was selected Thursday when the team needed a backup catcher following the trade of Ellis for Ruiz.
Jack Baer is a reporter for MLB.com based in Los Angeles. This story was not subject to the approval of Major League Baseball or its clubs.